I hate the name of this lipstick, but I love everything else about it
The lipstick's name is "Sugar Daddy." Let's just get that out of the way. It makes me feel weird, maybe it makes you feel weird, too. Maybe we're all overthinking it, maybe we're not. Anyway. Let's talk about how perfect everything else is about this Too Faced lipstick.
It's my newest lip go-to; I don't leave my apartment without swiping it on these days. Part of Too Faced's La Créme Color Drenched lipstick collection, it's so creamy, I don't even need to dab some lip balm first. What a dream, right? And the color is this perfect peachy-pink, shimmery nude that makes your face look brighter and healthier and like you've been eating the FDA recommended amount of fruits and vegetables (I have not, in case you are wondering). Use SD if you're going for a "no makeup" makeup look, use SD if your eyes are smoldering and smoky and a red lip is just too overwhelming. Use SD because there are too many lip color choices and this one hits the sweet spot.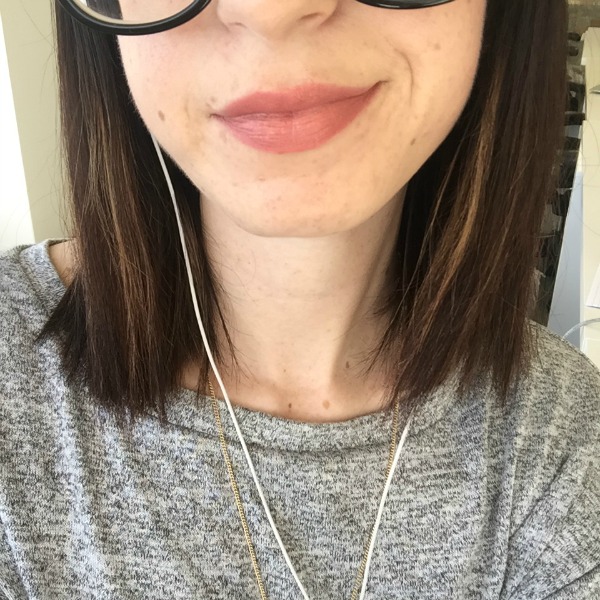 By the way, I love Too Faced. In fact, I've written about their limited edition liquid matte in Candy Cane (a fab shade in pink-red that made every awkward holiday party so much better). Too Faced's products are top notch, and if you ever feel like shaking out the contents of your savings account for some makeup, go the Too Faced route. I've tried the Peach Palette, Better Than Sex mascara (or as Deputy Editor Emily Popp's mom says, "Better Than Having Sex" mascara, which is what I now call it), and a black pencil eyeliner and I've been really impressed with the formulas. Their themed palettes have a surprisingly wide range of shades that apply smoothly and evenly, and they smell like sweet snacks. While I have a special place in my chest cavity for Clinique's High Impact mascara, I've been using Better Than Having Sex for the last two weeks straight, and the formula has given my lashes some OOMPH.
But anyway. Lipstick. Get a tube of "Sugar Daddy." Forgive its subversive name. Carry it with you, always.
Buy it at Sephora for $22.