I eloped, and here's what I want to tell every bride
The only guests at my wedding were two strangers. One was our photographer, a young med student working a photography side gig on the weekends. The other was the judge, a white-haired dude who looked like the benevolent grandfather in a kids' movie.
We lined up in the basement alongside maybe 15 other couples and their families, all dressed up, while security guards barked at us to STAND AGAINST THE WALL. There was no gentle music, no tuxedo-clad ushers, no flower arrangements. Finally, we were called into a waiting room where we paid a government employee $10, sat in gray plastic chairs, and listened for our names.
Our ceremony took five minutes, and we both grinned the whole time. I lost my place while reciting the vows I'd written so I had to improv, but that's okay. I'm normally pretty shy, but standing across from my very-soon-to-be-husband, I found myself speaking from the heart — telling my best friend that I was so happy we'd made it here, and that I'd never been so certain about anything in my life.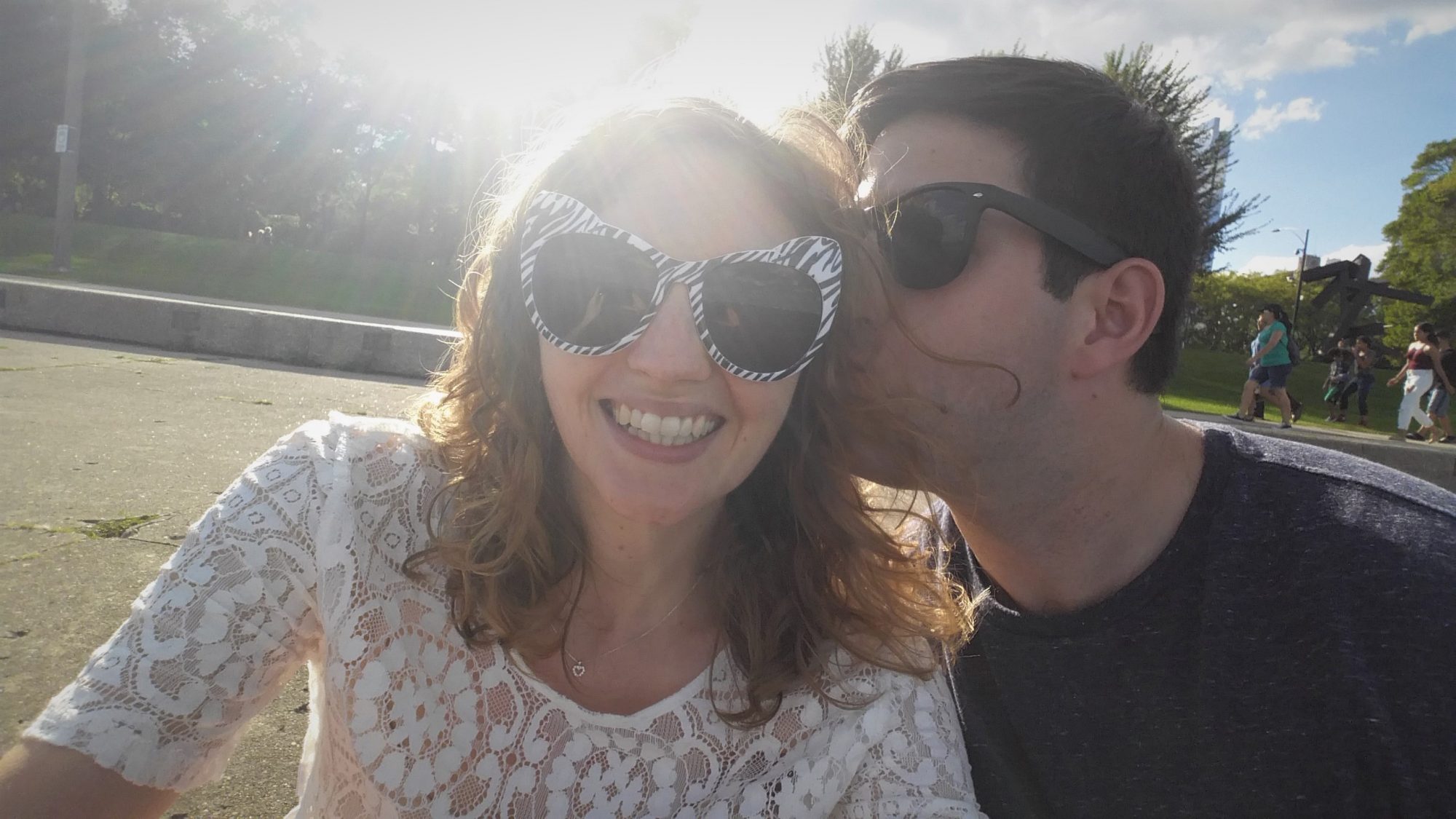 After the photographer left, we called my family back in England, and they shouted their congratulations over the 4G connection. We ate eggs at our favorite brunch place, then walked to the park. We finished our day with a sunset tour of Lake Michigan, watching the sun dip behind the skyline and the city's lights twinkle on. Next came massive plates of pasta at our favorite Italian restaurant chain, paper tablecloths and walls decked in sports memorabilia included. Our first dance, to John Legend's "All of Me," took place in our living room.
Not everyone wants a tiny wedding made for two, but for us, it was perfect.
Whether you're throwing the party of the century or an intimate family gathering, I think my low-key wedding day taught me some lessons that anyone getting married can appreciate.
Weddings bring out people's opinionated sides.
Everyone says your wedding day is the happiest of your life, right before they proceed to judge every little decision you make. Even if you're happy spending hours scrolling through Pinterest admiring centerpieces and color schemes (which I was not), having judgmental friends and relatives pick apart your choices can turn you into a nervous wreck — when you should be celebrating.
The truth is, you can't please everyone — so please yourself.
Certain people in our families were upset when we decided not to have a traditional wedding, but they came around when they realized we weren't going to change our minds. Anyway, I had always warned them that I was going to elope!
Obviously, some families are more vocal than others, and I know that this can be especially hard if there are religious beliefs involved. But if you can put your foot down without getting yourself exiled from all future family events, do it. If Aunt Betty doesn't like the buffet, or the cool venue, or the band — that's her problem. Only a monster whines at a couple on their wedding day! Go get yourself some more champagne, and shake it off on the dance floor.
Make sure you and your future spouse are planning the same wedding.
Luckily, neither my husband nor I were up for the traditional route, but if he wants all the frills and you want minimalism, or vice versa, work it out before you get anyone else involved. Otherwise, it will seem like you're ganging up to pressure your partner into getting married your way. And you'll need to stand as a unit once everyone else starts expressing their opinions.
Don't overthink your outfit.
The one thing you're most likely to get judged for — especially if you're a bride — is what you wear. Obviously, you want to look fierce af, but no item of clothing can truly sum up your innate personal style while also making every guest swoon in awe. Don't put that pressure on your clothes, or yourself. Instead, focus on picking something you can move, breathe, and/or eat in without cursing under your breath.
Like I said, people will judge you, but don't let them hurt you. Oh, Grandma Phyllis is terribly upset that you aren't wearing some high-neck lace monstrosity with a 10 foot train? Grandma Phyllis isn't getting married in this fabulous off-white, '80s inspired mini-dress with puff sleeves and a million bows. You are. And you look gorgeous.
Get some perspective.
Take a breath, put down the seating plan, and ask yourself: Do you really want to spend your wedding day running around to see if that cousin you never even see approves of the crème brûlée? Wouldn't you rather just be having a good time?
Also, your wedding day is only one day — you're getting married because you want to make a commitment for the rest of your life.
So by all means, make sure the ribbons are the right color, find a pianist to perform as you glide down the aisle, or plan a barbecue in the backyard with hot dogs, beer, and cornhole. Your actual marriage is the fun, important, really exciting bit that comes next – and you can't plan how that will go.