After husband forgets lunch, wife throws it from the BALCONY and INTO his car
Attention NBA! Attention Olympics! Attention everyone on the internet! This woman is destined for athletic greatness after having "swished" a sandwich into a car sunroof from her balcony!
After her husband forgot his lunch at their high-rise apartment, this wife saved herself a trek down to the lobby, and instead tossed a sandwich from the balcony down to her husband's open sunroof.  With a quick "heeya!" she launched the sandwich into the open air and by way of magic, luck or extreme skill, the sandwich landed in the passenger seat next to her husband, who drove away seemingly as if this is something that happens on the daily.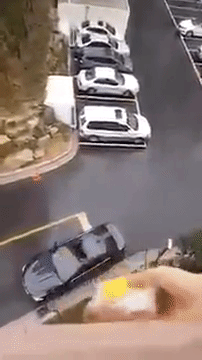 The video was uploaded five days ago via the YouTube channel MAKE SENSE, and has already reached over 800,000 views. This new breed of #relationshipgoals is sweeping across the globe, and making the public envious of the lengths (or heights) this wife will go for her partner.
The woman with the super-aiming-sandwich skills has yet to be identified. But whoever she is, she may want to consider trading that sandwich for a basketball.
Feast your eyes on the video below:
https://www.youtube.com/watch?v=5BVkohboCTQ?feature=oembed
That aim is perfection.