Everything you need to know about Hurricane Michael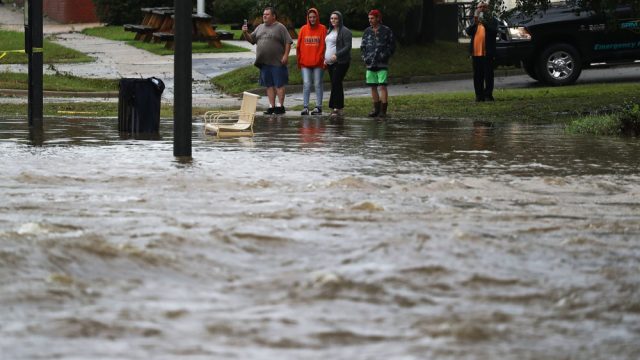 The 2018 hurricane season is in full swing. Just one month after Hurricane Florence hit the Southeast, another major storm, Hurricane Michael, is bearing down on Florida—and it's expected to make landfall tomorrow, October 10th.
According to CNN, Michael is expected to be a Category 3 hurricane by the time it reaches land, with winds of at least 111 mph. More than 300 miles of coast are threatened by the approaching storm. A hurricane warning—meaning that hurricane conditions are expected—is in effect for the Alabama/Florida border through Suwanee River, Florida, with emergency declarations made for more than 100 counties.
Parts of Georgia and South Carolina are also likely to feel the effects of Hurricane Michael, and Georgia Governor Nathan Deal has declared a state of emergency in 92 counties. The Weather Channel reported that mandatory evacuations have been ordered for much of the Florida Panhandle, including Panama City. About 120,000 people are affected by the orders, and voluntary evacuation orders have been put in place for other parts of the state.
The storm is projected to bring heavy rain to the affected areas. The National Hurricane Center predicts four to eight inches of rain in the Florida Panhandle and Big Bend, Southeastern Alabama, and Southern Georgia. Meanwhile, Eastern Georgia, the Carolinas, and Southern Virginia could see three to six inches of rain.
But one of the biggest worries for those preparing for Hurricane Michael is the possibility of a storm surge, which can cause coastal flooding when combined with high tide. In some parts of Florida, the water in the surge could reach up to 12 feet high.
"I think a lot of people have been through 110-mile-an-hour winds, they've been through 12 inches of rain, Florida Governor Rick Scott told The New York Times. "I think what's different about this storm that really concerns me is the storm surge."
How can you prepare?
If you live in an area where Michael is expected to hit, be sure that you're ready. The National Weather Service advises having an emergency kit in place containing food, water, and supplies like flashlights. It also suggests having a plan about who you will contact and how.
The Bradenton Herald recommends checking your home for potential flood risks and using sandbags for protection. The Herald also suggests taking measures like turning off your gas and electricity, stowing important documents somewhere where they will stay dry, securing outdoor items, and making sure you have cash in your wallet, gas in your car, and fully charged electronics.
Finally, if you live in an area under evacuation orders, take them seriously and get out as soon as possible. If you're not sure where to go, the Florida Division of Emergency Management has a list of open and potential shelters on its website. And Airbnb notes that more than 100 hosts near the areas affected by Michael have signed up to let evacuees stay with them for free.
Stay safe, everyone!