Hunter McGrady gives us five body positive lessons in five minutes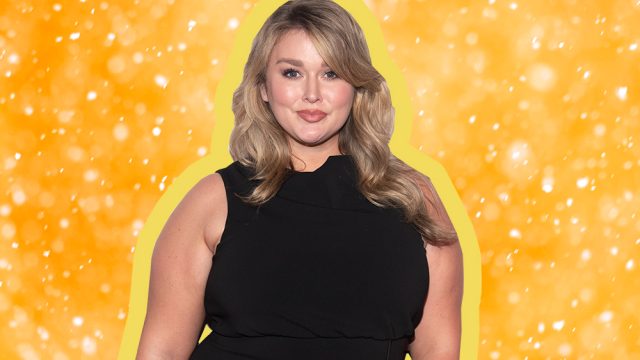 Society's standards of beauty are finally changing for the better, and model Hunter McGrady is leading the ultimate body-positive movement for women of all sizes to feel secure with themselves. When McGrady first began her career in the modeling industry, she was referred to as a "straight size model." But instead of starving herself and perpetuating ridiculous, dated beauty standards, she continued to project confidence as her body changed. "Just to give you a guideline, I was six feet tall and about a size two," McGrady tells HelloGiggles. "Now I'm six feet tall and a size 16."
It's McGrady's major self-confidence that has allowed her to noticeably champion size inclusivity and be the world's much-needed change. In 2018, she graced the Sports Illustrated Swimsuit Edition, and has a continued partnership with Olay to encourage women to fearlessly be their best selves. McGrady also has a small but important cameo in the Hulu series Shrill, as a woman in a red jumpsuit who casually walks by the main character (played by Aidy Bryant) on the street, and unknowingly inspires her to be more confident.
The empowering advocate has made it her mission to make all women feel encouraged, represented, and completely comfortable in their own skin. In just a five-minute phone call, McGrady imparted incredible advice that will make anyone feel like they can conquer the world.
1Be 100% yourself.
There's only one you out there, so if you're not yourself, who else will be? Rather than blend in and be like everybody else, McGrady urges you to be proud of who you are. "I'm all about being unapologetically myself in my skin, whether it's me having stretch marks, cellulite, acne scars, rolls or whatever it is," she shares. "I think owning that—being comfortable, feeling beautiful as I am, going out there, and being fully me is the fearless lifestyle to aspire to."
2Never let anyone ever make you feel like you're not good enough.
"I just remember showing up to a photoshoot and getting turned away because they said 'I didn't realize how big you were,'" McGrady recalls. However, she didn't let their disapproval get her down. "I felt so sad, not for myself, but for them because they just didn't get it," she says. "I made a promise that I wasn't going to allow myself to feel that way anymore. I didn't want to change my body for society, so I [let] my body [grow] how it was supposed to."
She set her own expectations and ignored the negative things people said to her because, at the end of the day, their opinions didn't matter. "I think women, and men even, have to realize that we're all born with a different frame," she explains. "We all hold weight differently, we scar differently. Everything is different on us, and we have to accept that and know that beauty is not a size. Beauty comes in so many different ways. That time was a huge pinpoint for me as far as transitioning the way I look at myself."
3Don't stress.
At the same time, you shouldn't put so much pressure on yourself. Some days will be better than others, just make the most of everything that comes your way. "The best advice I can give myself is to not be so hard on myself," McGrady says. "So just enjoy [yourself], be young, and don't compare yourself to anyone else."
4Treat your body right.
"I'm pretty cautious about what I do these days, especially with the products I use," McGrady says. Having a set beauty routine down will do wonders for your skin and make you feel great with or without makeup on. "I also don't tan anymore, if anything I do self-tan," she adds. "I've become a lot more careful as I've gotten older, given my career choice."
5Be around people who are only going to lift you up.
According to McGrady, her mom is the root of her confidence, and she's lucky to have such a great role model. "I tell people this all the time: it always starts at home," she says. "It's how your mom talks to herself. It's how your sister talks to herself and it's what you're hearing your friends say."
At this point, she's simply following in her mom's footsteps and relaying the positivity that she grew up with to others. "My mom has always been a really supportive person, she's never made me feel bad about myself," McGrady explains. "She's never made me feel guilty. She was always lifting herself up, saying 'I don't need any makeup, I'm a beautiful woman.' She's bigger too, and she's never apologized for it. That has always been my main grounding point."