Hugh Jackman just took his playful rivalry with Ryan Reynolds to an intense next level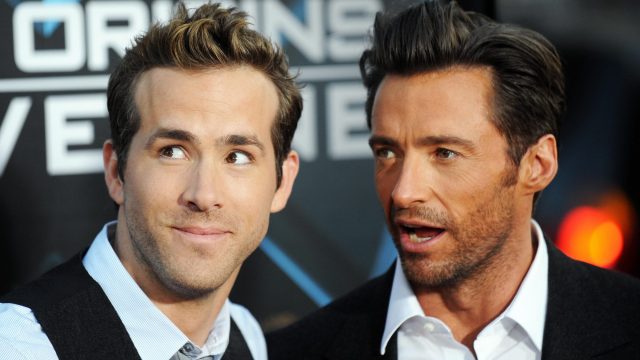 Today in very big news, Hugh Jackman finally responded to Ryan Reynolds' famous Deadpool diss on Thursday (December 15th) when he acknowledged Mr. Blake Lively finally getting his star on the Hollywood Walk of Fame.
The two pals have enjoyed a social media "feud" — with Reynolds often acting in character as Deadpool — for well over a year, with Reynolds' potty-mouthed character even wearing a Wolverine mask at one point, mocking Jackman's native Australian accent, in the movie.
Jackman finally responded to that bit by donning a Reynolds mask in a pretty incredible Instagram video. In it, he pretends to be Reynolds working on his Australian accent and humbly accepting the Walk of Fame honor. He says,
"Ryan Reynolds here. Method actor. I'm working on my Australian accent. I'm doing a Crocodile Dundee 7. You're gonna love it. You may remember me from such things as People Magazine's 2010 Sexiest Man Alive or the 12th best DC Comics movie Green Lantern. Who would have thought just three years after getting a star on Canada's Walk of Fame, I would be getting a star on Hollywood's Walk of Fame? "How could a guy who failed his high school drama class be this talented? I have no answer for that. But to quote my favorite actor in the world, the great Australian Hugh Jackman, who, by the way, was People's Sexiest Man Alive way before me, 'Americans are the most generous country on the planet.'
Reynolds clearly didn't mind the Green Lantern diss, as he retweeted Jackman's fine work in the midst of his glamorous ceremony.
At this point, all we can do it sit and wait for Reynolds to come up with something even better.