My new favorite eyeshadow palette has me embracing Mercury retrograde
Welcome to Game Changers, a weekly series where we talk about our holy grail beauty products we're loving now—the ones that saved our hair, cleared our skin, and in some way changed our lives. This month, I, Kristin Magaldi, HelloGiggles' Features Editor, talk about the Huda Beauty Mercury Retrograde Eyeshadow Palette that helps me achieve eye looks that are out of this world (pun intended). 
I've always loved experimenting with my eye makeup, but around my mid-20s I became a lot more uninhibited with the shades I was popping on my lids. Who cares about following the rules of day versus night looks when there are so many eyeshadows out there in the world, just begging to be blended? Around the same time that I threw away "natural" makeup looks, I started to explore astrology a bit more and thought to myself, "hmm, maybe there's something to this stuff." I really enjoyed the idea of a cosmic order to things, and if that galactic balance could be applied to my beauty routine, I was very much here for it; so to say that I was over the moon when I heard Huda Beauty had come out with a Mercury Retrograde Eyeshadow Palette would be an understatement (and also a very good use of a pun).
For me, the idea of blending the worst astrological time of the year with a range of star-inspired shadows was genius. Now I didn't just have to put off difficult conversations, anticipate the breakdown of all my technology, or wait for my ex to return from the dead as is typical of the retrograde season—I could actually celebrate Mercury's backward polka through our universe with some truly fab beauty looks. So on the last day of retrograde, as we enter retroshade (hey, it truly never ends), I thought I'd share some of my favorite looks from my new favorite palette. If you're looking for something space-aged, the Mercury Retrograde Eyeshadow Palette will truly not disappoint.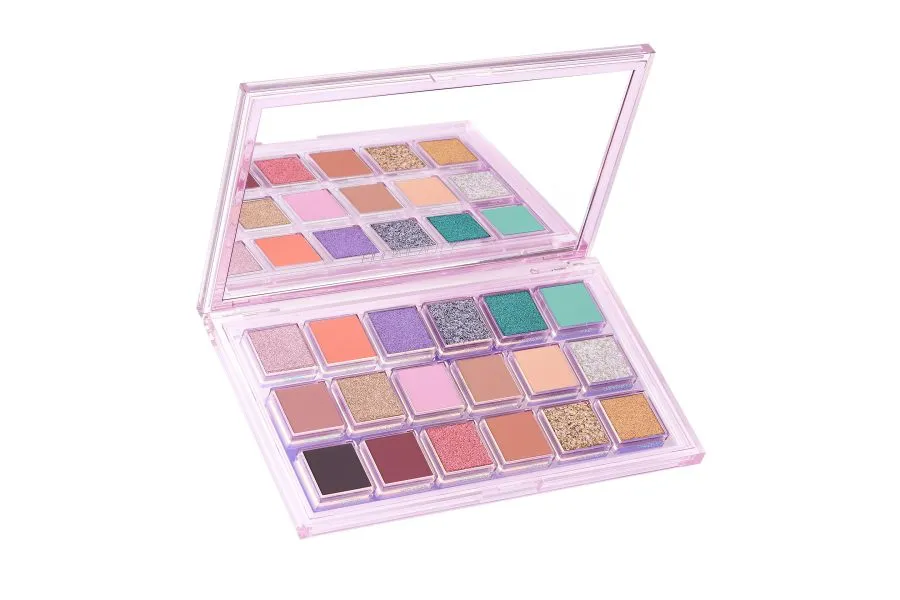 Like Huda Beauty's many other palettes, the Mercury Retrograde palette comes with a variety of matte and glittery shades, all extremely pigmented and easy to apply. My favorite types of palettes are the ones where the shadows are so rich and smooth, it doesn't matter what level of application you're at—you can pop it on and it'll look great. Huda Beauty is number one for that. Unlike my OG fave, the New Nude palette, Mercury Retrograde features a range of colors to fit the celestial theming. The result is a greater breadth of looks that you can develop with the palette, to suit whatever occasion. These are a few I came up with on my own.
Look #1 with the Mercury Retrograde Eyeshadow Palette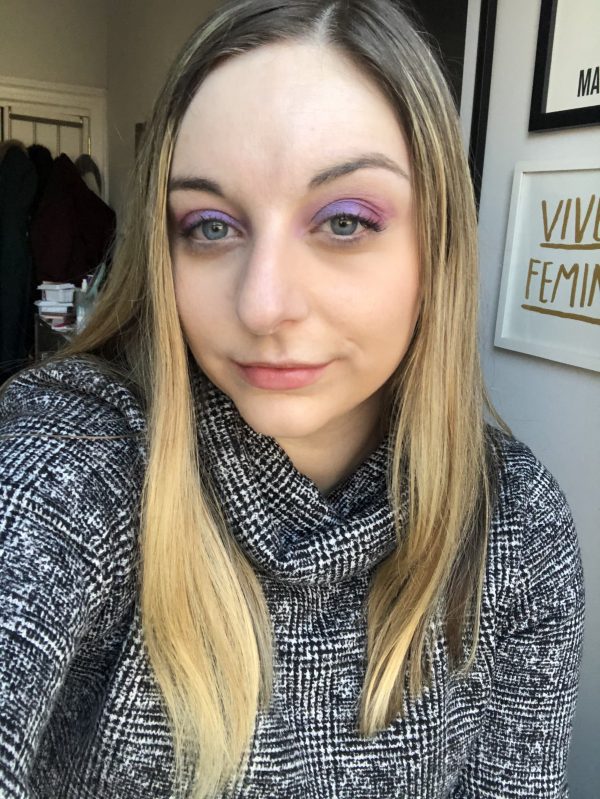 One of my favorite colors in the palette is the shade "ultraviolet," so I wanted to play around with that first. To start, I used a fluffy brush to put the shade "Libra" in my crease, which added a nice pop of bubblegum pink. From there, I added "off balance" to my outer crease, and outer lid, blending "hot mess" on top of it at the very corner of my lid to add some dimension. I then took my finger, and dipped it in "ultraviolet," patting it on the inner corner of my lid so that the color was more concentrated. Finally, I took a blending brush and swiped it across my lids to make sure everything looked organic. Mercury retrograde and I were finally getting along for once.
Look #2 with the Mercury Retrograde Eyeshadow Palette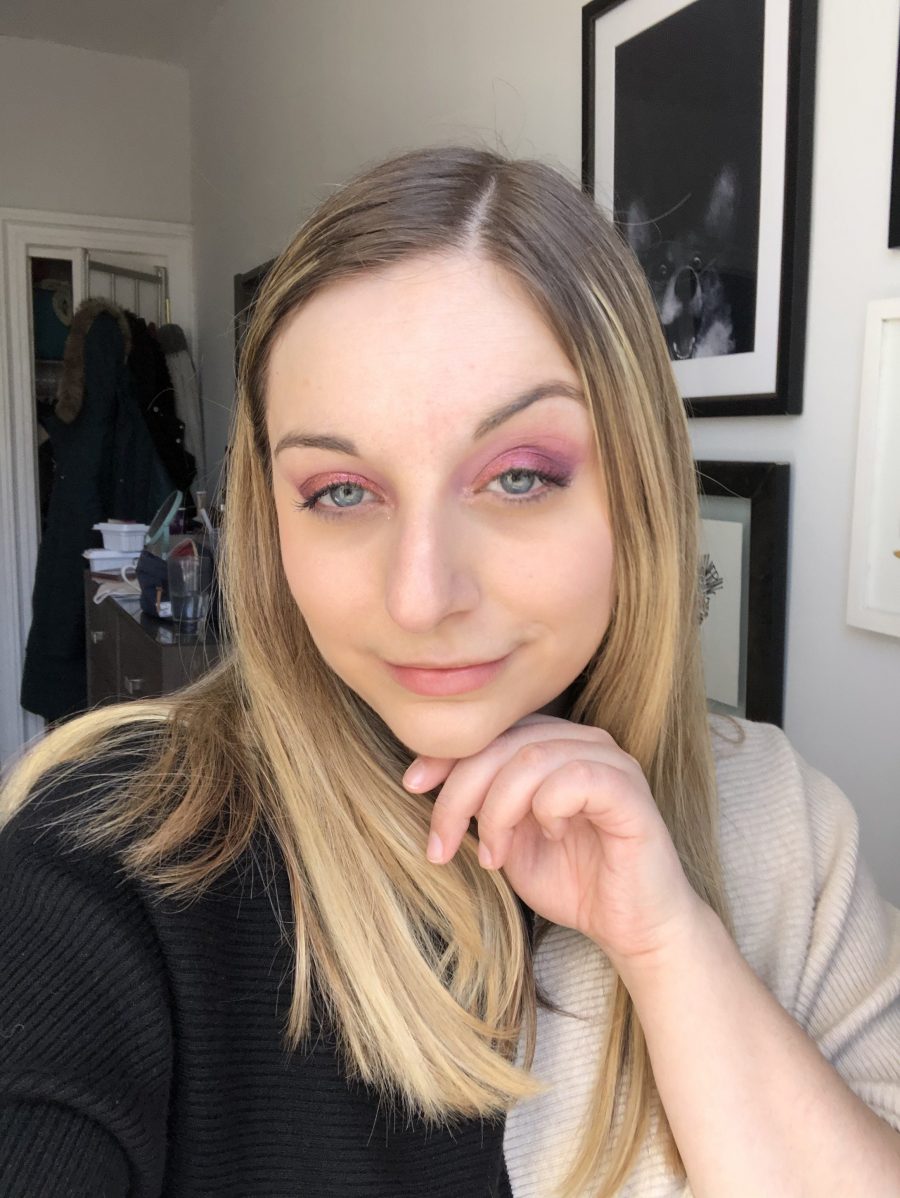 I've been known to rock a pinky shadow from time to time, so naturally, I gravitated toward the pink shades in the Mercury Retrograde palette. For this guy, I started with "off-balance" in my crease, and "hot mess" on my outer lid. With a smaller, more dense brush, I added just a little bit of "vortex" to the tip of my outer corner and finished it off with "supernova" packed onto my inner corner with my finger. For a final touch, I put "galaxy" on the tip of my pinky finger and added it along my tear ducts. Retrograde, who is she?
Look #3 with the Mercury Retrograde Eyeshadow Palette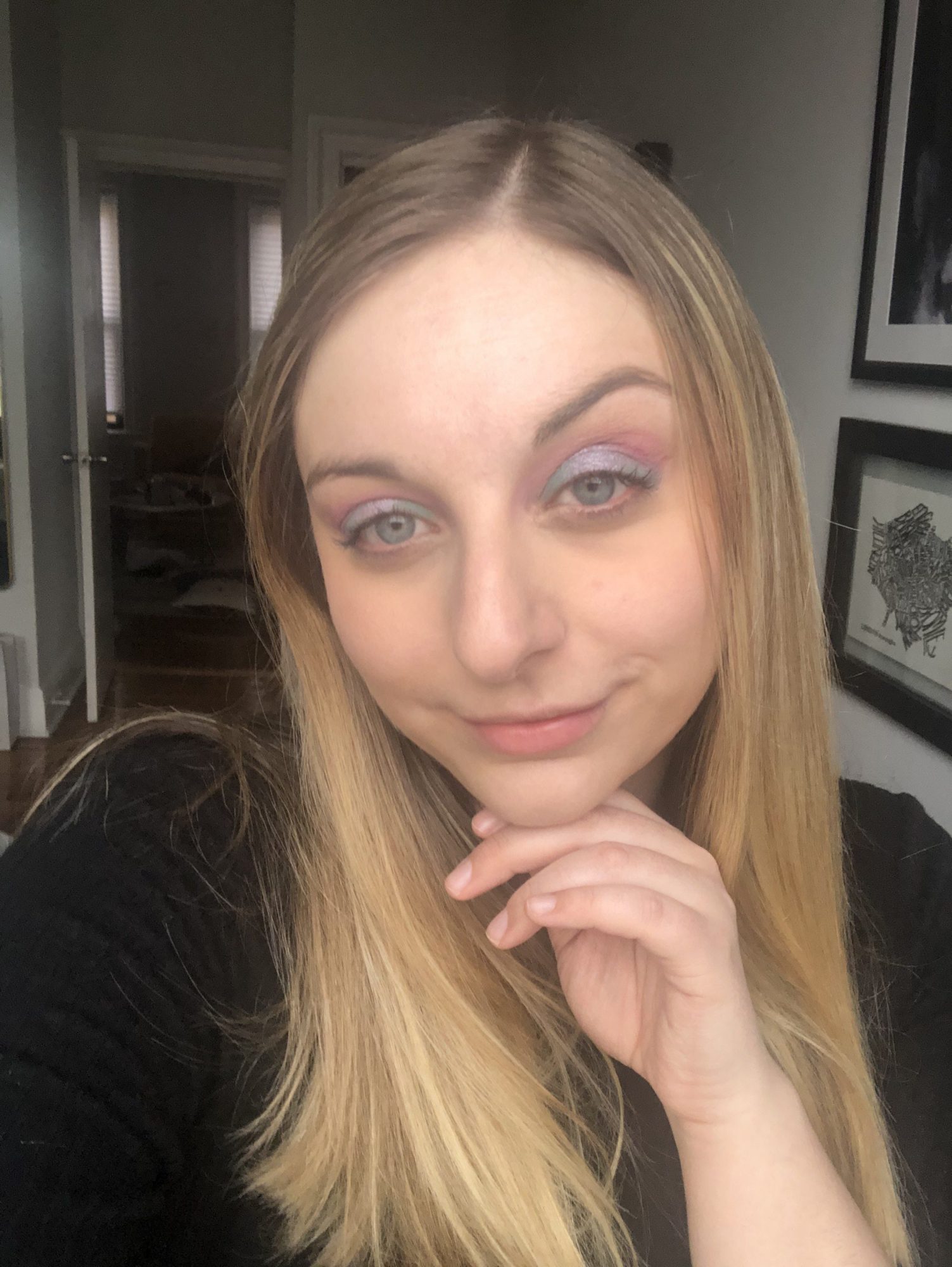 For my last look, the overcast day had me wanting to try the shade "haze," with some pink tones. I decided to go for "Libra" in my crease again, to contrast that bright pink with the blue-green. I added some "off-balance" to the outer corner of my crease to deepen the shade, then put "haze" all over my lid. To tie the pink in, I put the shade "cosmic" on my finger and added it to the middle of my lid for a halo effect. I was surprised the most by this look, and how much I liked it.
Yes, Mercury retrograde gets a bad rep, but I've found myself leaning in a big way. Though Huda Beauty's aptly named palette will be my go-to when it comes to righting Mercury's wonky vibes, I won't wait for retrograde to use these shadows—they're officially my all-year thing.