Run, don't walk because Huda Beauty launched her coveted 3D Highlighter palettes
The wait is FINALLY over! We have had April 17th circled on the calendar with glowing pink highlighter for months. If you follow Huda Kattan on social media, she has been re-posting hilarious memes about her 3D highlighter, and each day we have we have been itching to get our hands on it. The Huda Beauty 3D Highlighter Palette finally launched! The palette is available for $45 in both the Golden Sands and Pink Sands edition.
Each 3D Highlighter comes with one cream shade and three powders.
In all honesty, we want all 8 shades!
Stunning, even with natural-looking makeup.
https://www.instagram.com/p/BSsms6uAVcM
We have been dying over swatches and sneak peeks of the 3D Highlighter palettes for months. Huda released teased many herself and sent previews to some of our favorite beauty vloggers.
https://www.instagram.com/p/BSaUJrrg_ON
Golden Sands is a gorgeous warm, bronze-inspired palette. The highly pigmented shades Fiji, Seychelles, Tahiti, and Zanzibar look great on any skin tone.
We hope Huda Beauty does a double-deal soon, because we totally need both of these palettes!
https://www.instagram.com/p/BS_S4jOhLEV
Pink Sands is a fair, blush-inspired palette that is equally pigmented. We love the creamy white Santorini, and the complimentary powders in Capri, Azores, and Ibiza.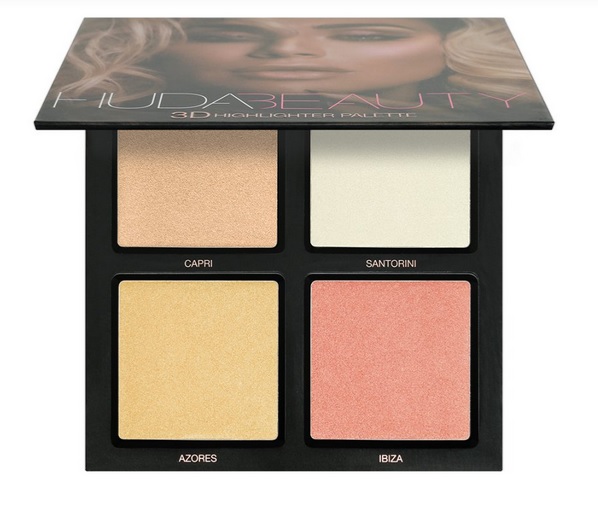 The best part about these highlighters (and what makes them stand out from other palettes) is that Huda designed them with a prep and step in mind. Each shade has a purpose, with the first one meant to prep, the second is for setting, the third shade is for scultping, and the fourth is meant to flush.
We are so ready to strobe (or cover our entire faces) with these 3D Highlighters!
https://www.instagram.com/p/BSBq8GzARtb
You can snag both Pink Sands and Golden Sands for $45 each from Huda Beauty, here!