Mexico has been struck by its strongest earthquake in a century, and here's how you can help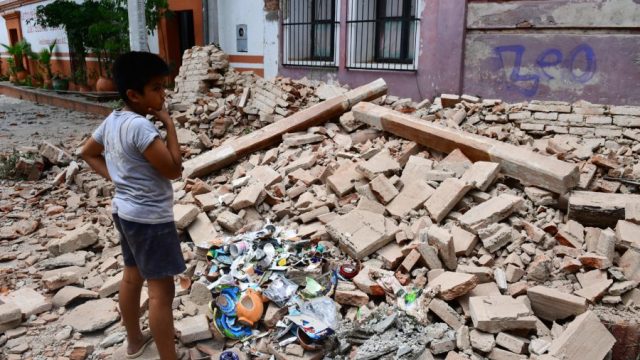 A magnitude 8.1 earthquake hit Mexico Thursday night, and has left at least 38 people dead and over 200 people injured. In a series of tweets, Mexican president Enrique Pena Nieto called the event the strongest quake in Mexico in a century, and noted that there have been over 260 aftershocks (many of them strong and destructive in and of themselves). Additionally, nearly 200,000 homes are still facing power outages.
According to CNN, the states of Chiapas and Oaxaca — two of the country's poorest regions — were closest to the quake's epicenter and have likely been hit the hardest.
As with all large-scale disasters and tragedies, it can be incredibly easy to feel both hopeless and helpless — as if there's nothing we can tangibly do to ease the suffering.
However, there is always something we can do to help, and we've created a handy list of disaster relief orgs you can donate to right now to help those affected by the quake.
1UNICEF
UNICEF (United Nations International Children's Emergency Fund) is a Charity Watch "Top Rated" charity and has a specific donation button on their site for victims of natural disasters. Donate here.
2Oxfam
Oxfam is another highly-rated international charity that, "assists the poorest communities when disaster strikes, but is also working to ensure greater local resilience and the capacity of local responders and governments to deliver disaster response." Donate to their emergency-relief fund here.
3Doctors Without Borders
There's almost no question that Doctors Without Borders will be sending assistance to the affected regions in the coming hours and days. Help support their work here.
4Save the Children – Mexico
Another highly rated org, Save the Children has worked in 16 of Mexico's 31 states and helps with everything from disaster relief to education. You can donate directly to Save the Children Mexico here.
5Global Giving
Global Giving is the "first and largest crowdfunding community connecting nonprofits, companies, and donors around the world." As per an e-mail to HelloGiggles from the orgs Director of Communications, "Donations to GlobalGiving's Mexico Earthquake Relief Fund will support locally driven immediate and long-term relief and recovery work after an 8.1M earthquake and tsunami struck Mexico's southern coast on Sept. 8 and another powerful 7.1M earthquake struck on Sept.19. The fund will provide relief to survivors in the form of emergency supplies like food, water, and medicine in addition to longer-term recovery assistance to help residents recover and rebuild." Donate here.
Remember: There is always something we can do to help. We will update this with more specific and localized charities and orgs throughout the day.