How this week's "bomb cyclone" will affect you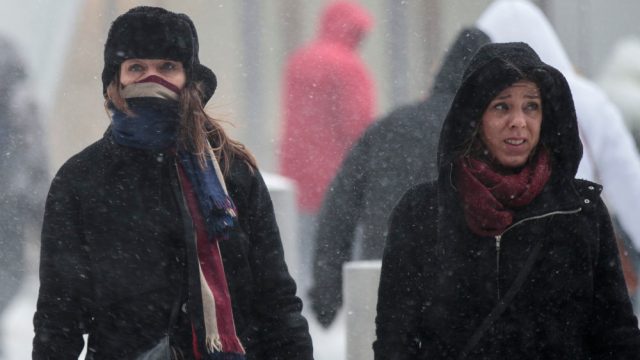 Brace yourselves for even more cold weather: the Eastern U.S. is about to get hit with a major winter storm that's going to dump freezing rain, sleet, snow, and ice up and down the entire coast. The storm is being referred to as a "bomb cyclone," so it's safe to say you need to know how this one is going to affect you.
The storm will start on Wednesday, January 3rd, and move into Thursday, bringing a mix of unusually cold temperatures, freezing rain, and even snow from Florida to North Carolina — areas that usually see very little of this type of weather. From there, the storm will head out to sea, where it will rapidly strengthen before swinging back in and hitting the Northeast with severe blizzard conditions. Areas of New England could see over a foot of snow and serious winds, while Mid-Atlantic states will experience a powerful winter storm, with coastal areas getting up to six inches of snow.
A bomb cyclone, or "bombogenesis," refers to a rapid, intense change in atmospheric pressure. The National Oceanic and Atmospheric Administration says, "This can happen when a cold air mass collides with a warm air mass, such as air over warm ocean waters."
And while "bomb cyclone" might sound cool, this storm is nothing to joke about. Fox News Senior Meteorologist Janice Dean said the storm is "almost going to be like a hurricane off shore" once it reaches the Northeast.
Even if the Southeast doesn't get a lot of snow, the mixture of cold temperatures and freezing rain will make any kind of travel dangerous. Further north, snow, ice, and freezing temps will also make travel hazardous.
Unfortunately, the storm won't completely disappear after Thursday. For states that have already been shivering through the last week, things are going to get worse. Frigid temperatures, even colder than we've already been experiencing on the East Coast, will hang around through the weekend. The Washington Post reports that temps will drop 20 to 40 degrees lower than normal, which means sub-zero temps in New England and as low as in the 20s for Florida. Georgia governor Nathan Deal has already declared a state of emergency in 28 counties.
As with any other big weather event, this storm could change course unexpectedly. In fact, the exact track of the storm has still not been determined, so meteorologists are suggesting everyone prepare for the worst and try to plan not to travel until the storm ends. Stay safe out there everyone!