How virtual reality is helping elderly folks exercise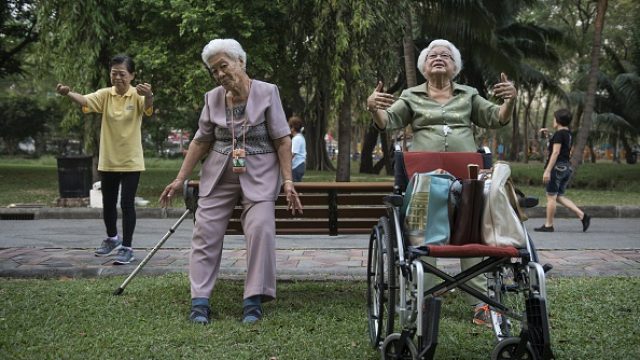 Virtual reality is rising in popularity. From video games to shopping, the latest form of technology is helping to make everyday tasks that much easier and convenient for us. But the field's latest venture could be tackling a big task: helping to get more elderly folks moving through exercise.
How? Well, according to Huffington Post, a new research project out of Aalborg University in Denmark, is using virtual reality to transform exercise from a bore to a "digital experience" for the elderly. Jon Ram Bruun-Pedersen of the Multisensory Experience Lab in the Department of Architecture, Design and Media Technology at Aalborg University Copenhagen told HuffPo:
"All too often the elderly end up sitting and looking at a wall or staring passively into a television. As a rule they're usually not particularly motivated to exercise, partly because getting moving again after a long period of inactivity can cause pain, and partly because it's not particularly interesting to sit and look at a wall while you bike."
In the study, researchers placed large TV screens in the nursing home's activity room so that when the participants rode the exercise bikes, the TVs displayed various digital landscapes -- making it feel as though they were riding through those environments in the VR world.
The speed that the participants biked were reflected in the speed that they navigated through the landscape on the screens. From there, the elderly were fitted with virtual reality goggles to bring the digital illusions to life.
The results from this experiment were positive, showing Bruun-Pedersen and his team that they are on to something beneficial. With a little help from technology, we could be on our way to establishing healthy exercise habits, no matter what age.