How the Trump administration has influenced popular music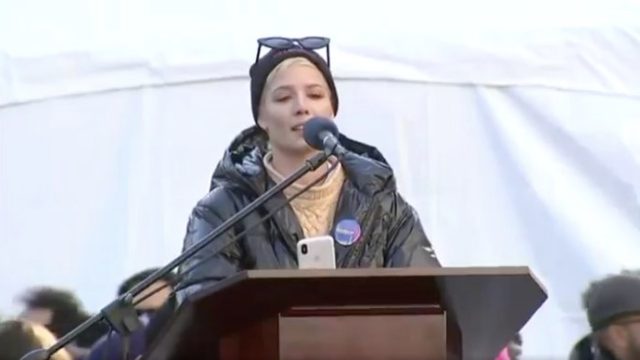 As we move into the second year of Donald Trump's presidency, much has been written about how his administration has prompted a new age of activism. Looking back at the music we heard in 2017, it was undeniably a charged twelve months, starting from Trump's inauguration — where the administration appeared to have some trouble attracting musical talent for the ceremony.
British singer Rebecca Ferguson offered to sing under the condition she could perform "Strange Fruit," a song banned from airwaves in the 1930s for its protest of racism in America. Later in the year, Eminem unleashed a viral freestyle cypher against Trump. Trump then started a feud with Snoop Dogg (yes, really). Overseas, an entire album was predicated on envisioning a Trump presidency—Gorillaz' Humanz (cue the album's decidedly apocalyptic feel). And that's just getting started.
The protest song is certainly nothing new in our history, so when it comes to music and activism in the Trump era, what is different? How are these efforts uniquely effective?
For answers to these questions and more, I turned to someone well-acquainted with discussions about the intersection of music, politics and activism: MSNBC's Ari Melber, whose show The Beat covers the day's news, politics, and culture weeknights at 6 p.m. ET. The show stands out for its clever inclusion of pop cultural references and commentary from guests outside of the realm of political pundits. Melber has hosted a range of musicians for issues-based discussions, from Motley Crüe's Nikki Sixx on the opioid crisis to A$AP Ferg on his efforts to raise awareness for criminal justice reform.
https://www.youtube.com/watch?v=H-7yWe2ddgg?feature=oembed
When I ask Melber about his use of pop cultural references to break down the day's news, he explains that, in his reporting, he uses music, movies and anything else that he feels might help make a news story clearer to viewers.
"True stories are usually more revealing than a list of facts," he explains. "For example…when reporting on Trump's new claim that he will win re-election because the media needs his ratings for business, I likened it to Jay-Z saying 'I'm not a businessman, I'm a business, man!', because it belies a capitalist mentality that he alone is the entire business — a fine concept for an entrepreneur, odd for a public servant."
As to whether music is an effective tool for activism, Melber makes an important point: "Artists have huge followings, so they often are better positioned than traditional aspiring political figures to swiftly reach many people.
At the same time, he acknowledges that "artists face skepticism about their expertise and motivations — are they taking any stands that really cut into their bottom line, or taking stances that are basically popular with their base? But that's only one piece of it. Songs don't have to be activism. They can just be songs, which happen to change minds or culture."
Regarding artists' efforts that stand out in his mind, Melber mentions Jay-Z's 4:44 for its portrait of African-American progress, struggle, and personal growth. He also references Eminem's viral freestyle, which he states was "striking for taking on not only a politician, but the wider electorate and even his own fans." Melber discussed the battle rap on The Beat in October, with rappers Talib Kweli and Fat Joe weighing in while Melber pointed out that Eminem provides "as concise a takedown of Trump's distraction ploys as any political scientist" and that he "put his money where his mouth with is" with his lyrics:
Any fan of mine whose a supporter of his (Trump)/ I'm drawing the sand a line: you're either for or against
https://www.youtube.com/watch?v=B-iFA0nP-Pk?feature=oembed
Regardless of the level of impact artists like Eminem have had by making political statements, the past year or so has undoubtedly been rife with political music:
Perhaps Fiona Apple set the tone during Trump's first week in office when she teamed with composer Michael Whalen to release "Tiny Hands," a minute-long track that became an anthem for the Women's Marches (and the inspiration for many a creative protest sign).
"Tiny Hands" wasn't the first of the anti-Trump protest songs though. In the run-up to the election, novelist and McSweeney's founder Dave Eggers founded the project "30 Days, 30 Songs." Inspired by Trump's habit of misappropriating artists' music without their permission, the project released thirty songs by thirty musicians — including Death Cab for Cutie, Ani DiFranco, and REM — in the run-up to the election with the mission of speaking out "against the ignorant, divisive, and hateful campaign of Donald Trump" and helping to register voters.
"30 Days, 30 Songs" has now grown and aims to assemble a soundtrack of resistance over the next four years—a playlist of 1,000 songs.
There have been a slew of politically charged albums over the past year. Kendrick Lamar's DAMN skewers Fox News, Trump, and institutional racism. Eminem's Revival, released last month, contains several tracks that further express the rapper's condemnation of Trump and his agenda.
Melber references the anti-war movement and civil rights protests of the '60s and '70s as a time of artistic political activism — and in present day, there are certainly big things happening at the intersection of music, pop culture, and politics too.
As to what the next year will bring, singer Halsey just read an incredibly powerful poem at the 2018 Women's March.
MILCK (Connie Lim) — whose song "Quiet" became an anthem of the Women's March last year — released her debut EP This is Not the End just ahead of this year's Women's Marches. If the EP's title track is any indication, the upcoming year in music will be just as active as the last one.