How to watch the 2020 Oscars this weekend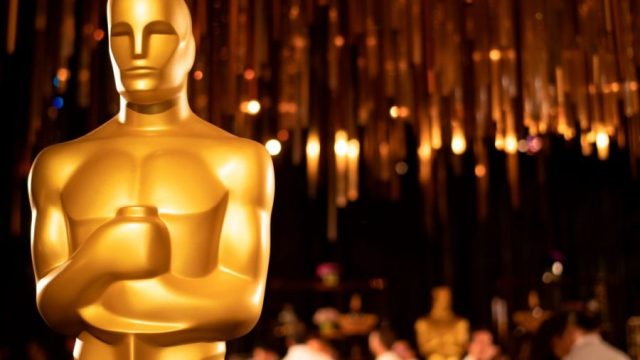 If your favorite season is awards season, then it's likely that you've been keenly keeping an eye on all the best red carpet moments and mic-dropping speeches, just waiting for the grande finale: the Oscars. Offering actors, actresses, directors, screenwriters, and more the highest accolades in the movie business, the Academy Awards are where Hollywood's stars somehow seem to shine the brightest.
And since Hollywood's biggest night is coming up so soon, we thought we'd give you all the need-to-know details for watching and streaming the show.
When are the 2020 Oscars?
This year marks the 92nd installment Academy Awards. The star-studded show will take place on Sunday, February 9th, 2020 at Hollywood's Dolby Theatre in Los Angeles, California–so mark your calendars! It will begin at 5 p.m. PST, 8 p.m. EST, and here's how long it usually lasts so you can get the snacks ready.
When does the Oscar's red carpet start?
If you're looking to check out all the designer red carpet fashion on the Oscars, you'll have to begin your watch party a little earlier.
ABC's "All Access: Red Carpet Live" begins coverage of the celebrities as they enter the venue beginning at 3:30pm PST. 6:30 p.m. EST, with the awards directly following.
E!'s red carpet coverage will begin even earlier, with Giuliana Rancic and Ryan Seacrest streaming coverage on "E! Live from the Red Carpet: Oscars" starting at 10 a.m. PST, 1 p.m. EST.
How can I watch the Oscars?
Since the Oscars are going to be broadcast on ABC, anyone with cable can watch. But if you (like many of us) don't have a cable subscription, you can still watch online. Stream the 2020 Academy Awards on ABC.com, the ABC app, or Hulu, YoutubeTV, or your Roku device.
Who is hosting this year's Oscars?
For the second time in row and the second time in history, the Oscars opted not to have a designated host preside over the evening. Instead, various actors, actresses, and celebrity guests will take turns presenting the awards and "hosting" the crowd. Some of this year's presenters include Timothée Chalamet, Beanie Feldstein, Maya Rudolph, Rami Malek, and James Corden.
Oscar 2020 Nominees
In keeping with tradition, there will be a total of 24 awards announced during the show, starting with the award for Best Actor in a Supporting role and ending with the coveted award for Best Picture.
This year, The Joker leads with 11 total nominations, followed by The Irishman, Once Upon a Time… in Hollywood, and 1917, each receiving a total of 10. The good news is that two of the Best Picture nominees are available to watch on Netflix right now, so you can prep yourself before this weekend's show.