Here's how you can watch the 2018 Oscars Best Picture nominees right now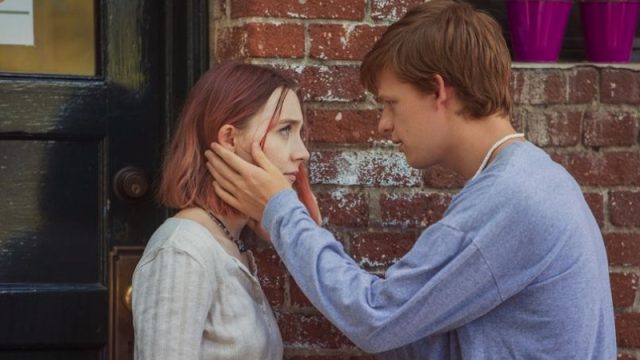 Are you gearing up for the 2018 Academy Awards? So are we. The list of nominees was announced this morning, January 23rd, and we're pretty much psyched for each and every one of the Best Picture nominees this year. Nine films made the cut, and each one was phenomenal.
But if you're like most people, there's a good chance that you haven't been able to check all of the movies out just yet. The good news is there are convenient ways to catch most of them (many are even still in theaters).
This year, the Best Picture nominees included Lady Bird; Three Billboards Outside Ebbing, Missouri; Get Out; The Shape of Water; The Post; Dunkirk; Call Me By Your Name; Darkest Hour; and Phantom Thread.
The Shape of Water was one of the most talked-about films of the year, and it's been nominated for 13 awards in total.  Get Out was also nominated in several major categories, making Jordan Peele the fifth black person to ever receive a nomination for Best Director. Similarly, Lady Bird marks the fifth time a woman has ever been nominated in the Best Director category as well. Basically, this year's movies are begging to be seen!
Here are a few ways you can watch the nominees for Best Picture right now:
1Lady Bird
https://www.youtube.com/watch?v=cNi_HC839Wo?feature=oembed
Released on November 3rd of last year, Lady Bird is still showing at a few select theaters.  While it's not yet available to stream, you can pre-order it from Amazon so that you can own it as soon as possible (unfortunately, Amazon does not say when it will become available).
2Three Billboards Outside Ebbing, Missouri
https://www.youtube.com/watch?v=Jit3YhGx5pU?feature=oembed
Three Billboards Outside Ebbing, Missouri was also a November release and is currently playing in select theaters. The film, which stars Frances McDormand and Woody Harrelson, is currently available to pre-order from Amazon and will be available on February 13th, about three weeks before the Oscars' March 4th ceremony.
3Get Out
https://www.youtube.com/watch?v=sRfnevzM9kQ?feature=oembed
Good news for HBO subscribers — Get Out is available for free on the app. If you're not a subscriber but still want to watch the movie, you can view it on YouTube for $14.99. If you just want to watch it once, your local Redbox will have a copy for around $1.50.
4The Shape of Water
https://www.youtube.com/watch?v=XFYWazblaUA?feature=oembed
The Shape of Water isn't currently available on streaming or DVD just yet, but there are still a few showings in local theaters. It's currently listed on Amazon as a $19.99 pre-order if you feel like waiting.
5The Post
https://www.youtube.com/watch?v=nrXlY6gzTTM?feature=oembed
The Post is still in theaters, but — like a few of the other nominees — it isn't available to stream just yet.
6Dunkirk
https://www.youtube.com/watch?v=F-eMt3SrfFU?feature=oembed
If you missed Dunkirk in theaters, you're in luck. Not only is the film available to rent through Redbox, but you can also buy or rent it on Amazon. It costs $5.99 to rent and about $1.50 on Redbox.
7Call Me By Your Name
https://www.youtube.com/watch?v=Z9AYPxH5NTM?feature=oembed
This film, which helped introduce us to the talented Timothée Chalamet, is still in select theaters. But we're hoping it'll be available to rent soon!
8Darkest Hour
https://www.youtube.com/watch?v=DH9ZWmizdIc?feature=oembed
Not to be confused with "The" Darkest Hour, which was released in 2012, the 2017 film which stars Gary Oldman is still available in theaters.
9Phantom Thread
https://www.youtube.com/watch?v=xNsiQMeSvMk?feature=oembed
This film, which received six nominations, is also still in theaters. Which makes sense, because it's only been out a few weeks. However, there's still a chance we'll be able to catch it streaming before the big show on Sunday, March 4th.