How to Properly Wash Your Cloth Face Mask, According to Experts
You should be doing this after each use.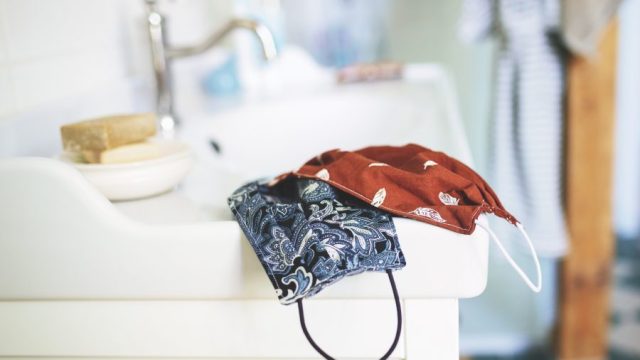 Per updated recommendations from the Centers for Disease Control and Prevention (CDC), wearing a face mask or face covering in public has become a necessity to help stop the spread of coronavirus (COVID-19). The idea is to protect others, especially since some people who are infected show no symptoms and may not know that they are transmitting the virus. Since N95 respirators and surgical masks are to be reserved for medical professionals, who need them most, the CDC has said that "cloth face coverings fashioned from household items or made at home from common materials at low cost can be used as an additional, voluntary public health measure." The most important thing is to make sure your nose and mouth are covered.
"The CDC admits this is not perfect protection, but the hope is that a layer of face covering will help slow the spread at some capacity," says Dr. Niket Sonpal, M.D., a New York-based internist and gastroenterologist who is on the frontlines of fighting coronavirus.
Whether you choose to make your own no-sew mask from a bandana and a few hair ties or create one using fabric and elastics, face coverings are to be worn in public settings where other social distancing measures are difficult to maintain (like grocery stores and pharmacies). It's important to note that the CDC advises against placing cloth face coverings on young children under the age of two or anyone who has trouble breathing, is unconscious, is incapacitated, or is otherwise unable to remove the mask without assistance. All others should be following the recommended guidelines and wearing an appropriate face mask when in public. Right now, some states are even requiring that some form of face covering be worn to enter any public facility.
The CDC says that adequate cloth face coverings should:
fit snugly but comfortably against the side of the face;
be secured with ties or ear loops;
include multiple layers of fabric;
allow for breathing without restriction;
be able to be laundered and machine dried without damage or change to shape.
How often should I wash my face mask?
Though more research needs to be done on how long coronavirus lives on clothes, germs may persist on softer surfaces like fabric. That means simply wearing a cloth face covering or homemade mask is not enough. To be safe, you should wash it, too.
The CDC says masks should be routinely washed depending on the frequency of use. NBC News' investigative and consumer correspondent Vicky Nguyen told Today that if you go out exercising with a mask on and it gets wet or sweaty, it's a good idea to wash it right away. "However, if you're going out for just a half an hour, say, to the produce stand, and you come back inside, then you can probably go 2-3 uses before washing," she said.
To be safe, you should wash and care for your mask frequently, but Nguyen says that in the meantime it may also be a good idea to put your mask in a sunny place. After carefully removing the mask (being mindful that you should not touch your face in doing so), placing it in the sun allows UV rays to work as natural disinfectants.
How to wash a cloth face mask:
When it comes to washing any of your items—including fabric masks—the CDC has recommended that, if possible, you launder them using the warmest appropriate water setting for the items and dry them completely.
Dr. Sonpal agrees. He says that because a lot of fabrics (cotton, especially) absorb droplets and particles, you should wash your mask in a laundry machine with detergent and hot water. If you don't have easy access to a washing machine right now, it's okay to hand-wash; just make sure to do so with hot water and either soap or detergent. After washing, make sure to put in the dryer, too. This method is more effective at cleaning the fibers than microwaving or putting the mask in a pot of hot water, as some online theories have suggested.
"You should wash your cloth masks based on your frequency of use," says Sonpal. "But remember: the less you go out, the less at risk you are of running into the virus."
As information about the coronavirus pandemic rapidly changes, HelloGiggles is committed to providing accurate and helpful coverage to our readers. As such, some of the information in this story may have changed after publication. For the latest on COVID-19, we encourage you to use online resources from CDC, WHO, and local public health departments, and visit our coronavirus hub.