Here are 6 different ways you can use baking soda on your face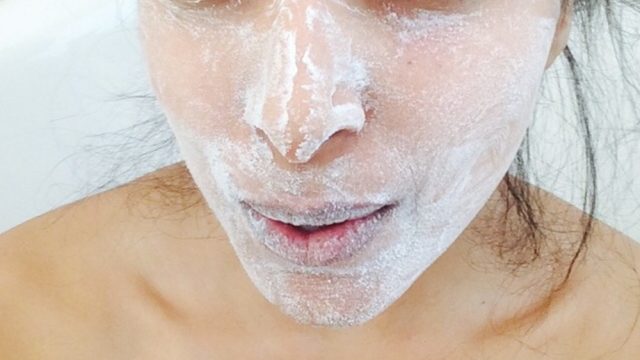 Every day we sit at our vanity or we open our medicine cabinet to an array of skincare products, but what about our pantry? Our cupboards are full of yummy, beneficial ingredients that can totally be part of your beauty routine! While honey and coconut oil are common knowledge when it comes to DIY hacks, did you know that baking soda can totally be used in the bathroom just as much as in the kitchen?
With sweet tooth companies like Too Faced and Beauty Bakerie spicing up their products with food-infused ingredients we went straight to the source of dessert inspo — baking soda!
While baking soda might not be for everyone, it is important so do a patch test to see how your skin might react to the item. The alkaline-rich sodium bicarbonate is a natural powder that has antibacterial, antifungal, antiseptic, and anti-inflammatory properties. So basically, baking soda is a wonderful ingredient for the skin, especially for your the face!
Here are our six favorite ways to use it!
1Use it as a face cleanser
Add a little warm water and presto! No harsh chemicals, just a clean face! While a baking soda wash can clear your skin, we still recommend using a makeup remover, especially to wipe off your eye makeup, to make sure your face is clean!
2Use it as an acne treatment
Most of us have tried to dry a pimple out with toothpaste, but baking soda with a little bit of honey makes the perfect spot treatment! Both ingredients are antibacterial, and when left on for a few minutes, can fight breakouts! Sounds like a great way to get rid of a blemish if you ask us.
3Use it for teeth whitening
https://www.instagram.com/p/BQl6iftjEM7
The most important feature on your face is your smile, right? Well, a bit of baking soda can totally brighten things up! For extra sparkling goodness, make a paste with baking soda, activated charcoal, and water!
4Use it for sunburn relief
https://www.instagram.com/p/BI8nF9QhGFB
Sunburns aren't fun for anyone. If you don't have any aloe on hand, some baking soda will do the trick. Just throw some on a cool wash cloth, and it will not only calm the skin but it will soothe the burn!
5Use it as a complexion booster
https://www.instagram.com/p/wdB5ODu7uX
We are all about DIY face masks! A baking soda face mask with rose water, olive oil, and lemon can moisturize, exfoliate, and brighten the skin for an even complexion!
6Use it as a mattifying face powder
https://www.instagram.com/p/_zsGHSvU5X
The weather is getting warmer, and skin does that terrible thing where it gets oily or sweaty. We especially hate to sweat off our makeup. What happens when you run out of setting powder? Well, if you don't have time to make a quick Sephora run, grab your baking soda! It's a quick dupe for translucent mattifying powder!
Next time you're walking the beauty aisles at the store, don't forget to stop by the cooking section for some baking soda!