7 easy ways to turn your tiny apartment into a meditative space
For those of us who are tiny apartment dwellers, the search for zen can be a bit more difficult to attain. But we firmly believe that just because we are in a smaller space, it doesn't mean it's not possible to create a meditative space for ourselves. Heck, we believe your entire apartment can be a meditative space, no matter how small! It's all about thoughtfully curating the environment around you so that you are never being overstimulated! And we are absolutely certain that it's possible to achieve no matter what your budget may be. Peaceful vibes are not just for those who happen to be more well off!
I, Lourdes, have been a tiny apartment dweller ever since I moved to NYC almost four years ago. It was a tough transition coming from the comparatively palatial apartments I'd always lived in in Los Angeles. But I can honestly say that I'm happier with the small home I've created here because it reflects my taste as well as my desire for peace without feeling overdone. It's true that the more space you have, the more you itch to fill it up with clutter, so those of us in small homes are actually at an advantage when it comes to creating a zen zone.
My current zen zone is pretty sparse, given that I am moving in less than a week! But I'm working with what I've got: a buckwheat pillow and a scented candle!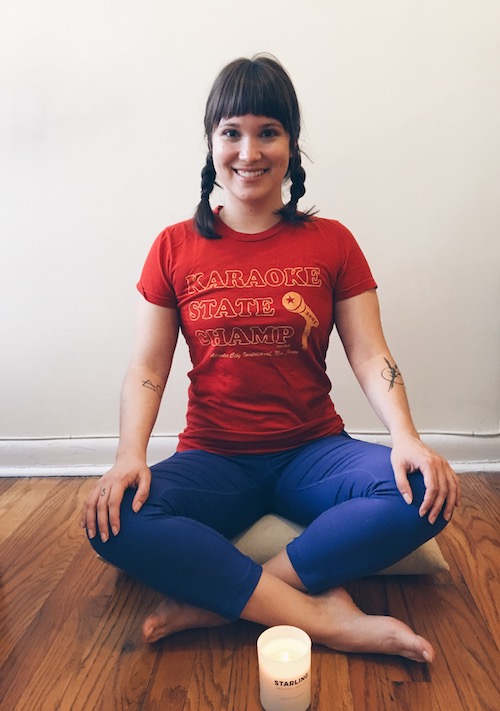 Do you think there will ever come a time when I don't look aggressively dorky on this website? Anywhoo!
First things first, you gotta purge.
You can't have a peaceful state when you've got a million knickknacks, drawers overflowing, and too much furniture in the room. Whether you prefer the Marie Kondo method or just decide to chuck out everything in sight, you must get rid of anything that is not expressly useful. My personal philosophy is that if it is not useful and/or beautiful, then I don't want it in my house. Lots of small apartments lack proper storage space and things that could ordinarily be hidden need to be out in plain view. So it helps when that stuff is nice to look at, whether it's glass jars, a French press, books, or what have you!
The less you can start with when creating a meditative space, the better.
That way, once you add occasional touches, you aren't overcluttering your space again. Remember, CLUTTER IS THE ENEMY!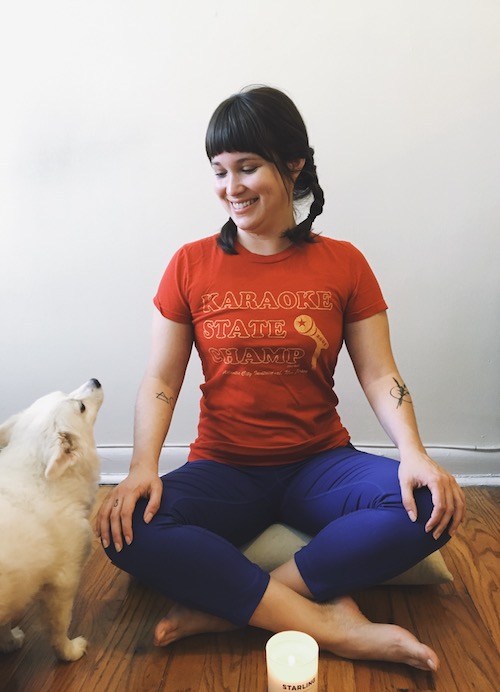 Once you've really cleaned out your space, figure out what it is you need out of your meditative space. A place to read? A spot to do yoga? The good news is, you don't really need much for any of these activities, whether it's space or actual things! Even if your meditative space is just a corner of your apartment, I find that it helps to extend these philosophies throughout, because thanks to the nature of my tiny studio, it doesn't matter where I am, I can see every corner of my home.
Now, let's talk about what you can add to your space. You want it to feel like an extension of your personal aesthetic and style, albeit a peaceful one!
1Plants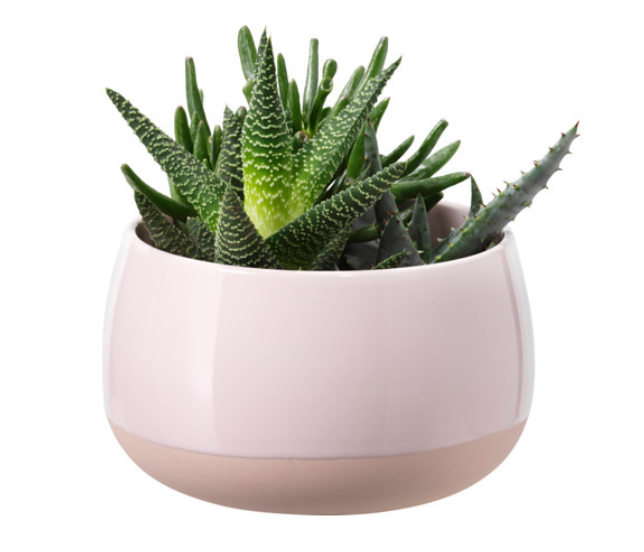 You can't go wrong with plants — not only are they good for you because they clean out your air, but they truly do add a more peaceful vibe to the environment. If you're looking for a more low-maintenance plant, try succulents, snake plants, and philodendron. They're pretty affordable and I find tending to them to be quite soothing! Isn't it crazy that you can get plants at Ikea, like this $14 succulent, now? One-stop shop!
2Rugs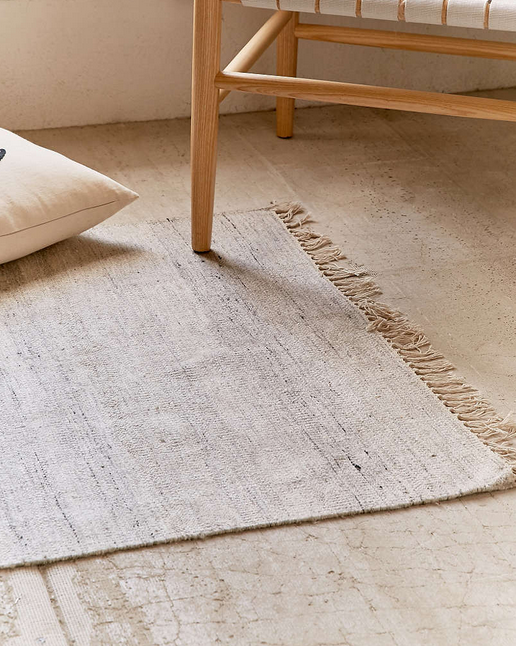 A small rug can be a nice element to add to a meditative space, especially if you're planning on being on the floor a lot. You don't have to shell out big bucks to find one you love. Stick with neutral colors and soft textures, like this Heathered Banana Silk Rag Rug from Urban Outfitters that is available for $39 in the smallest size.
3A meditation pillow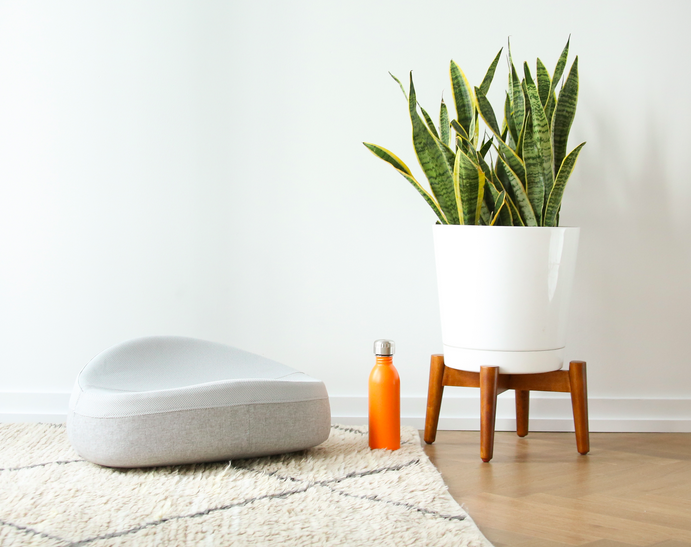 If you're planning on doing some meditating, you're going to want to be as comfy as possible! A meditation pillow like the Undo Cushion is the perfect blend of design and science for a seat that is aesthetically pleasing and extremely functional. You can get it in cream, grey, and charcoal for $150.
4Good lighting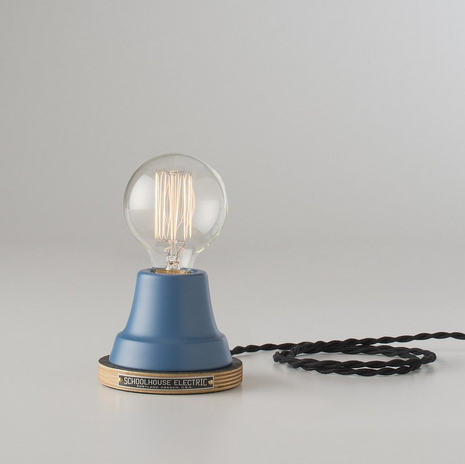 Oftentimes when you have are working with a small space, getting as much natural light as we'd like is just not possible. Natural light has been proven to increase quality of life, among other health benefits, which is why investing in some really lovely lighting is key. A simple, aesthetically-pleasing light that is easy to move around like this Schoolhouse Electric Ion C-Series Box Set adds a nice touch of light without being imposing for $129.
5Calming artwork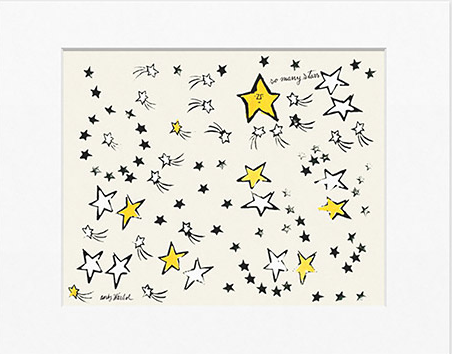 A little piece of artwork will add a touch of personality to your area without making it feel cluttered, like it would if you added knickknacks or little statues. Whether you want to go more the side of religious iconography or a more nature-based, spiritual feel, you can find the right artwork for your space, and it doesn't have to be huge! Love the cover of an old New Yorker that you think represents you and brings peace to your meditative space? Throw it in a frame and hang it! Or you can visit a museum's shop site and order a print that evokes calm to you. This could be especially helpful if there's no nearby window to gaze out from!
6Music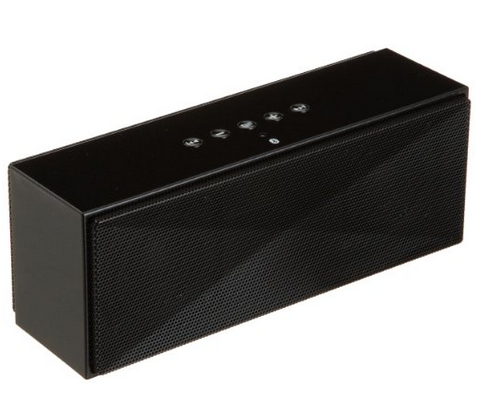 Some gentle music is key for me when I need to feel zen and get in a meditative headspace, but nothing pulls me out of feeling calm like continually needing to adjust the volume on my phone or scrolling through to find a song. Make yourself a playlist, hook your phone up to a speaker, and then just let it run its course without fiddling with it. Gone are the days of Bluetooth speakers costing an arm and a leg — you can snag one like this AmazonBasics Portable Speaker for just $32.13.
7Essential oils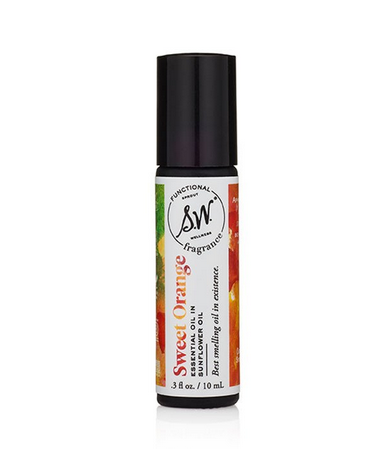 A great, affordable way to help calm yourself and center your mind is natural essential oils. Dab them on pressure points like your wrists and temples, or put a few drops into an oil diffuser to infuse the air with a gentle, natural scent. I'm partial to lavender and gardenia oil, but eucalyptus oil is also positively divine! S.W. Basics has a brilliant new line of essential oils called Functional Fragrance for $12 that comes in Peppermint, Eucalyptus, Sweet Orange, Lemon, Tea Tree, Lemongrass, Lavender, Rosemary, Clary Sage, and Cinnamon!
Yum!
The most important part of having a meditative space is taking the time for yourself and prioritizing your needs. Knowing when you need a break from screens, drama, work and life is really difficult, and having a spot to go and breathe is a great motivator to check back in with yourself once a day.
No matter how big or small, a meditative space is your haven and a place where you can tune into yourself and assess your own needs.