A step-by-step guide to throwing a virtual baby shower, according to experts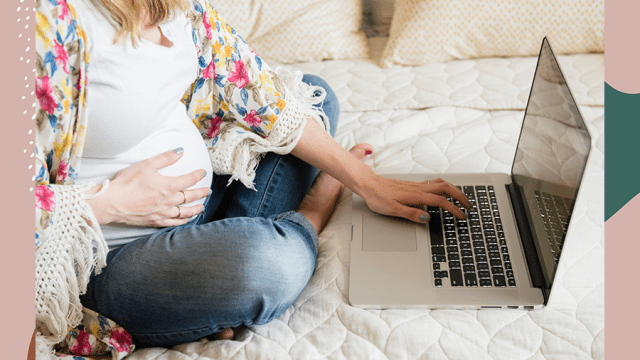 While we're all practicing social distancing to help stop the spread of coronavirus (COVID-19), parties and large gatherings have come to a halt per CDC recommendations. Among these are often baby showers, a party that's usually designated for friends and family to come together and celebrate expecting parents or mamas-to-be. Many times, these get-togethers include guests bringing gifts for the couple, too, helping them to offset some of the costs that come with having a newborn child. But now, moms and parents are having to think of innovative ways to throw a virtual baby shower as a way to get ready to welcome a new child.
"There are plenty of advantages when it comes to holding a virtual shower," says Evite's celebration expert Zaria Zinn. "[For example], if you want it to be only thirty minutes long, go ahead and do just that! This is a special time in your life and the purpose of a virtual shower is to celebrate this chapter with your loved ones and feel supported, excited, and happy."
Now more than ever, expecting mothers need to be supported. From worrying about the virus to experiencing restrictions on who is allowed in the delivery room, mothers-to-be are having to be extra cautious at this time.
That's why we talked to Zinn—an expert in throwing virtual parties even before the coronavirus—to give us some tips for how to throw a virtual baby shower. Whether you're a family member planning this or the mother-to-be herself, these ideas prove that you can still get the same experience (and include the same traditions!) in your baby shower, regardless of its new digital venue.
How to throw a virtual baby shower:
1Send out invites.
Even in these uncertain times, you'll want to give your guests enough time to plan around your baby shower (and maybe even send you a gift). Zinn recommends sharing a virtual invitation at least a week in advance. That way, guests can make sure their schedules are clear ahead of time. Online invitations are the way to go here—over paper invites—since many online options make it easy for you to include a link to the video conference directly on the virtual card. You could also set up a Facebook event where all your family and friends can easily see the info.
And when it comes to selecting the digital "venue," make sure to use a video conference program you're familiar with so you know what to expect. For instance, some apps or platforms only allow a certain amount of guests and/or have a limit on how long you can virtually connect with others.
2Pick a theme.
Make it a real party by including a theme for you and your guests. Whether that means having everyone dress a certain way or prepare some kind of the same food in advance, you can really make it feel like a special occasion with a few little details, according to Zinn. If you're able to, you may even choose to order some decorations online—like a streamer wall or balloons—to set your background. You can also download a festive Zoom background if you like.
3Create a rough timeline.
"Attending virtual events can be accompanied by some anxiety of the unknown, especially if you aren't used to attending them," says Zinn. "However, you should take peace in knowing that all of your guests are excited to join this event because they want to celebrate you and this time of your life." She says that if you're worried about lulls in conversation or things being awkward, have a list of games and activities you want to get through on hand so you can navigate the event smoothly. You can even look up some fun conversation starters online, too.
Similar to a video conference call (but way more fun, of course), think of a rough timeline in your head for how you want to event to go—say, a few minutes for "hellos" and intros, a half-hour for games, a time set aside for gifts (if you choose to open them on camera), and then a few moments in the end for thank-yous and goodbyes. If time runs over or the party doesn't go according to plan, no worries! Just let your guests know when it's okay to sign off.
4Open gifts…or don't!
Though opening gifts in front of your partygoers is an old-school baby shower tradition, you might feel differently about opening boxes in front of a quiet computer screen.
"Gifts may be a big part of baby showers, but hosts shouldn't feel pressure to open them on a screen, and guests shouldn't feel that shipping a grand gift is mandatory at this time," says Zinn. She says that guests can still make the future parents feel special with a thoughtful handwritten note or by taking the creativity up a notch with a choreographed dance to be performed during the virtual shower. While this all comes down to personal preference, she says allocating some time in the event's schedule for opening gifts may make you feel more like your event is the "real thing."
5Play some games.
Part of the fun of hosting an in-person baby shower is getting to play some quirky games. The good news is that, with a little preparation and creativity, most of these activities can be easily adapted for a virtual venue. Here are some virtual baby shower game ideas:
Don't Say "Baby" – This silly game is all about getting your guests to not say the word "baby"—obviously a feat during a baby shower! Traditionally, each person gets a clothespin when they enter the venue and pin it to themselves. Whenever someone hears another person saying the word "baby," they get to take their clothespin. Whoever has the most clothespins at the end of the party wins! To try virtually, have the host send guests clothespins ahead of time so everyone can play. Just call out who hears "baby" first to keep track!
Baby Scavenger Hunt – Before the shower, make a list of 5-10 standard baby items. Then, send the list to your guests and have them go on a scavenger hunt to see who is the most "baby ready." If they can't find the exact item, tell them to grab something close! Give two points to those who have the exact item and one for a similar item. The person with the most points wins!
Who's That Baby? – Ask guests to email photos of themselves as babies to the host. Then, have the host share them with the group and try to guess who is who.
Celebrity Baby Names – Have your guests try to match the names of unique babies with their famous parents.
6Not into the virtual idea? Try a drive-by baby shower instead.
If you want to have a more in-person experience for a baby shower, Zinn suggests opting for a parade party, something that's becoming more popular due to social distancing. Moms-to-be can decorate their lawn with festive streamers and signs as friends and family parade down the street, sending their congratulations from their car windows.