A complete guide to hosting your first holiday party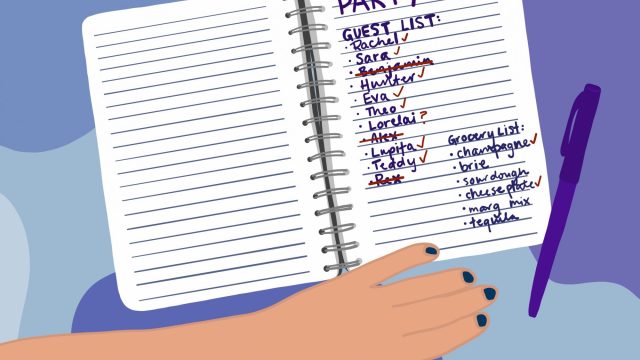 Throwing a holiday party is no small task. But when everyone has a great time, it can also be extremely rewarding. From tasty food and drinks to festive decorations to fun activities, you want to make sure every part of the night goes off without a hitch. If this is your first year playing hostess, we have some expert tips on how to throw a holiday party that will keep your guests entertained and keep the fun going all night long.
It might sound like a simple undertaking, but the work adds up quickly. And there are some small things you might not have considered. When should you send your invitations? What kind of food should you serve? Or, rather, what kind of food shouldn't you serve? But as long as you stay organized, you'll be fine.
For tips on how to throw a holiday party, we turned to the experts. Seri Kertzner, owner and chief party officer at Little Miss Party, had a ton of great advice for first-time hosts. Follow these steps for how to throw a holiday party and before you know it, yours will be an annual tradition that everyone looks forward to attending.
Start by choosing a fun holiday party theme.
The theme sets the tone for the rest of the party. Will it be fancy, silly, or somewhere in between? Does the theme require guests to dress any certain way? Once you have a theme, you have a roadmap for what comes next. The rest of the details will come easy.
Give your guests plenty of notice—plus any important information they need to know.
During the holiday season, calendars fill up fast. Make sure you send your invitations three to four weeks in advance so your guests can save the date ASAP. Plus, make sure to include all the important details, including what time the party starts, your phone number in case they need to reach you, and the evening's dress code.
Deck your halls and decorate.
Once your know your holiday party theme, it's time to set the mood. 'Tis the season to go all out with decorations, so don't be shy. Depending on your theme, deck your halls with the appropriate trees, wreaths, garlands, nutcrackers, bows, and twinkly lights. There's one area you should focus on in particular: the food table.
The food table is a focal point of the night, so be sure to give it some extra love and decoration. Even in winter, you can't go wrong with fresh flowers. But if you need a cheaper alternative, Kertzner has an easy—and aromatic—hack that's just as nice.
"I love having some fresh florals on the table. But if you don't have it in your budget to get flowers, use leftover herbs if you have any in your fridge. Put them in a jar of water and they will smell and look great on your table.
In addition to flowers and/or herbs, candles are an inexpensive way to set the mood. "I love candles as well—always a nice touch and sets the mood for a party," Kertzner told HG. "We have tons of table decor ideas on our blog, you can browse through here to find inspiration."
Plan festive party activities.
Much like your party décor, your party activities will also depend on your theme. If you're throwing a chic, glamorous get-together, you probably aren't going to set up Christmas carol karaoke or a gingerbread house decorating station. But there are some activities that suit every holiday party—like taking pictures.
"I like setting up a station for photos. Everyone loves taking photos these days," Kertzner said. "Set up a Polaroid camera, props (for the holidays, you can find cool things like antler headbands, oversized sequin bowties, plaid ties, etc.), and even a little sign that you can print out and frame saying: 'Snap and share your holiday photos here!'"
Beyond that, it depends on what your guests like. If your crowd likes to play games, have plenty of card and board games on hand. If not, set up a mini dance floor, pop on a great playlist, and dance the night away.
Set the menu.
Dinner parties are fun, but they're a lot of work. You'll spend most of the evening in the kitchen, meaning you won't actually get to mingle with guests and enjoy yourself. Instead of a sit-down meal with multiple courses, serve a more laid-back meal of appetizers and hors d'oeuvres your guests can snack on throughout the night.
Choose simple, crowd-pleasing recipes that you can easily prepare ahead of time—and that are easy to replenish. "Keep it simple and easy by serving finger foods, crudités, chips and dip, cheese boards, etc.," Kertzner advised. There are also a few less-than-party-friendly things to steer clear of: "Anything with sauce is a no go. Also, try to avoid foods that require a fork."
Consider your bar budget.
The most expensive part of throwing a holiday party is stocking the bar. But it's still a party staple that your guests will expect. In terms of serving drinks, you could hire a bartender, play bartender yourself, or let guests mix drinks and serve themselves. And in terms of supplying alcohol, you have a few options.
"Bar depends on your budget, number of people coming to your party, and type of party," Kertzner said. "If you are going to blow it out with budget and can do a full bar, then I would google 'drink calculator' and you'll find tons of sites where you can plan out your bar checklist. But if you want to keep the budget down then I suggest beer, wine, and soft drinks. Make sure to have plenty of ice on hand."
Don't forget to have non-alcoholic options, too. Keeping those things in mind, you might want to ask your guests to help supply drinks for the party. Which leads us to…
Don't be afraid to delegate.
Throwing a holiday party can get expensive quickly. Don't be afraid to ask your guests to help. After all, you're treating them to a fun night in! "I like to ask guests to bring wine, beer, and/or dessert," Kertzner told HG.
If you ask your guests to bring something, she said it's important to be extremely specific. Instead of "an appetizer," ask if they can pick up some French bread for the dip. And instead of "alcohol," tell them what kind so you don't end up with six bottles of pinot noir and nothing else.
If your budget allows, send your guests home with a party favor.
It's not a must-have, but party favors are a fun final sendoff at the end of the night. Bonus points if they're edible. "It's a nice touch but not necessary," Kertzner said. "Again, will come down to budget. If you have the budget, a customized wrapped cookie or a mini bottle of champagne is a really cute take-home gift over the holidays."
Above all else, remember to have fun.
This holiday party is as much for you as it is for your guests. Try not to stress about every little detail so you can enjoy yourself. How? By staying organized.
"Be prepared!" Kertzner advised. "Don't leave anything to the last minute. If you are organized and don't serve any hot foods that will make you a slave to the kitchen, then you can enjoy yourself."
That about covers it. Now get out there and start planning.