Experts share exactly how and why you should thrift your entire wardrobe
We all want to be more sustainable and eco-friendly, but today, there's so much pressure to be a purist that it can be intimidating—not to mention costly or geographically unattainable. That's why, throughout April, Going Green Without Going Mad will unpack how to be more eco-conscious without sacrificing your sanity or 401k. We're diving into the truths about sustainable fashion, talking about the business of going green, and highlighting the brands and people making changes towards a better and safer planet.
As someone who grew up going to thrift stores, shopping secondhand has never really phased me. Nevertheless, I've known many people over the years who wouldn't be caught dead in a thrift store thanks to fears of unclean items—or simply the perceived stigma around buying used clothes.
In 2020, however, those notions seem to be transforming into worries of the past. Many brands and influential celebrities are focusing on going green, creating smaller carbon footprints, and consuming less as a whole. Because of this, consumers are becoming more thoughtful with the ways they spend their money—and how their purchases affect the world. So if you're hoping to go a bit greener with your wardrobe, know that you don't have to spend $100 for a pair of trendy leggings to make your mark.
Instead, you can head to your local thrift store for recycled fashion.
https://www.instagram.com/p/B9K3bsqF1ts
As an article by the University of California Berkeley notes, thrifting helps the planet because it means that fewer clothes end up in landfills and fewer resources (like water and textiles) are used and wasted. To put things into perspective, a typical American family spends a little over $1,800 on clothing per year, and Americans send 10.5 million tons of textile waste into landfills each year. Did you know that 25 billion gallons of water are needed for one year's worth of global textile production? Mind. Blown. And while we're at it, only an estimated 13.6 percent of textiles in clothing and footwear are recycled.
While opting for thrifting over buying brand-new clothes won't solve all of the world's environmental problems, it's a small step you can take to reduce your carbon footprint and do what you can to help.
But is it hygienic to shop secondhand?
Ah, the question that you've been dying to have answered. "There's a stigma that thrift stores are 'dirty,' and I find that to be highly offensive," says Jade Taylor Kadis, co-owner of Ten of Cups Vintage. "For the most part, thrift stores are very well maintained in cleanliness, organization, and privacy to try things on."
That said, the biggest thing you want to keep in mind when thrifting is to avoid items with really questionable stains, and always wash what you buy before wearing it or putting it in your closet.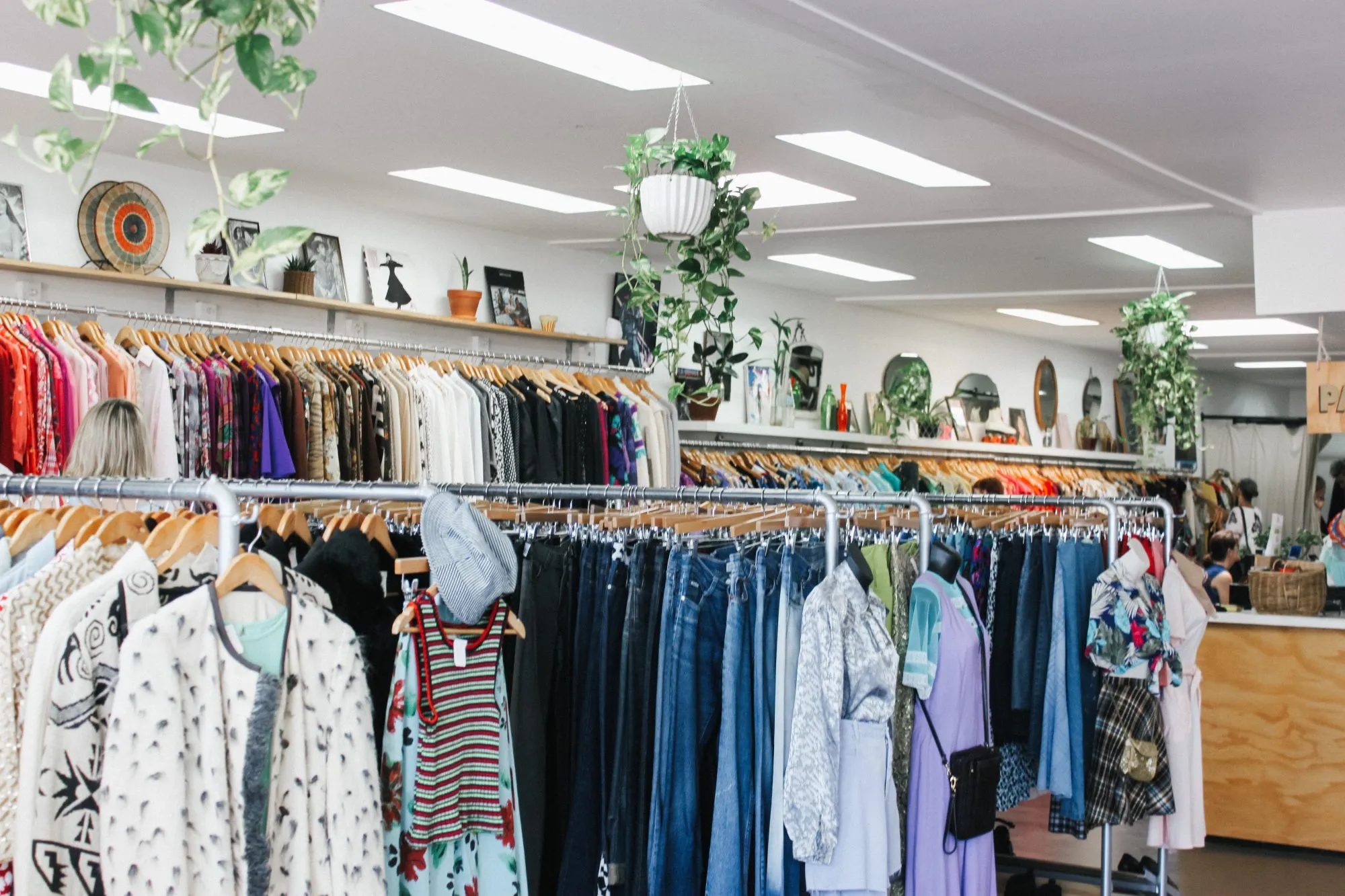 What are the best pieces of clothing to thrift?
TL;DR: Anything and everything—except for underwear, for hygienic reasons. At the end of the day, the best items to thrift are simply what kinds of clothes you're most into.
If you're feeling wary—or if you simply don't know where to start—take a deep breath. To help ensure that you're well prepared for your first foray into used clothing, we chatted with a few pro thrifters for everything you need to know about shopping secondhand. Here's what they have to say.
10 tips for thrifting your entire wardrobe:
1Go in with zero expectations.
"First off, it's okay to be overwhelmed," says Emma Zack, founder of Berriez, a plus-size vintage store in New York City. She says that it helps to go in with an idea of something you're looking for (she likes to bring photo references), or go in with no expectations and just see what you find. "Remember: You might not find something at every thrift store. You may need to try a few," Zack says. "But don't be overwhelmed—just be patient and ready to dig!"
Tyla-Lauren Gilmore, a style and thrift influencer, seconds this, pointing out that thrifting takes time and can be very hit or miss. "Patience is key," she notes.
2Ignore sizes.
"Vintage sizes and shapes are different from modern sizes and shapes," Zack explains. "I'm a modern-day 14/16, but in vintage, my size can range from 10 to 20. If the item looks like it may fit, but it's not necessarily the size you usually wear, try it on!"
https://www.instagram.com/p/B-PW1s5j7Q9
3Don't be deterred by minor holes or stains.
"If you find something you love but it has a hole in it or doesn't quite fit you right, 90 percent of the time a good tailor can fix it for you," Zack says. "I just found an incredible white linen suit from the '80s that's a bit too big in my shoulders, so I'm going to have it tailored to fit my body to perfection."
Taylor Kadis says the same goes for stains. "If you ever find something at a thrift store that's absolutely amazing but has a stain on it, say hello to your new best friend, OxiClean," she exclaims. "My husband and I call it 'soup,' which sounds a little gross, but it's basically when we soak vintage items with stains on them and 99 percent of the time they come out looking like stain-free angels."
4Don't be afraid of the sleepwear section.
"Everyone is always weirded out by the sleepwear section—because, well, used underwear—but it's also where you can find the most amazing vintage robes and caftans," explains Zack.
5Keep track of sales.
"Depending on where you live, learn when certain stores have weekly sales or if they have a membership/rewards program," Taylor Kadis says. "For example, 'Wacky Wednesday' is 50 percent off all clothing at the Salvation Army every Wednesday, and Goodwill usually has a color of the week and tags with that color are 50 percent off. Savers has a membership points program that gives you 20 percent off your entire purchase for every 100 points earned (1 point = 1 dollar). But if you donate anything (it can be literally one item) to Savers before you go in, they will give you a 20-percent-off coupon as a thank you for donating."
6Start small.
"For me, starting with a specific section and then going aisle by aisle is more organized and less overwhelming," shares Zack. And if all the rows of clothing seem daunting, Taylor Kadis recommends slowly scanning them and letting your eye pick out the patterns and fabrics you're naturally attracted to.
https://www.instagram.com/p/B-nQWlXhA7B
7Wear comfortable clothes.
Remember: You want to be able to get in and out of clothes with ease every time you head to the dressing room, so now is not the time to wear five-button jeans and fully-laced boots. Gilmore says that dressing comfortably is key to making your thrifting experience go as smoothly as possible.
8Try everything on.
"If there's a dressing room, try on as much as you can before bringing anything home so you can be certain of the fit and make sure nothing has holes or defects," Taylor Kadis advises.
9Eat something beforehand, grab a coffee, and don't forget your hand sanitizer.
These are three things Taylor Kadis swears by for her thrifting adventures. After all, you don't want to be hangry, tired, or come walking out covered in germs.
10Last but not least, have fun!
"Bring a friend or your partner, or just go alone and space out for a while," Taylor Kadis recommends. "Thrifting is my favorite thing on the planet, and I hope this inspires you to make it your favorite thing, too."