5 ways to talk with friends about money during and after the pandemic, according to experts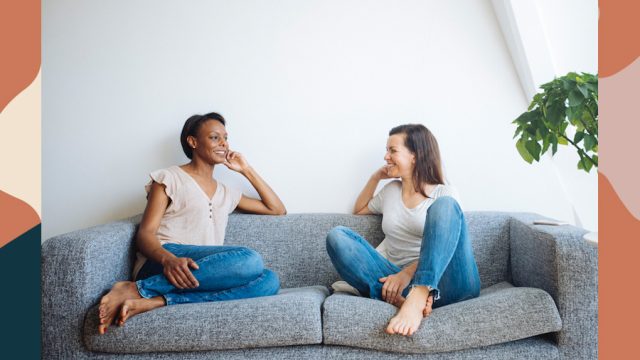 As different parts of the country begin to reopen, some people will plan to go out to restaurants and bars and plan long-weekend vacations, while other people will continue to figure out how to pay their bills. Government reporting shows that over the past two months, more than 36 million people in the U.S. have filed for unemployment. In addition to those who have lost jobs, many others have experienced pay cuts or salary reductions with no clear indication of when or if their original pay rate will return. So, as we look ahead to a post-pandemic future, our friends and loved ones may now be in drastically different financial situations than before—which means some tough but important conversations are sure to come forward.
When it comes to talking finances with friends, Shannon McLay, founder and CEO of the Financial Gym, says fear and shame always come up. Especially now, McLay and her company are seeing that many people are feeling shame around losing their jobs or not being able to pay their bills. But she offers a helpful piece of advice: "However you're managing through this period of time financially, give yourself a break." Whether you're missing payments or overspending from online shopping, it's okay. "Everything you do financially is fixable," she says.
Relieving the shame you feel around personal finances goes hand in hand with overcoming the fear of talking about them. Though you may prefer to run and hide rather than talk with your friends about money, it's important to have these sources of support at this time. Because there's so much uncertainty in the future—and some of us will soon be navigating new territory regarding friends and finances—we talked with McLay and Kimberly Palmer, a personal finance expert at NerdWallet, about how we should be having conversations with friends about money right now.
How to talk with your friends about money during and post-pandemic:
1Have honest conversations.
In the past, you've probably talked with your friends about splitting the bill at restaurants or trying to save money for something special, but were you really being honest about your financial situation? "Money is the ultimate taboo topic," McLay says. "We're more comfortable talking about sex and getting physically naked than financially naked with people."
To get past this discomfort, she recommends scheduling a Zoom call or socially distanced gathering with close friends and just putting it all out on the table. McLay suggests having straightforward conversations where you can ask questions like: How much do you have in your bank account? What's your credit score? How much are you making? Once all the numbers are out in the open, there's a good chance that you'll find more similarities than differences between you and your friends.
If the pandemic has placed you and your friends on different sides of the financial spectrum, talk about it. Oftentimes, people don't have the money conversation because they don't want to offend their friends. If you're the person in a place of financial privilege, it's okay to check on your friend who may be struggling. "Being the person to raise the issue [of money] gives permission to talk about it," Palmer says. She recommends saying, "Hey, how are you doing financially? Do you feel stressed about money?" Keeping the question general allows the other person to open up as much or as little as they feel comfortable with.
If you're in a position where you're financially struggling right now, Palmer says it's okay to be honest about your financial limitations. If you feel pressure to start spending money on outings when social distancing measures lift, let your friends know that you're going through a hard time and can't afford to spend the extra money right now. You can even assure them that it doesn't mean that you don't want to hang out. "So many people are struggling and going through this, and there's really no need to feel shame or feel like you need to hide it," Palmer says.
2Don't make assumptions.
As with everything else, social media feeds can be deceiving when it comes to assessing someone's financial standing. McLay says she hears clients say things like, "Oh, she's doing really well because I see her doing all these things on Instagram." The reality is that social media doesn't show someone's credit card debt or the other financial burdens they may be carrying.
"There are always assumptions about friends' finances," McLay says. "We see that with clients who are like, 'I just feel like I'm not doing as well as my friends. I feel like I'm not saving as much as them. I'm spending too much. I have this credit card debt. They don't have student loans,'" and so on and so forth. Rather than beating yourself up over what you believe is happening with your friend's finances, simply ask them about it. Chances are, that person has financial concerns they want to talk about, too.
3Help hold each other accountable.
When you start having honest financial conversations with friends, pay attention to the things that make each of you uncomfortable. McLay recommends asking questions like, "What
did you not like?" or "What did you feel the most amount of shame to share?" Then, from there, ask: How do we fix this?
"You have a workout or happy-hour buddy. Why can't you become your friends' financial accountability buddy, too?" she says.
Being your friends' financial buddy can involve reminding each other not to purchase certain things, holding onto credit cards, or just keeping each other focused on each other's money goals. "Whatever it is, I think what's really important with friends and finances is that you don't let your friend be alone in it," McLay says.
4Don't loan money, gift it.
McLay has a hard-and-fast rule: Never loan money to a friend. If you want to help a friend out and you have the financial ability to do so, give the money with no expectations of getting it back."If you're not willing to give your friend a gift of a thousand dollars, then don't do it," McLay says.
When you think of the transaction as a loan, things are bound to get messy and the tension can grow over time. "When you see your friend buying something, going out, or doing something [that costs money], then that's going to create a microaggression in your friendship," McLay says.
Gifts of money don't have to be huge undertakings either. Small gestures—like gifting $50 to a friend to help with groceries, if you're able—can make a big difference, Palmer notes. No matter what, though, she says, "The most important thing is to protect your friendship." Offer emotional support, above all, and let your friends know they can talk to you about their concerns.
5Get creative with socializing.
We're probably all missing carefree nights out on the town with friends, but with so many people in financially compromised positions, that kind of spending is going to be even harder to justify as the country starts to reopen. So instead of putting friends or yourself in positions where you'll be spending more than you're comfortable with, try to get creative with your plans. Instead of going out for drinks or dinner, host a mixology class at home, or share a potluck meal at a friend's place. McLay says to think of all the free things you've done virtually during quarantine and recreate them in your homes. "Most people are friends with their friends because of the conversation and the support that they give [to one another]," she says.
If you're going to go out with friends when it's safe to do so, Palmer recommends setting your specific budget for the night and letting your buddies know what it is. That way, they can help hold you accountable and potentially pick a place that will make that budget more doable. Everything comes back to that first, crucial point: The more honest you are with your friends about money, the more comfortable you can be around them and the less you'll have to compromise your financial well-being.