How to Talk to Your Parents About Starting Therapy When They Don't Believe In It
Don't let stigma or generational divides stop you from advocating for yourself.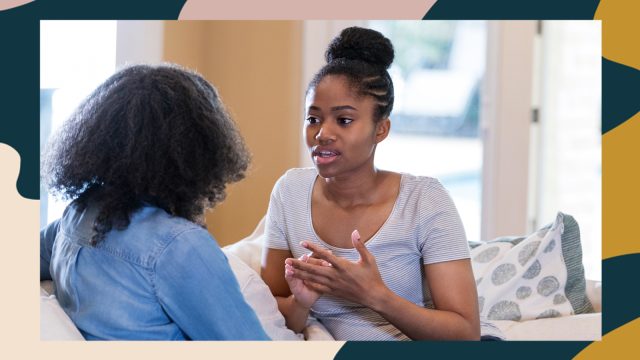 Talking about mental health is, in some ways, more normalized than ever. Millennials have made seeking therapy more mainstream; Generation Z is significantly more likely than any other generation to report their mental health concerns; and various celebrities of all ages are speaking openly about their experiences with conditions like anxiety, depression, and bipolar disorder. Plus, the global coronavirus (COVID-19) pandemic has been forcing many people to confront the very real toll that daily stress and anxiety can take on our emotional and physical health. However, this doesn't mean that the long history of stigma and shame connected to mental health and illness have simply dissolved. This stigma can still be a barrier for people to get the help they need—especially when it's coming from their own parents or caregivers.
Dr. Leela Magavi, a board-certified adult, child, and adolescent psychiatrist, says, "I see a lot of adolescents who confide in me and tell me that they wish they had come to see me months and years ago, but they were so reluctant and frightened to speak with their parents about it and bring it up." Part of this could be due to discomfort with opening up about heavy emotions in general, while another could be the fear that parents will simply dismiss or minimize these concerns.
Due to varying generational, cultural, and societal norms, some parents and caregivers may not view mental health issues as a legitimate problem or therapy as a necessary response, which can make it feel invalidating or unsafe for children or dependents to bring up the desire to seek treatment. As Dr. Magavi explains, a common stigma that some older generations carry with them is the concern that other members of the community will judge their family for partaking in therapy.
However, if you are interested in seeking therapy, it's important to know that there's nothing wrong with asking for help and that you still deserve to prioritize your mental health, no matter what anyone else thinks. While you may not be able to change your family members' minds about therapy completely, the expert advice below can help give you the tools to advocate for yourself and start the conversation about therapy in a more safe and mutually supportive way.
What to do if it's unsafe to talk with your parents about therapy:
Even if you are in an unsafe home situation and you don't have another trusted adult to turn to, you still have some options available to advocate for your mental health.
Talk with a school counselor. Most schools offer licensed counselors that can provide free mental health support to students. If you're not comfortable or interested in having sessions with your school counselor, they may still be able to help by directing you to other resources.
Research the laws in your state regarding minor consent for health care. According to GoodTherapy, "some states allow minors as young as 12 to seek mental health care for either a limited number of sessions or for specific circumstances that may be endangering them."
Engage in other practices that support your mental health. While personal care practices can't replace medical help when needed, you can still work to manage your mental health on your own by doing things like practicing meditation, good sleep habits, and journaling.
No matter what your parents or other family members say or believe about therapy, the important thing is not to give up on fighting for yourself. Check here for tips on choosing a therapist that's right for you.