These relationship tips helped me better understand how to talk about money with my partner—here's what experts had to say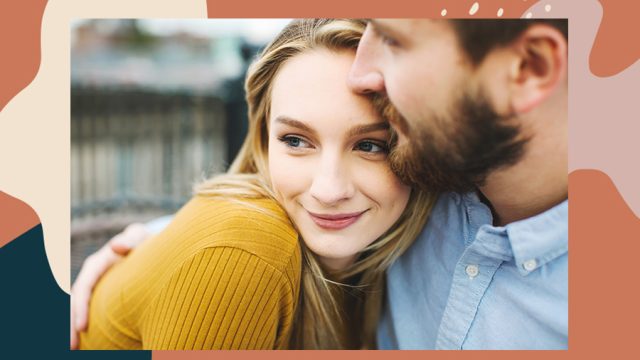 "Okay, so this is great! We can just split the rent. It's the same as what you were paying in L.A.," my boyfriend Spencer* told me as he sipped his IPA and scribbled down numbers with a Sharpie on a cocktail napkin while we sat in a dimly lit bar, a stone's throw away from what would become our new apartment in East Williamsburg, New York.
While this might seem like a reasonable compromise, it was unfair. Spencer and I had just moved from Los Angeles to New York for his job, a job that paid for all of his moving costs. While this reasonably priced apartment (for Williamsburg standards) was equal to the rent he was paying for his Hollywood, California apartment, I wasn't the one who moved from L.A. to N.Y. with a job. Instead, I had to figure things out.
The thing was, I had just lost my full-time job and was trying to figure out what was next. With no work tying me down to Los Angeles, this seemed like the perfect time to take a chance on love. I'm a writer and a host, and while I had a couple of leads at the time and my career never looked better on Instagram, my credit score and bank statement both told a different story. How could I possibly pay half of the rent for our new apartment when I only had random gigs that barely covered my living expenses, let alone just finished taking a huge financial hit because of this cross-country move all in the name of love?
When I explained this to him, he snapped, "If I had known this was how it was going to be, I wouldn't have asked you to move in with me." That stung my heart. Did he ask me to move across the country with him not because he was head-over-heels in love with me and certain that I was his person like I was about him, but because he wanted a roommate and someone to help him out with rent? I honestly couldn't tell you.
This was the first time Spencer and I talked about money, a year into dating and about to move in with each other—and the conversation was incredibly delayed.
According to Stephanie Bousley author of Buy the Avocado Toast: How to Crush Student Debt, Make More Money, and Live Your Best Life, you should talk to your partner about money "in conjunction with conversations about doing something financial together (e.g., taking a trip, moving in together, buying something you will both use)."
Throughout our relationship, I never once flinched at the bill and always offered to pay; oftentimes, I would even have to move money around, but I barely had any money. Apparently, this is common, according to Dana Marineau, VP and financial advocate at Credit Karma. "A recent Credit Karma survey shows that nearly a third of millennials and Gen Zers have gone into debt to pay for dates," she says. This money facade can start as early as in our dating app profiles, as Eric Resnick, a professional dating profile writer, explains. "I often see singles either flexing their financial status (mostly men) or going out of their way in their profiles to ask for people to only message them if they are financially secure," he says. "Either way, it's not a good look."  
While I never flexed my wealth, I understood why Spencer assumed I could handle rent. I didn't look poor; I always kept myself put together with a fresh (DIY) manicure, wore designer second-hand clothes, and had a full face of (Marshall's discount) makeup. But the main problem with Spencer and me was our lack of communication. And because there were certain things we didn't want to talk about—aka money—our relationship inevitably unraveled seven months later. 
But talking about money when you're in love can feel more uncomfortable than discussing your sexual history. "Most people feel more comfortable getting physically naked with their partner than they do getting financially naked," explains Shannon McLay, CEO, and founder of The Financial Gym. Which makes no sense.
If we can ask someone if they've ever had any STDs before getting into bed with them, shouldn't we reveal our credit score before moving in with a partner?
"Sex, money, and power are the three most high-intensity areas in our relationships. Bringing mindfulness, consciousness, and truth in all of these areas are the key, and slowing down and being compassionate with each other is very important because quite often, people have bad experiences or trauma in these areas," says Kapil Gupta, a transformation and relationship coach. 
While kindness and understanding are key, you want to make sure that the both of you are being honest about your financial situations. "I don't think it's necessary to be entirely transparent but it's important to have candid discussions about your finances and expectations going forward," says Dana Stutman, a founding partner of Stutman Stutman & Lichtenstein, LLP and leading matrimonial law attorney and CPA.
So how do you begin to talk to your partner about money? "Don't overthink it, just do it," suggests Leah Bourne, managing editor at The Money Manual. "Open up the door to a bigger conversation about money by sharing a little bit about yourself, and your money situation. A lot of people will take that as a cue to share about themselves. Ultimately, you don't want this to be a one-sided conversation, either. If you're getting serious with someone, feel free to ask questions. A big red flag is going to be someone who doesn't want to answer them." 
According to OkCupid's global communications manager, Michael Kaye, "Financial stability is becoming more important to people than ever before. Millions and millions of OkCupid users would not date someone who had a considerable amount of debt—and the number of people who wouldn't take on a partner with this kind of financial baggage jumped 15% over the last two years. But it's not necessarily how wealthy someone is—it's the financial responsibility that's key."
Which is why if your financial situation is bad, it's essential that you tell your partner that you're working on it. "Put a positive spin on it. Nobody wants to hear 'I'm broke.' It's important to let the other party know that you're 'working on paying down debt' and operating on a shoestring [budget] early in the relationship," says Bill Hines, CEO of Money Coach Group, Inc.
Or if you're not comfortable discussing money with your partner yet, you can get some idea about how your partner would react to this conversation by listening and observing their behavior around money. "Really listen to people when they comment on prices of things: 'I can't believe the valet was $20.' Or, 'Wow, I could have cooked pasta for 30 people for the price of that dish.' Or, 'I had to get my car tuned up and it ended up being $350.' Also, pay attention to how they speak about successful people and people with money. Do they admire them or talk badly about them?" says Lisa Concepcion, dating and relationship expert.
Also, remember that your conversation about money doesn't have to be super serious. "Money conversations don't have to be uncomfortable and scary. Make the conversation playful, inquisitive and filled with fun and curiosity. Instead of asking, 'What's your financial situation like?' ask, 'If you got a windfall of an extra $500 this month, what would you do with it?' or 'If you had a magic wand that would wipe out one of your debts, which one would you choose and how much money would that be?'" suggests financial therapist, Nicole Iacovoni.
While it's important to have in-depth conversations about finances with your partner every now and then, it's even more important to discuss this topic when the two of you are planning to make a major life shift together, like moving in together.
And even though it's completely up to the two of you how you decide to split the rent, Gaby Dunn, author and host of Bad With Money says, you don't have the split the rent down the middle if you don't want to. "I've heard of situations where the partner [who is] paying less takes on more of the household chores, but if that's not possible, you just have to make sure there's no resentment, which means being honest and checking in [with your partner]," she says.
So in the situation with Spencer and me, I wouldn't pay rent until I was making money, which I offered and meant. I did, however, do whatever I could afford, including paying for utilities and laundry, making sure our place was stocked with everything we could ever need, keeping a full fridge, and making home-cooked meals every night. Sadly, this wasn't enough for him, and soon, I could feel Spencer begin to resent me and respect me less and less for not helping out with the rent. This was one of the many signs that this relationship wasn't a good fit, considering that the basis for any relationship should be about compassion and understanding. 
"This is a red flag that will only get worse. Money is the number one reason for divorce and not being on the same page about this, or at least, [learning to appreciate] the pages each other is on is a huge problem," Dunn reveals. Which is true, as our relationship ended only after seven months of living together.
"When you're in a compassionate, accepting relationship, you find ways to give to each other. Expectations and needs should be expressed and discussed. Each partner needs to be a partner. No one should feel they are being taken advantage of and all contributions should feel inspired and appreciated." adds Monica Berg, author of Rethink Love.
Before I recently got into a romantic relationship, I was pretty much broke when I was dating. While I wouldn't divulge this on a first date, I would do everything in my power to not agree to go on dates I couldn't afford to at least split or at the most cover. Sometimes these dates were a hike (free), happy hour (less than $20), or just strolling around my neighborhood (free). Most of my dates would confess to me how relieved they were by our low-maintenance date as most women in Hollywood "just want to get fed."
"You can also plan dates that aren't expensive, like hikes or picnics or free museums," says Dunn. "I don't know how long you can keep up that charade, but if you are broke and dating, you should tell the person AND at the same time, tell them you have a plan to make more money—and be telling the truth. You should really have that plan so you can assure them this is temporary."
Now I am in a relationship, and as our lives merged, I decided to be honest with him about my financial situation. And he was compassionate and understanding. I can't tell you what a relief that is. If you're in a similar situation and are scared to have the money talk with your partner, don't be. The sooner you have this conversation, the better, as Concepcion explains: "If you had a health condition, would you tell your partner once you knew things were getting serious? Treat money just as seriously. Respect money enough to talk about it and study it."