Here's how to support March For Our Lives if you can't be there in person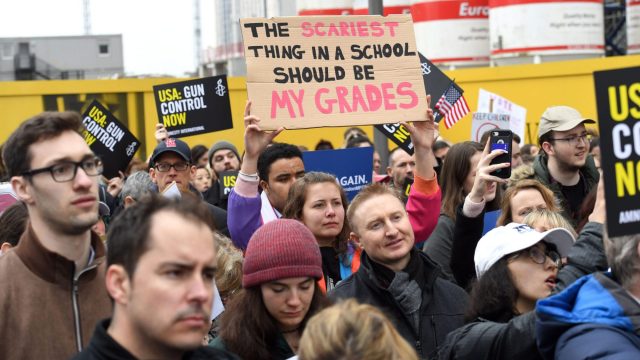 Today, Saturday, March 24th, is a big day. Protestors around the country — and the world — are participating in the March for Our Lives rallies. In case you haven't heard of March For Our Lives, here's a brief recap. The events, largely inspired by the February mass shooting at Marjory Stoneman Douglas High School, are all about fighting for stricter gun regulations and supporting the increasing number of mass shooting survivors around the nation. Our country has a gun control problem, and though it isn't solely about school shootings, the recent events in Parkland, Florida have certainly ignited the loudest conversation about guns in recent history.
After 17 students and faculty were killed at Marjory Stoneman Douglas, many students at the school became fed up. Some of the most vocal activists have been Emma González (who gave a rousing speech about gun control at a rally just three days after the shooting) and David Hogg, who was infuriatingly accused of being a "crisis actor" in the wake of the tragedy. These kids are loudly fighting for their own rights to live, and it's time we all joined them.
But while many of us would like to participate in the march, it's not always realistic for every person to attend. Some people experience intense social anxiety in big crowds, or they fear for their safety, or they have to work on weekends. There are a slew of reasons why you may not be able to make the march.
If that's the case, we have your back.
There are plenty of ways for you to throw your support behind March For Our Lives if you can't actually be there in person. Here are just a few.
1. Share on social media
Yes, social media can be a huge mess of arguments and distasteful conversation. But it is also one of the quickest and easiest ways for people to get the word out. If you can't be there in person, support March for Our Lives by retweeting, sharing, and liking posts about the hundreds of marches across the nation. If you can't be there, you can still lift up the voices that are.
2. Sign the petition
The March for Our Lives petition is an easy way to express your support for common-sense gun reform. Signing the petition will show Congress that you demand stricter gun regulations and prioritize the rights of children to attend school safely. It takes about two minutes to read and sign your name.
3. Send a text message
Smartphones are magic. By simply texting the word STUDENTS to 64433, you'll become a member of the organization Students Demand Action. Led by Moms Demand Action, the initiative aims to give students the chance to lead the fight against gun violence. This quick and simple task is easy for anyone with a cell phone to accomplish.
4. Download the charity single "Shine"
The song "Shine" was written by Sawyer Garrity and Andrea Peña, two survivors of the Parkland school shooting. The song is a touching ballad that features other Parkland students. All proceeds from the song's downloads will be donated to the Shine MSD Fund, created to "raise relief funds for victims and their families and provide mental health programs centered around the arts at Stoneman Douglas High School and Parkland." Download the track here and give it a listen.
5. Donate to GoFundMe
The official March for Our Lives GoFundMe has received a ton of donations so far, though the organization has yet to hit its goal of $3.8 million. Launched about a month ago, the GoFundMe has been shared over 115,000 times and is very close to hitting its mark. If you can't make the march, consider giving even just a dollar to help the cause. The official GoFundMe was created by Cameron Kasky, a student at Marjory Stoneman Douglas.
6. Purchase March For Our Lives merchandise
There is a slew of merch available for sale on the March For Our Lives website. Even if you can make the march, it's worth checking out. From T-shirts to bandanas to tote bags, you can express your support for gun reform by purchasing something. Many of the products are under $30, making them affordable and an easy way to contribute to the cause.
7. Call your elected officials
You've heard this again and again since the 2016 election, but calling your elected officials is just as important as everyone says it is. Contacting your representatives can be nerve-wracking, but it makes a huge impact. If you're mad, let the people in power know you're mad. You have a voice and it can make a difference. Here's how to find contact information for your congressional reps and even put together a short script to help you share your message.
If you have yet to register to vote, now is the time. The 2018 midterm elections are approaching (the primaries are happening now!), and you'll want to participate. Don't put it off any longer: Register to vote here.
March For Our Lives, we are with you. We see you and we are right by your side.