How to stream "Jesus Christ Superstar Live" so you don't miss one minute of John Legend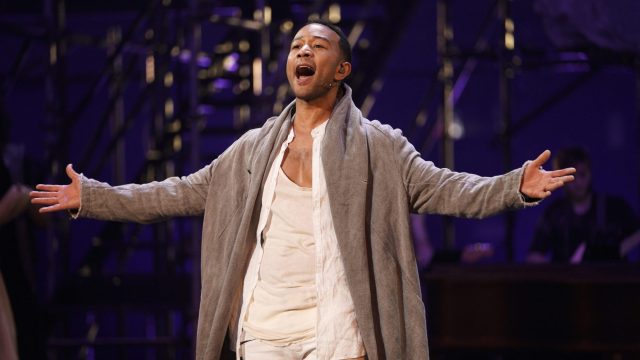 There are priorities and then there are *priorities* — like watching John Legend's highly anticipated turn as the titular character in tonight's staging of Jesus Christ Superstar Live on NBC. Don't have a television? That doesn't mean you have to miss out on the fun. If you want to know how to stream Jesus Christ Superstar Live, we've got your back.
NBC's Easter Sunday production of Jesus Christ Superstar Live airs from 8 p.m. to 10:15 p.m. ET, and will be broadcast from the Marcy Armory in Williamsburg, Brooklyn.
If you don't have a TV nearby, you can stream Jesus Christ Superstar Live at NBC.com/live or via the NBC mobile apps. However, you'll need to log in with your cable or satellite TV provider. You can always try borrowing a login from a friend, but luckily, that's not your only option.
The livestream of Jesus Christ Superstar Live will also be available on a handful of subscription-based streaming services, including Dish's Sling TV, Sony's PlayStation Vue, YouTube TV, and DirecTV Now. Unfortunately, not all of these services offer NBC in all markets. And once again, you'll need a login to access the musical.
Because it's one of the most popular streaming services, your best bet is to start texting friends now to see if they'll share their Hulu Live subscription with you. But if you *really* don't want to miss out on the show — or on live-tweeting the experience — you could always sign up for a free Hulu Live trial and decide later whether you want to keep or cancel your account.
https://www.youtube.com/watch?v=JO2qyS27714?feature=oembed
Finally, if all you have is a regular 'ol Hulu subscription, you can watch Jesus Christ Superstar Live the day after it airs, Monday, April 2nd.
If you haven't heard, Jesus Christ Superstar Live is definite must-see television.
Created by Andrew Lloyd Webber (the genius behind The Phantom of the Opera, Cats, and School of Rock, just to name a few) and Tim Rice (who collaborated with Alan Menken and Elton John on soundtracks for movies like Aladdin and The Lion King), it's bound to be one of NBC's best live musicals yet.
The live production boasts a pretty phenomenal cast, and we're not just talking about John Legend's role as Jesus. You can also see Hamilton's Brandon Victor Dixon as Judas Iscariot, Jason Tam as Peter, Broadway star Sara Bareilles as Mary Magdalene, and Alice Cooper as King Herod.
Now that you're all set to stream Jesus Christ Superstar Live, you can rest easy knowing you won't miss any of John Legend's sure-to-be-epic performance.
And whatever you do, let's hope NBC doesn't pull an April Fools' Day joke on us.
Don't forget to tune in tonight at 8 p.m.