Splitting the Holidays With Your Families Causing Drama? Here's How to Do It Right
Expert tips for divvying up those holiday celebrations while keeping the peace.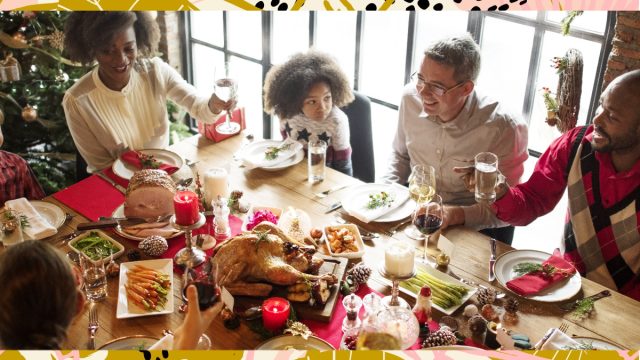 When you're in love, there really is something extra magical about the holidays. It's a time to embrace the romance of the season with your boo, cozy up to one another with a bottle of red wine by the tree, and eat, drink and be merry at all those upcoming parties.
But with any significant relationship comes compromise, and splitting your holiday plans between two families is not all fun and reindeer games — especially when both your mother and mother-in-law host Christmas morning brunch, no one lives in the same state, and everybody wants you at their table. And if you're being honest, you've eaten your great aunt's sweet potato pie on Thanksgiving for over three decades, and the thought of breaking that streak makes you sad.
RELATED: 20 Best Date Night Movies to Watch With Your Partner
Holidays are deeply rooted in tradition — it's why they're so important to us, and why this annual struggle is a real source of anxiety for many couples. How do you divvy up the holidays in a way that allows you to spend time with everyone? How do you alleviate the pressure that comes with making a plan and decision? And most importantly, how do you and your partner stay true to your own holiday vision?
Whether you're married, engaged, in a long-term relationship, or spending the season with your partner for the first time, we've tapped Beth Sonnenberg, LCSW, a psychotherapist in private practice in New York and New Jersey, to share her expert tips for assuaging shared-holiday stress, keeping peace on earth, and putting the "happy" back in "happy holidays."
Be honest and direct (and the sooner, the better).
When it comes to dividing and conquering the holidays between families with your partner, here's the truth: there is always going to be a little jealousy from one side — and you can't make everyone happy.
But experts say, don't try to delay their disappointment by keeping your holiday schedule to yourself until the last minute. "Bring it up as soon as you decide what you'll be doing," says Sonnenberg. "The longer you wait to address it, the more disappointed people will be and it will make plans more chaotic."
Honesty and directness are also key. If you're breaking the news to your family, have the chat without your partner (it's a little less pressure that way) and say something like: 'This year, we're thinking of going to Josh's house for Thanksgiving. We know that may be upsetting, but that's what's best for us. We hope you can respect it and next year we can come to you.'
Show empathy, but stick to your guns.
There's always that chance that despite your best efforts and intentions, a loved one may not be quite as understanding as you'd hoped, serving you and your partner up with a guilt trip or a barrage of questions and demands.
"Have clear boundaries and don't change your plans if that's not in your and your partner's best interest," says Sonnenberg. "The less rationale and excuses you give about your decision, the better, because you don't want to seem defensive. The more you get into 'why,' the more it sounds like you're backtracking and opening things up for discussion."
That said, try to remember that an upset family member is coming from a place of love and wanting to spend time with you. Acknowledging their feelings with an empathetic tone will go a long way.
Find the positive in new traditions.
Feeling a little bah-humbug because you're on an off-year with your family and wish you were gathering by the baked brie with your sister instead of your fiancé's uncle? Try changing your perspective.
"Not being with your family doesn't have to be all negative," Sonnenberg reminds us. "There are multiple ways to celebrate, and you may find you like and even prefer some of your partner's family's traditions."
Maybe this is your first time experiencing the Italian Feast of the Seven Fishes, the eight days of Hanukkah, or midnight Mass—welcome the opportunity to embrace new cultures and traditions with your partner by your side.
Offer up alternatives and split the celebrations.
The good news is, there are plenty of ways to make up for your absence at the holiday dinner table this time around. Sonnenberg suggests offering up one of these alternative plans:
Rotate major holidays. Many couples soften the blow by giving one family Christmas or Hanukkah and the other family Thanksgiving, then switching it up the next year.
Offer up different days and times. Think of it more as the holiday season so you can just keep celebrating (and spread out your stuffing intake). If you can't hit up both houses on the same day because of distance, suggest a holiday get-together the week before so everyone can be there. If geography is on your side, you can split up the day time-wise by watching football and having hors d'oeuvres with your parents, then leaving late afternoon to have dinner with your in-laws.
Host everyone at your home. Especially if you are newlyweds, there's no better time than the holidays to start a new tradition and invite everyone to make merry at your house. Yes, hosting is a lot of work, but it comes with a lot of perks: you get to see both families at once, you make the guest list, and you don't have to sit in traffic.
Embrace virtual gatherings. In a post-Covid world, technology has come in handy and given us perspective about what celebrations can look like. FaceTime or Zoom make for great second-best ways to "gather" with loved ones from afar. Plan a video happy hour with the far-away family in which you're all drinking the same thing. You can also open each other's gifts live and savor their reactions, almost as if you were in the same room.
Plan a celebration for two with your partner.
Amidst all the stressors, travel, and people-pleasing that come with the holidays, don't forget to take time with your spouse to celebrate your love and the spirit of the season.
You can share holiday memories from childhood while you put up the tree, exchange gifts with just the two of you, make dinner together in which you each incorporate that special dish from your families' tables; or, start a new tradition and plan a couple's weekend getaway.
Try as you might, you will never be able to make everyone happy, but you can ensure that you and your partner find the joy in the season together.