How to shop for plus-size shoes, because the struggle is real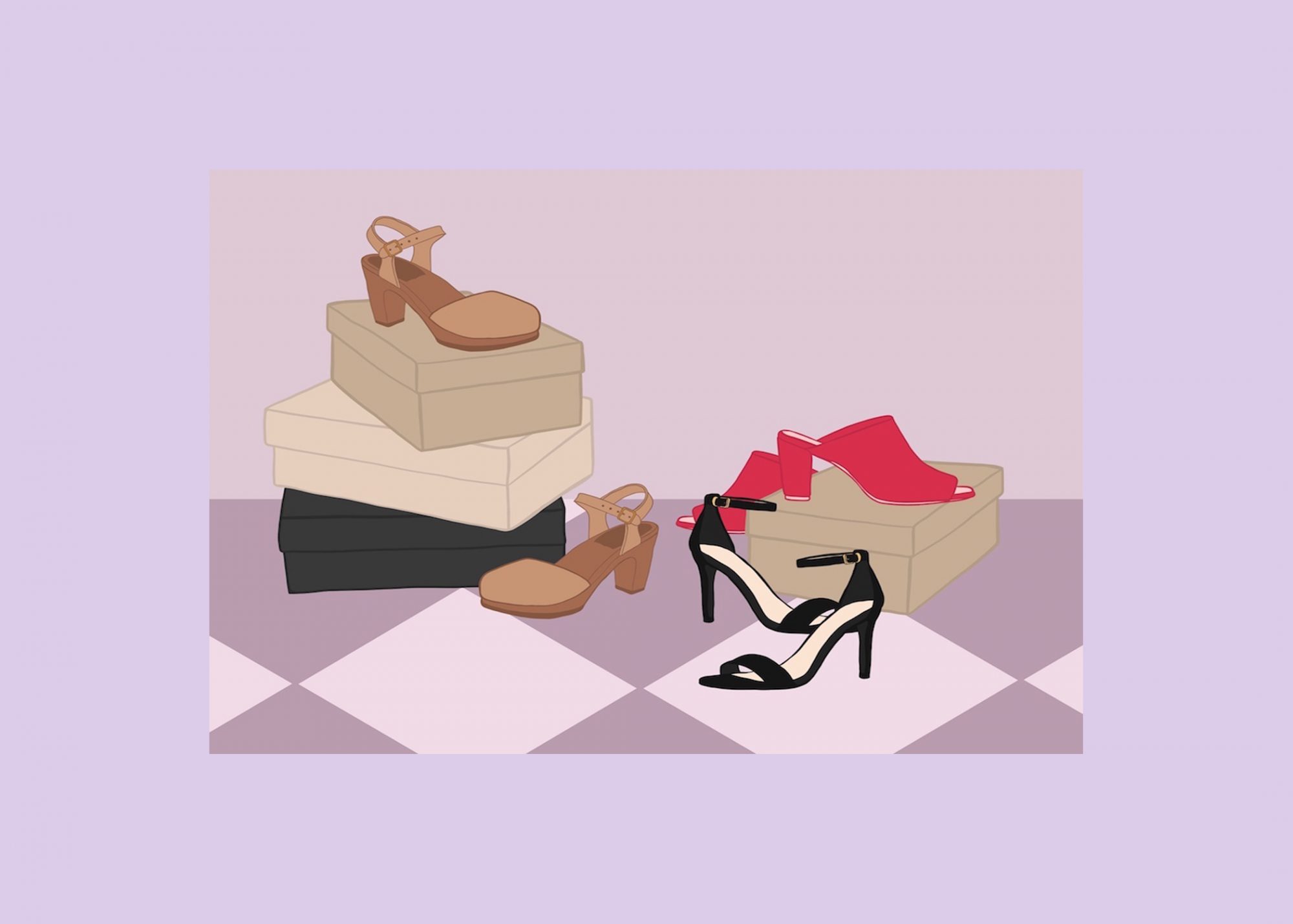 Right now there's a pair of gray boots I've never worn sitting in my closet, hoping this fall will be their season. They technically fit, but if they would just zip up a little bit more, they would be perfect. These knee-high boots were a hopeful online purchase, mainly because they were too cheap to pass up. But they were ultimately a disappointment. From boots without a wide enough calf, to ankle straps that barely meet, shoe shopping, similar to clothes, can be a problem for plus-size women.
Curve model Judah Campbell knows the struggle all too well, and spoke to HelloGiggles about this issue. "When shopping at the mall, there aren't plus-size-friendly shoe stores like there are stores that carry plus-size clothing, so it's harder to find wide-width shoes." Campbell is a size 10, but said she wears anything between a 10 and 11.5, depending on the brand and style.
Her main problem when shopping for shoes is finding boots that fit. To make things worse, it's an even bigger disappointment for someone who loves the style so much she was nicknamed after it. "When I was younger, my parents bought me bright pink cowgirl boots for a Halloween costume, and after that, I wore those boots everyday until they didn't fit me anymore. My nickname is still Bootsy, 20 years later."
From knee-high, ankle, and even rain boots, Bootsy loved them all, but finding a pair that worked for her became increasingly difficult when the thigh-high boot trend started. "I loved the style of them, but of course, when I went to look for some, my biggest struggle was finding a pair that actually fit my thighs, and a pair that I can actually pull up to my thighs!"
Campbell, like other curvy women, knows the difficulty of shopping for shoes that actually fit and feel comfortable. She wishes this movement toward more size-inclusive clothing extended to the shoe industry. "A lot of brands forget that when they make the shoes longer to fit our feet, everything needs to grow along with it, including any fabric, straps, and laces." she says. "Stopping shoes at a size 10 is just as disappointing when brands stop sizes at large. And this goes for women of all shapes because, let's be honest, there are petite women with big feet just like me. It's important to me that everyone feels included, even when it comes to simple things like shoes."
There are definitely a few brands out there who are listening and putting their best foot forward—pun definitely intended—to make change.
"Currently, we are seeing more brands experiment with wider widths, which is a step in the right direction, but there is still more work to be done." Yesenia Torres, design director at plus-size retailer Eloquii, says. "We take shoe width into consideration for our customer, but we also make sure our ankle straps, heel heights, calf circumferences and inside cushion support is thought-out as well."
As a fashion-first company, Eloquii's main focus is creating stylish options that also have the perfect fit. By fitting styles like their wide calf boots on plus-size models, they can better meet the needs of their customer. "We design our shoes in-house and work closely with our suppliers to ensure a great fit," Torres says.  "This allows us to design on-trend styles."
Another champion in the industry is Torrid, a plus-size brand who is always thinking about its shopper.
"Our girl is fashion savvy and we want to make sure we're giving her the trends she wants—for every occasion—in wide widths," the Torrid shoe team says. Their customers are frustrated with the majority uncomfortable and not fashionable wide width shoes on the market. Torrid aims to answer their cries for help by figuring out how they can make their styles more comfortable and more adjustable for their customer, while finding a way to make sure she feels stable and confident, especially when wearing high heels. They achieve that by creating shoes with extra padding and elastic.
Size-inclusive design needs to go beyond just clothing. All women deserve a selection of comfortable and supportive shoes that don't require them to sacrifice style. While brands like Torrid and Eloquii are making strides to deliver the on-trend styles you want in the size you need, not all brands are there.
Until then, follow these tips for finding the perfect fit.
1. Check your size. With a proper fitting shoe, you shouldn't have to size up in length to accommodate width.    
2. Always ask what the width is.
3. Look for adjustability—buckles, elastic, or zippers.
4. Pick up a shoe and feel for support and cushion.
5. Feel the material and make sure it's not stiff; check to see if it has stretch.
6. Keep an eye out for hidden elastics, supportive insoles, and sturdy heels.