If you want to raise awareness on Instagram right now, these easy-to-use features will help you out
On Blackout Tuesday 2020, many people awoke to their Instagram feeds being filled with images of blank black boxes. While the movement was meant to show support and solidarity for Black Lives Matter—spurred on by the needless death of 46-year-old George Floyd—it sparked a ton of debate about the power of social media. While some people saw the movement as a way to amplify black voices by going dark, several activists and celebrities argued that social media is one of the biggest tools we have in fighting injustice, and we should be compelled to use it accordingly. Instead of going silent, "we need to spread info and be as loud as ever," as rapper Lil NasX has tweeted.
Now more than ever, we are seeing the power of social media as a way to aggregate not just curated photos but insightful graphics, news, crowd-sourcing, and on-the-ground citizen reporting.
https://www.instagram.com/p/CA0zhFzFjLf
From accounts dedicated to following and informing cities of their organized protest routes to those that provide safety information, videos, links to reputable donation sites, educational resources, and more, there are plenty of sharable, easy-to-access resources available at the tips of our fingers. Our social media platforms have become an important tool in sharing information for ourselves, our friends, and our followers. Luckily, there are several features that make sharing that information even easier. Whether you want to direct your followers to the link of an informative article or share an insightful graphic to your Instagram story, here's how to use a few helpful features.
How to do a swipe up on Instagram:
Unfortunately, the "swipe up" feature that you might see some accounts using to link to petitions or donation sites is not available to everyone (we know, it's a bummer). Right now, Instagram only allows this feature to be used on Instagram Business Accounts with at least 10,000 followers (a setting you can change on your profile by linking a business website).
If your profile does meet these requirements, you can access the "swipe up" link feature by following these steps:
Go to the main page of your Instagram feed and tap your profile icon. Or go to your profile and tap on your picture to add a new story.
Create the story by taking a photo, adding one from your library, or just typing text.
Tap on the chainlink icon in the top right-hand corner of the screen and enter the URL.
Remember to add a call to action on your story so followers know to swipe up for more information or be directed to a new page.
Publish the story by tapping your profile photo icon with the (+) in the bottom left-hand corner of your screen.
View your story to ensure the link works correctly.
How to put a link in your Instagram bio

If your profile does not meet the requirements necessary to obtain the swipe up feature, the easiest way to share a clickable link is by posting it to your Instagram bio. To do this:
Navigate to your profile page and tap the "Edit Profile" bar.
Under "Name" and "Username," there will be a form for "Website."
Type or paste the website name into this field and hit "Done" to save.
Tip: To provide multiple links in your Instagram bio, try using a free service tool like Linktr.ee. This will allow your followers to navigate to a single page of curated links through a one-click-through action in your bio.
Other ways to share, post, or add links on Instagram:
Without the "swipe up" feature, it can be tough to decide the best way to share, post, add, or attach a link on Instagram Stories or even within your posts. Here are a few ideas on how to share linkable information with your followers.
Give followers clear directions to a link in bio.
A common solution is to post a screenshot of the article or page you want to share and add to your story with a call to action to have your followers find out more info via a link in your bio.
Share a short link.
If you'd like to include a link in an Instagram caption or directly on your stories, try using a link-shortening service like Bitly or TinyUrl so that it's easier for users to copy and remember. While this will require your followers to interact with the caption or story (as they will need to copy and paste the link into their mobile browsers), it's a simple step to take.
Offer to direct-message a clickable link.
Instagram's direct message feature allows users to copy and paste clickable links and send them to friends. You can start a new direct message by tapping the paper plane icon in the top right corner of the screen and then the (+) icon. Then, you can paste the link and send it privately to a friend or follower.
How to repost an Instagram story:
If you see a post that resonates with you on someone else's story or feed, you can easily repost it to your own Instagram account.
Locate the Instagram post or story you want to share.
Tap the paper plane icon on the bottom right-hand side of the screen or below the post.
If it's a story, public accounts with the share option enabled will allow you to share the story with friends and followers. If it is a post, you will be able to re-post the image to your story by choosing the "Add post to your story" option.
If you're tagged in an Instagram story, you'll receive a DM notifying you along with a call to action to "Add This To Your Story."
How to include helpful Instagram stickers:
To add a sticker to your Instagram Story, tap the smiling square icon in the top right-hand corner of the screen. This will open another screen of around a dozen interactive stickers created by Instagram.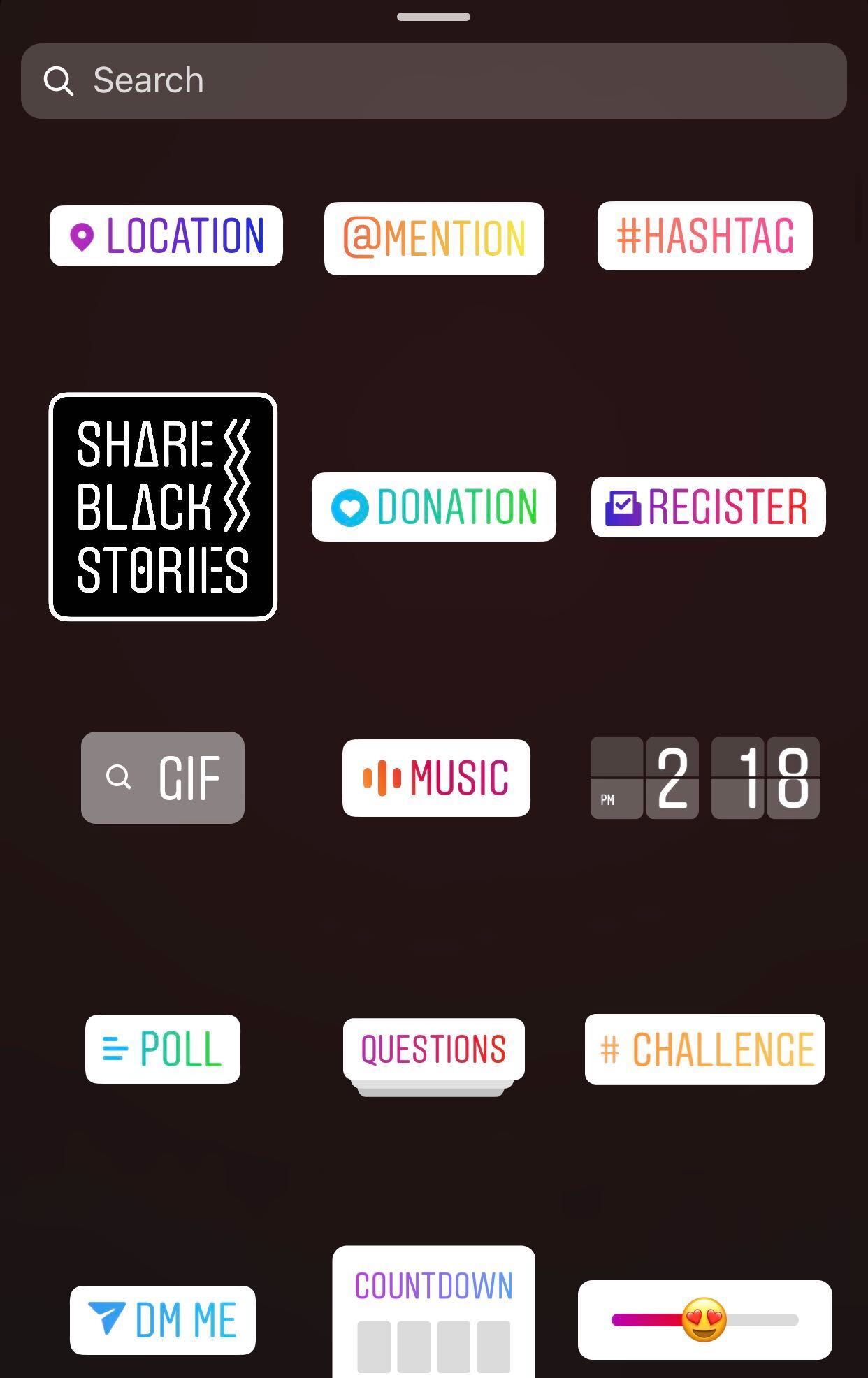 Add a donation sticker to allow people to donate to a nonprofit that you care about or contributed to. Once you select, the app will prompt you to pick a nonprofit for people to donate to. Right now, some of the top nonprofits listed are The Bail Project, ACLU, and the Equal Justice Initiative. When the sticker goes live on your published story, people will be able to tap and donate to the organization you chose. You can track the total amount raised and view the donations by username, too. And rest assured: According to Facebook (the company that owns Instagram), all nonprofits receive 100% of the money raised through the donation sticker.
Instagram has added a register to vote sticker to help users get ready for upcoming U.S. elections. To add the sticker to your story, simply tap it on the sticker home screen. Your followers will be able to interface with the sticker by tapping it and finding their state. Instagram will then direct them to their designated voting site with more info.
Use the poll sticker to get a better sense of what your followers are thinking or how they are feeling based on a question you ask.This sticker allows you to post a single question with two answers for your followers to choose from. Once they tap to vote, you will be able to track the answers by username.