How to Set Your Friendsgiving Table Like an Absolute Pro
Your guests' jaws will drop over this stunning holiday table spread.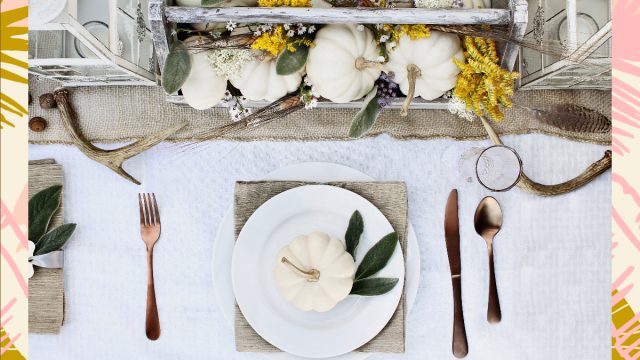 Thanksgiving isn't just a dinner, it's the dinner. A holiday that revolves around food and your loved ones, it's an extra fun one to honor more than once: Enter, Friendsgiving!
If you're headed out of town to spend the holiday with your family, you might consider hosting a Friendsgiving celebration with your friends before or afterward. But, putting together a fab dinner spread (hint: ask everyone to bring a dish) is only half of hosting an epic gathering—you've also got to set the scene. And the ambiance is everything.
You want to make your dinner table the shining star at the center of the show. From decor to dinnerware, there's a lot to take into consideration, and knowing how to set your Friendsgiving table like an absolute pro is easy once you follow these tips.
You're going to want to make sure your table is decorated and inviting. Start with a fun tablecloth or table runner. Don't be afraid to play with color (despite the above photo's aesthetic!).
Pop into your local thrift store and browse their selection, while also keeping an eye out for other fun decor and props that might fit either your personal aesthetic that your guests will know and expect from you or a fall theme—acorns, leaves, rich oranges and browns, cozy plaids, and cork.
RELATED: These Are the Cutest Thanksgiving Desserts Your Guests Will Flip Over
2
Get fancy with the table settings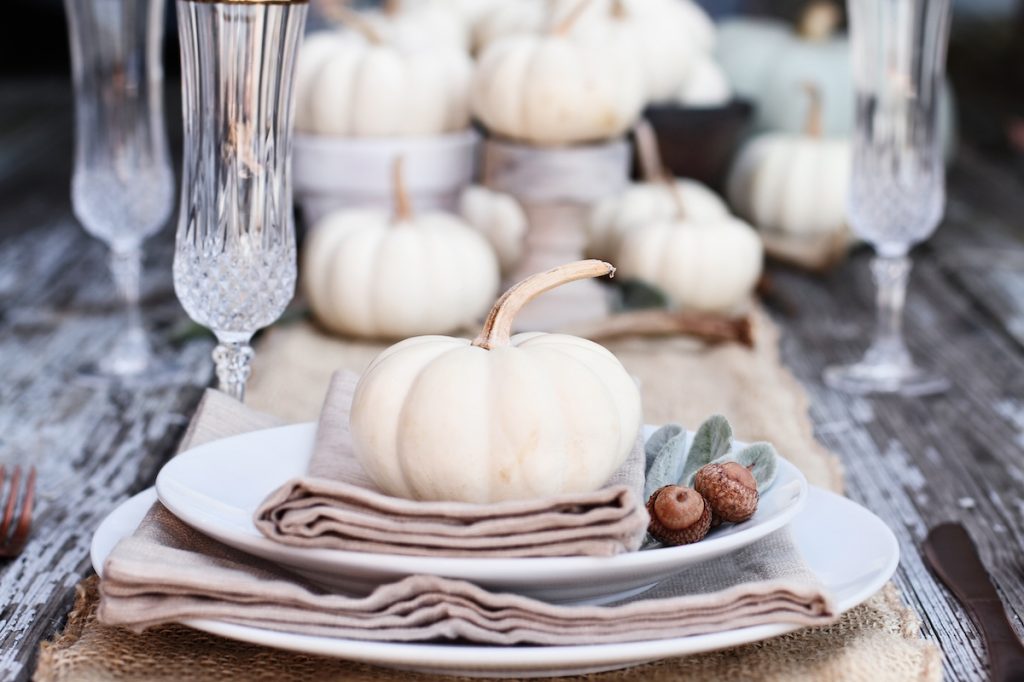 Listen, paper plates and plastic silverware are easy, but again, Thanksgiving is all about this one meal, so why not go all out when it comes to your table settings?
They don't need to be expensive, but having a full setting will really elevate your dinner party. Whether you want to keep things simple and elegant or want to have bold and flashy plates, cups, glassware, and silverware, the key is to stay consistent.
Again, thrift stores and spots like HomeGoods and Marshalls are always a great spot to start, or raid your family's china cabinet and see if they have any great bespoke pieces that you can use.
3
Set the table correctly
Here's an easy step-by-step guide for arranging each of your guests' place settings:
Step 1: Put the plate you're using in the center of your placemat or on top of a charger (or both).
Step 2: For silverware, start from the outside in by placing the salad fork and the dinner fork to the left of the plate and the knife on the right side with the blade facing the plate and the spoon to the knife's right.
Step 3: Place both the water glass and the wine glass on the right side above the knife and spoon.
Step 4: Fold a cloth napkin in the center of the plate.
4
Turn your napkins into a work of art
If you're feeling extra and have some time on your hands, make your cloth napkins work overtime.
There are so many napkin tricks out there when it comes to folding them into cool shapes that will impress your guests, but on Turkey Day, try a fun origami design, like this cutie turkey that will stand at attention on each of your guests' dinner plates. Too cute!
5
Make sure to have a festive centerpiece
The table is dressed and set, now it's time to add something a little extra. You're going to need a fabulous centerpiece. Keep in mind that you're going to need plenty of space for your turkey and all of your delicious sides, so depending on the size of your table, consider skipping one large centerpiece and incorporating a few smaller moments scattered across the table.
Keep it simple with a bouquet of fall-colored florals—Trader Joe's always has great bunches that last for days. You can also totally splurge with a stunning centerpiece that will last forever (or at least a few years) from a place like Venus et Fleur.
Want something other than florals? How about pumpkins or pinecones? Add ribbons or spray paint them to make sure they work with your chosen decor.
6
Get personal with your place settings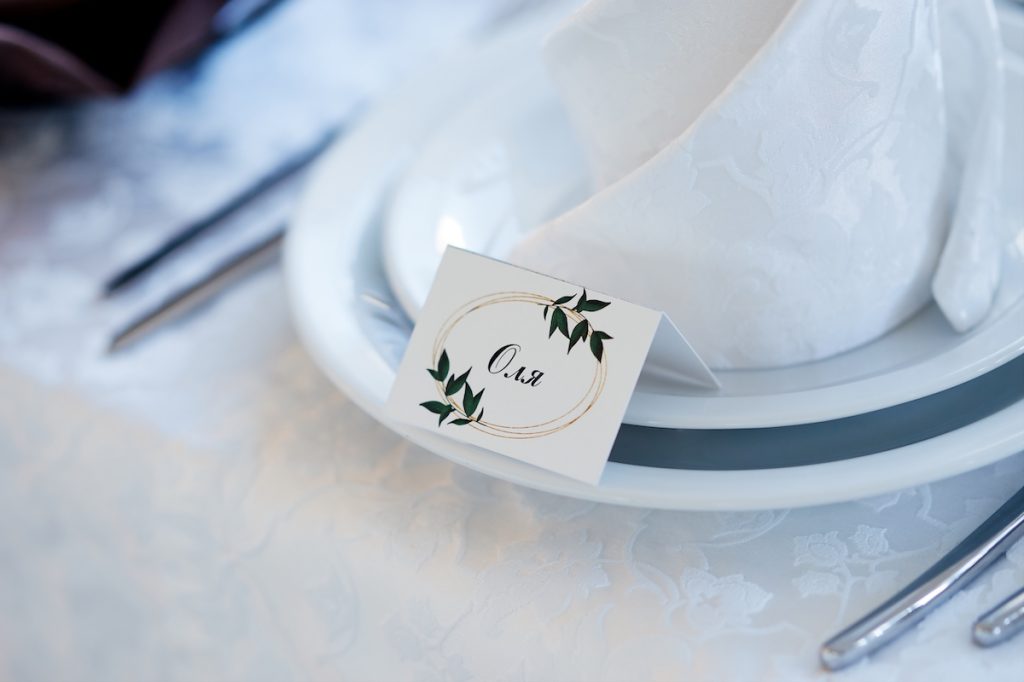 You're almost done! One last detail that will really set your Friendsgiving table over the top is a personal seating card for each of your guests.
This could be just a simple handwritten or printed table tent, or you can get creative with cookies, fancy name cards, or little sticks.
Another, more heartfelt option, to consider would be to write each of your guests a note in a greeting card telling them why you are thankful for them.
Amber Love Bond is a Miami-based freelance hospitality and lifestyle writer.
Read more