4 Tips for Organizing Your Shoes to Declutter Your Closet and Life
Whether you have a small space, an excess of shoes, or a little bit of both.
Getting a new pair of shoes can be thrilling, but trying to figure out how to store those shoes among the many existing pairs piling up in your closet can kill the vibe real quick. While we can all dream of having Kardashian-style walk-in closets just for our shoes, the reality for most of us is that we're just trying to make the most of the little space that we have. Shoes, in particular, can be tricky to store. Unlike other clothing items, which you can fold, roll, and stack in endless ways, storing shoes can feel like trying to complete a puzzle when none of the pieces fit. So we consulted experts for advice on how to organize shoes in ways that make sense.
From sorting shoes by what's in season to investing in specific containers for different shoe types, these small changes can make a big difference in your closet, the area under your bed, or the entranceway. Whether you're a Gossip Girl-level shoe lover or more of a minimalist, keep reading for all the shoe storage advice you need to help declutter your home—and your life.
1. Consider downsizing.
This first tip is perhaps the hardest to follow. For any shoe lover, having a closet overflowing with shoes can seem glamorous and rewarding—but the chaos and clutter that comes with it definitely does not. Ashley Murphy, a cofounder of Neat Method, says that "a common mistake is having so many pairs that everyday shoes are stored away and forgotten about." So: "If you have more shoes than you have space for, seriously consider whether they are needed or whether it would be better to pass them along to someone who would use them," she adds. Read more about where to donate your clothes here.
2. Add entranceway storage.
Whether you're a shoes-off household or you just need extra storage, an entranceway shoe rack or cabinet can be a great option. Marissa Hagmeyer, the other cofounder of Neat Method, says that not having some sort of storage option at the main entrance of your home is another common shoe organization mistake. "A small, attractive shoe rack can do wonders to keep entrances neat," she says. If you're lacking closet space in your room, an entranceway shoe rack can help free up some room and offer a place to keep your most-used shoes. Plus, taking your shoes off at the door is a nice way to get comfortable and settle in when you get home.
Shop entranceway shoe storage options below: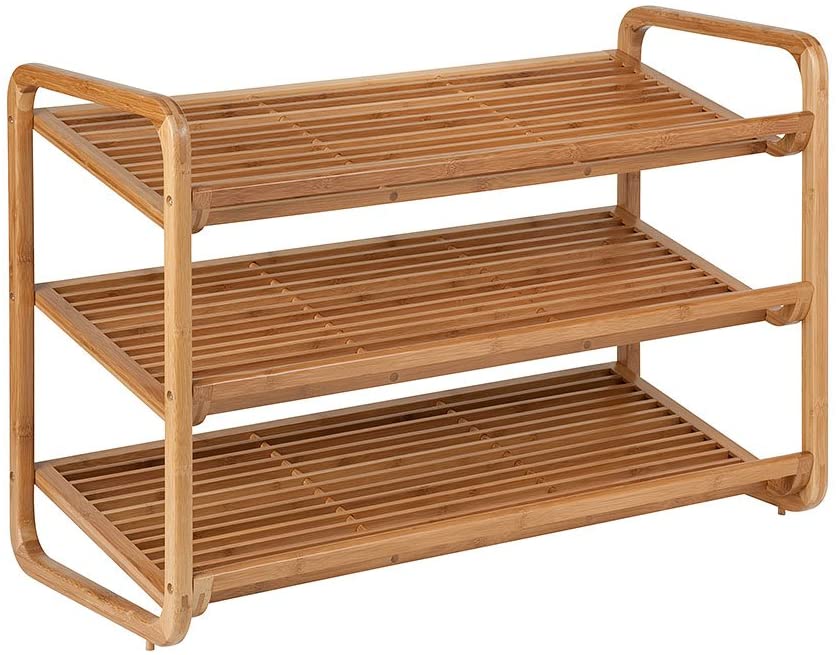 Honey-Can-Do SHO-01599 Bamboo 3-Tier Shoe Shelf
$62
Shop it
Amazon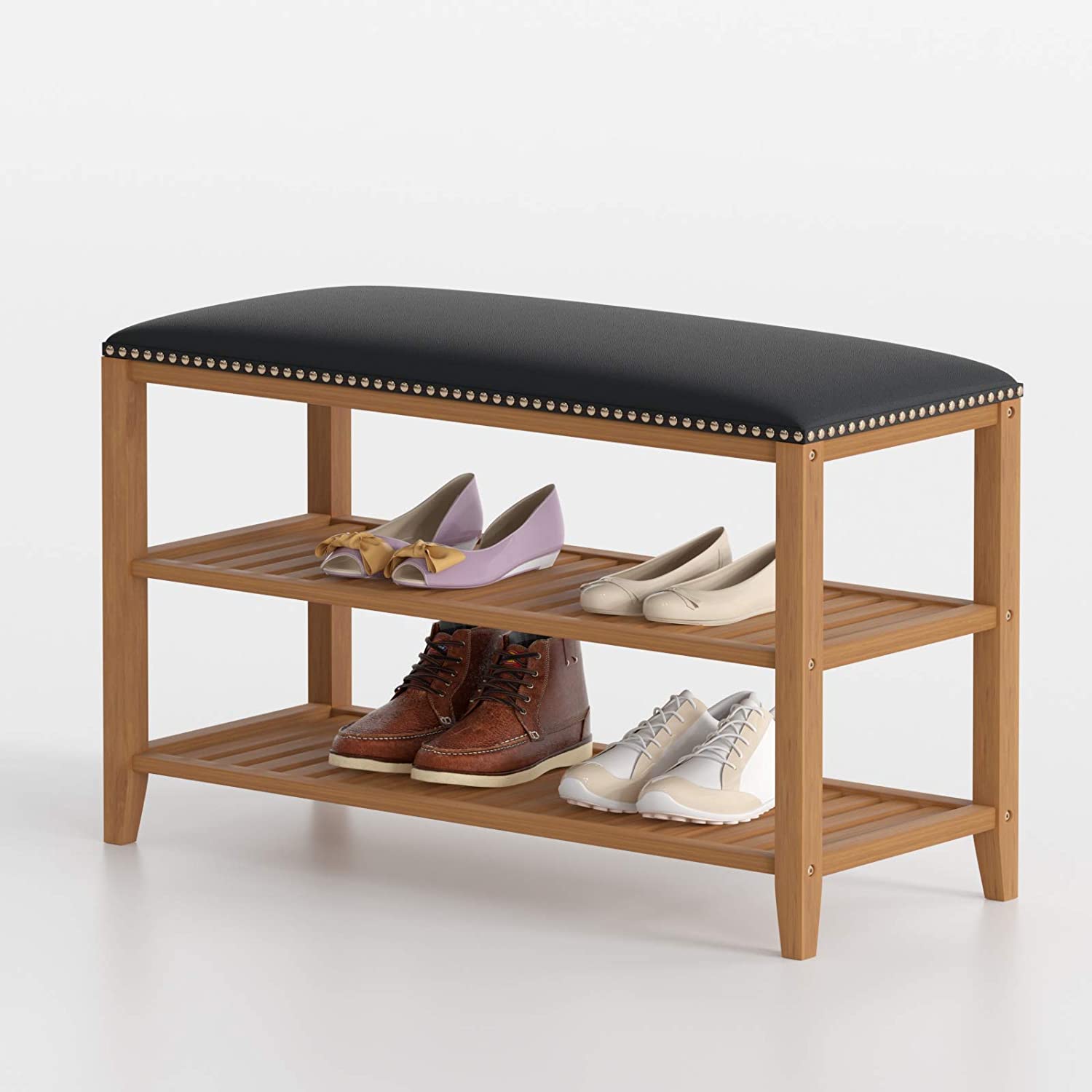 SeiriOne Shoe Rack Bench
$67.99
Shop it
Amazon
Eight-Pair Shoe Storage Cabinet
$137.99
Shop it
Wayfair
3. Divide shoes into everyday and special occasion shoes.
For small-space living, consider what shoes you wear most often and which are okay to store away in a less convenient spot. Just as you might store your cold-weather clothes under your bed during the summer while keeping your warm-weather clothes in the closet (and vice versa), you may want to do something similar with your shoes. Murphy recommends keeping out your everyday shoes while storing away the pairs you only wear for certain occasions. "This will minimize the amount of easy-access space needed," she says. "Special occasion shoes, like high heels or snow boots, can be stored away at the top of a closet or under a bed because an event or season will always serve as a reminder to use them."
A long and sturdy container, like the Farmhouse Storage box below, can be a great option for storing shoes under the bed or at the top of the closet.
Farmhouse Storage Box
$12.99
Shop it
The Container Store
4. Sort shoes by season and type.
When it comes to shoe storage, your kitten heels and thigh-high boots shouldn't be treated equally. Instead of stacking all your various types of shoes in the closet together, give them each individual attention when storing. For example, Hagmeyer says a shoe rack is perfect for everyday shoes, while heels, which are likely worn less often, can be stored in transparent lidded bins.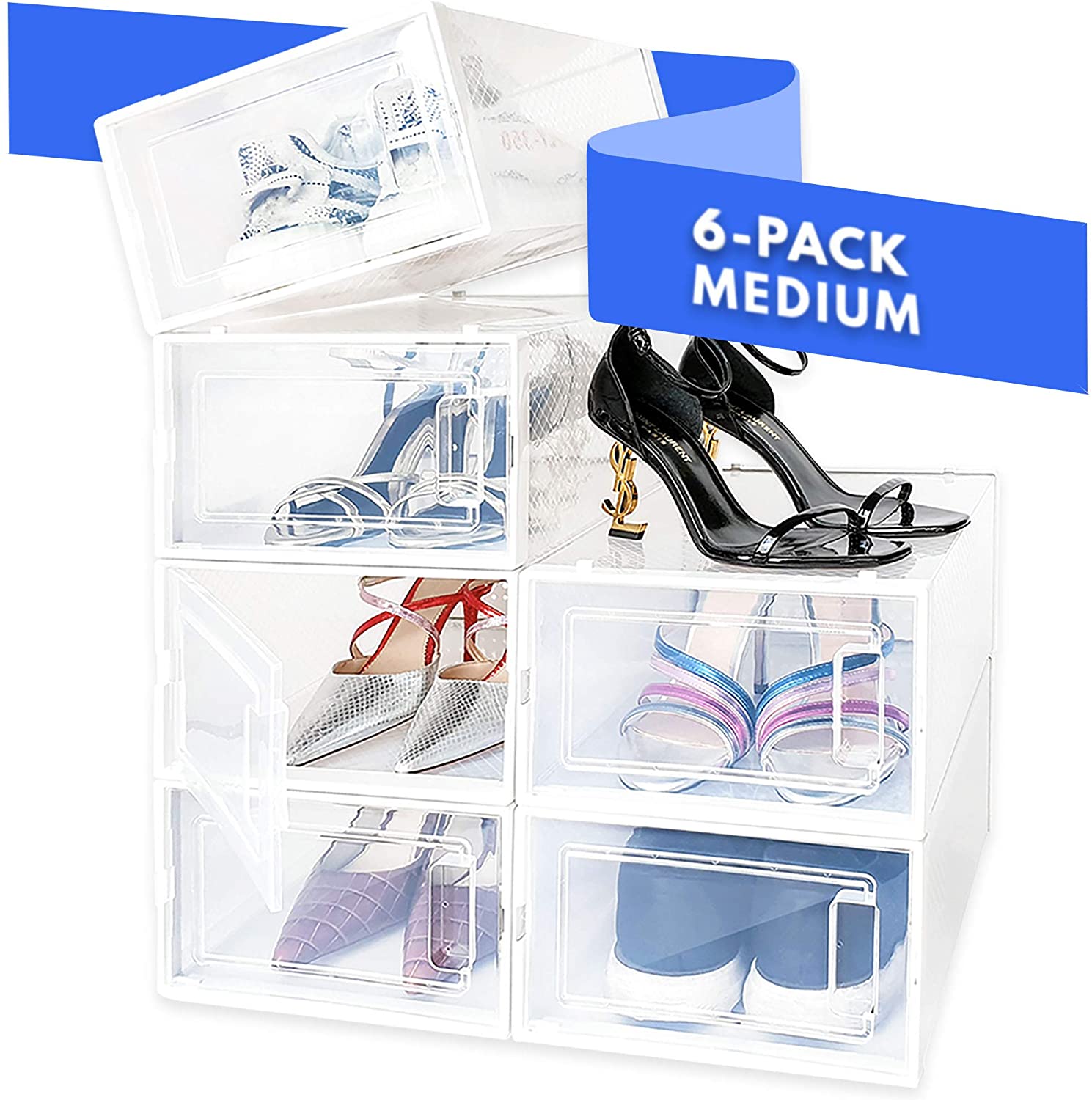 Neatly Shoe Organizer Shoe Storage | Stylish Clear Plastic Stackable Shoe Boxes
$35.45
Shop it
Amazon
"For tall boots that are in season, create a space next to a shoe rack to line them up," Hagmeyer adds. "Otherwise, place them in boot boxes and store them under the bed."
Whitmor Clear Vue Boot Box - Heavy Duty Stackable Boot Storage
$9.98
Shop it
Amazon
Then, she recommends storing sandals and athletic footwear in an open canvas bin to maximize space. 
Amazon Basics Collapsible Fabric Storage Cubes with Oval Grommets
$20.99
Shop it
Amazon
With these few small adjustments, your closet will transform from chaotic to calm.