16 skin care products that will help you minimize the appearance of dark spots
Minimizing the appearance of dark spots doesn't have to be a pain. There are easy ways to even out your skin tone and reduce dark spots. Dr. Anna Guanche, a board-certified dermatologist, told HelloGiggles that investing in the right products can alleviate this common skin problem. She added, "Sunspots will actually fade a bit with consistent sunscreen use. In addition, retinol used consistently with hydroquinone is the powerhouse of fading spots."
If you are wondering what the heck dark spots even are, Dr. Guanche explained that they are either brown flat growths (seborrheic keratoses) or are a dark freckling (lentigines) on the skin. Both are caused by genetics and sun exposure. Hyperpigmentation, on the other hand, usually refers to a reactive pigment, a darkening on the skin caused by inflammation.
First of all, Dr. Guanche said sun avoidance and protection are key to stopping melanin stimulation and preventing new spots from popping up. In terms of products, she recommended using azelaic acid and glycolic acid to help treat dark spots and hyperpigmentation. Vitamin C, or ascorbic acid in its active form, can also reduce pigmentation. This essential vitamin inhibits tyrosinase, an enzyme required in the eight-step process of melanin (pigment) production. When overactive pigment production exists, Guanche says vitamin C can help make it better.
She told us to use Glytone's Enhance Brightening Complex or products from the Shiseido White Lucent line since they get the job done. However, there are plenty of other products to choose from. We rounded up 16 of our fave products that will help minimize dark spots.
1Mario Badescu Glycolic Acid Toner
This mild resurfacing toner is infused with AHAs like glycolic acid and grapefruit extract to minimize discoloration. Your skin will feel refreshed and look radiant.
2Clinique Even Better Clinical Dark Spot Corrector & Optimizer
Sensitive skin types will love this dark spot corrector and optimizer. It fades unwanted spots without leaving your skin irritated or red.
3Neutrogena Rapid Tone Dark Spot Corrector
Infused with a highly concentrated retinol, this spot corrector will help even out your complexion.
4Proactiv Advanced Dark Spot Correcting Serum
This serum can be used daily to help fade sun spots, blemishes, and acne scars.
5Envy Medical Glycopeel 10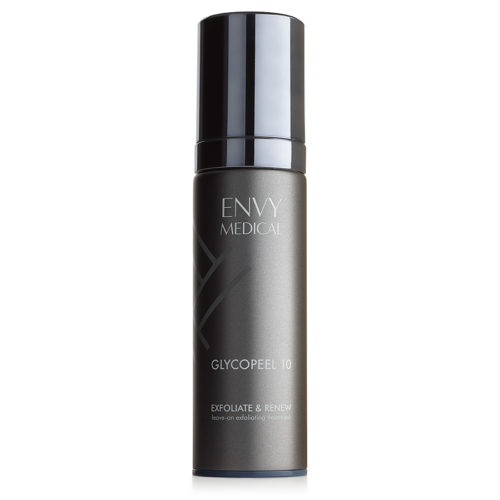 This product is enriched with lactic acid, lumixyl peptide, and glycolic acid. All of these work together to exfoliate the skin, minimize dark spots, and even out skin tone.
6Monastery XX Glycolic Gel
This rosewater-infused gel will help with anyone with dry skin to remove dark spots.
7Kiehl's Powerful-Strength Line-Reducing Concentrate
Infused with 12.5% vitamin C, this concentrate will help even out skin tone, texture, and give your skin overall radiance.
8Farmacy Bright On Massage-Activated Vitamin C Mask
You'll be able to improve your skin texture and tone since this mask is enriched with vitamin C, a blend of fruit-derived AHAs, and aloe.
9Drunk Elephant TLC Framboos Glycolic Night Serum
This glycolic night serum will leave your skin looking radiant and even with continued use.
10La Roche-Posay PigmentClar SPF 30 Daily Dark Spot Correcting Moisturizer
This dark spot moisturizer will help fade dark spots and even skin tone.
11Dr. Dennis Gross Skincare Ferulic + Retinol Brightening Solution
This brightening solution is infused with ferulic acid and retinol to help to reduce dark spots and keep fine lines at bay.
12Dr. Brandt Skincare Bright Biotic Dark Spot Minimizing Serum
This serum uses brighteners, fruit enzymes, and a biotic balancing complex to help reduce the look of dark spots.
13Kiehl's Clearly Corrective Dark Spot Solution Serum
This serum reduces dark spots while also diminishing the formation of new discolorations.
14Shiseido White Lucent Micro Targeting Spot Corrector
An intensive serum that helps to reduce the appearance of dark spots and hyperpigmentation.
15Glytone Enhance Brightening Complex
Made with a combination of organic acids, this cream will minimize dark spots and help with hyperpigmentation.
16Peter Thomas Roth Potent-C Targeted Spot Brightener
A dark spot treatment infused with vitamins C and E, ferulic acid, and advanced skin brightening actives.