Here's Exactly How to Make All Your Shoes So Much Comfier
From strappy sandals to super-high heels, say bye-bye to foot pain.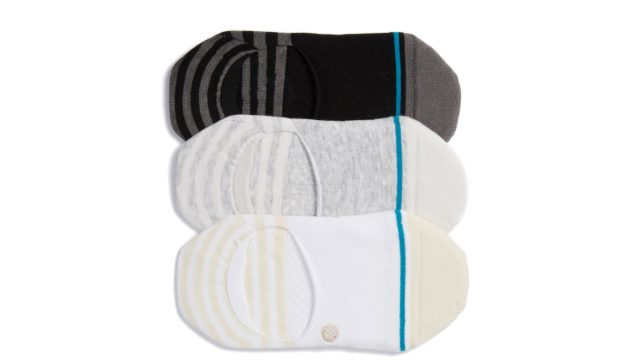 Saying comfort is key these days would be quite the understatement—from bras to sweatpants, we all just want to be cozy. Obviously, shoes fall under this category, too. While in the past we may have prioritized a stunning five-inch heel over the ability to feel our toes, we have a newfound appreciation for comfort that we're not going to give up. After all, blisters can be a real buzzkill. That being said, we're not about to throw away our favorite pairs. Instead, we've found ways to make our shoes more comfortable.
If you're looking for added arch support, insoles can be a lifesaver. If you have a pair of heels you love that are just a little too tight, a stretcher can work wonders. If your strappy sandals look cute on IG but kill your feet in the process, invisible grips can take the pain away. There are so many ways you can make your shoes more comfortable without having to drop some major cash on a new footwear wardrobe.
However, if you do want to purchase a comfy pair or too, Aerosoles, Clarks, and Naturalizer make very good looking, on-trend shoes that are decked out with support. For everyone else, here are the best ways to make all types of shoes as comfortable as possible.
How to make sneakers comfortable:
While sneakers are typically designed to be more comfortable than other types of shoes, they're not one-size-fits-all, so it's common to discover slight discomforts with use. To prevent running into this issue, it's important to do some research and find the best fit for your foot shape and activity level (Brooks has a shoe finder that helps you find your ideal fit). However, if you already have a pair that needs a little fixing up, using an insole is your best bet. Look for some that are designed specifically for running as they'll provide better grip and support than ones that are made for walking.
Dr. Scholl's Running Insoles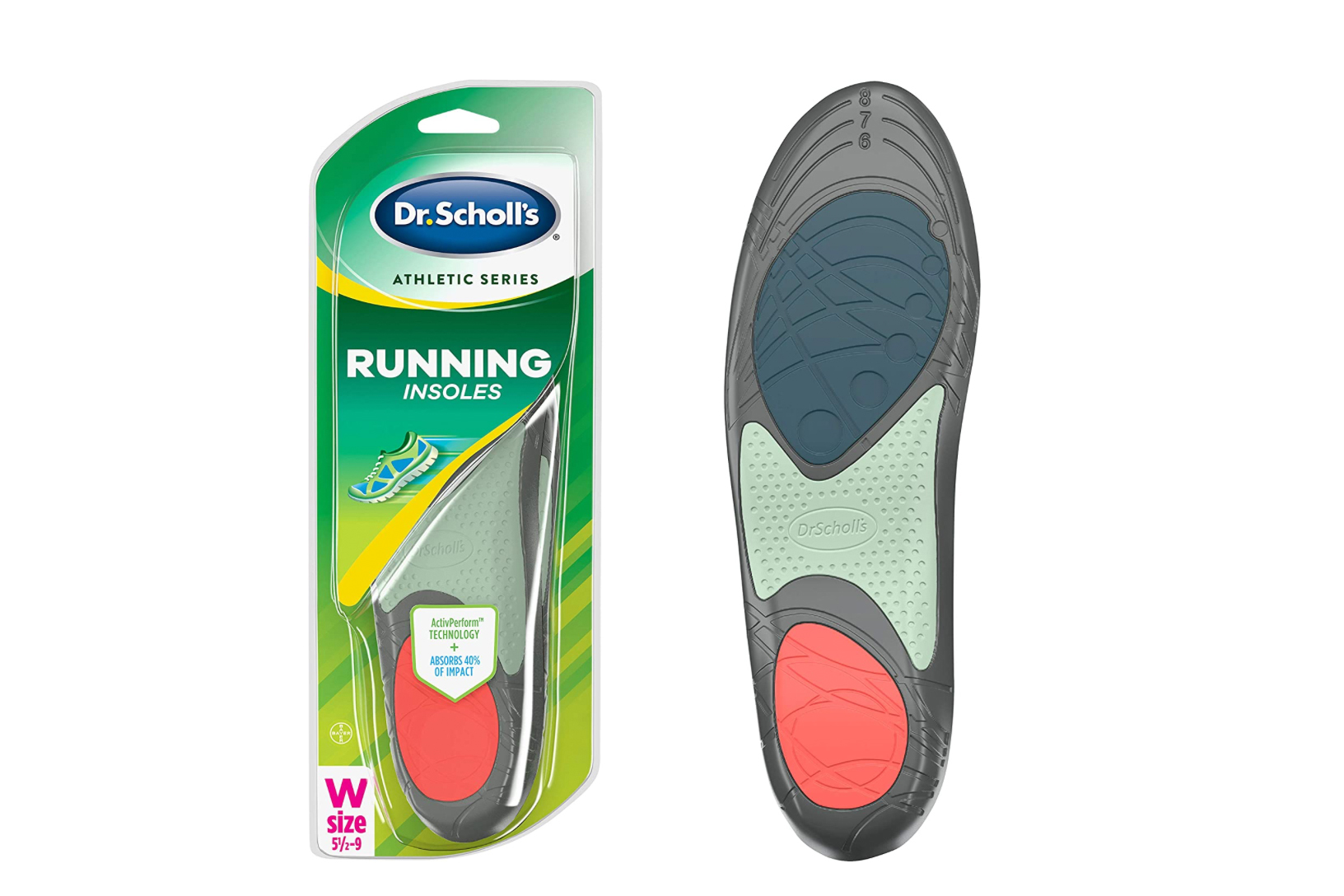 Shop it! $18.99, amazon.com
These insoles will not only make your feet feel comfortable during your workout, but they also absorb 40% of shock to help prevent pain from runners' knee and shins splints.
How to make high heels comfortable:
If you love dressing up your outfit with a pair of high heels but hate the discomfort that often comes along with them, know that there are ways to make heels feel comfortable—for real. Before an event, walk around your home wearing socks and the pump. The extra padding will help stretch it out before getting on the dance floor. For added support, use an insole that's designed to fit the silhouette of a high heel. It's also a good idea to scruff up the bottom of new heels with sandpaper to make more traction and prevent slipping.
ViveSole High Heels Inserts
Shop it! $7.99, amazon.com
Shoe insoles aren't one-size-fits-all, which is why it's important to look for a pair that are designed specifically for high heels. These ones are made out of gel, which creates a more floaty feel, and the little grips help with its no-slip technology.
How to make flats comfortable:
It's often assumed that flats are the most comfortable types of shoes, but that isn't necessarily true. Often, flats can lead to painful blisters caused by wearing them without socks. This can cause moisture build-up and lead to a lot of friction between your shoes and both the backs of your ankles and toes. To prevent this, try sprinkling foot powder in the shoe or wearing a no-show pair of socks. Also, stretching them out before wearing them can help minimize friction. If you're looking for a DIY solution, you can stick two sealed plastic bags filled with water into your shoes and place them in the freezer. With time, the bag will expand as the water freezes and will stretch your shoes. If this seems too complicated, a shoe stretcher will do the job.
Cherainti Four-Way Shoe Stretcher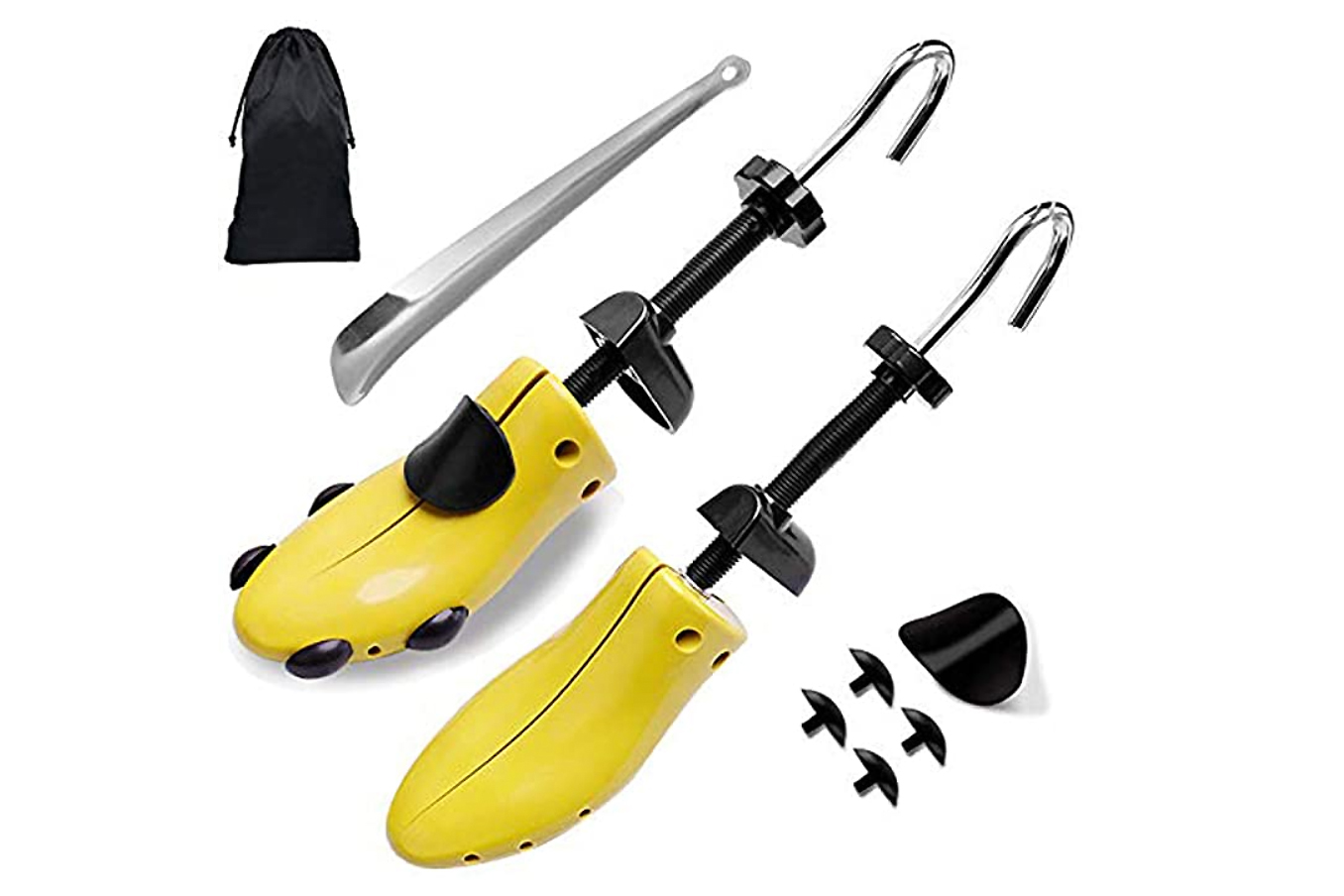 Shop it! $17.99, amazon.com
Stretch the length and width of your shoes without sacrificing their shapes with this handy stretcher.
Stance Sensible 3- Pack No Show Socks
Shop it! $25, nordstrom.com
No peaking! The only rule when wearing no-show-socks is to have them truly be no-show. These long-lasting pairs work with most flats and loafers.
How to make sandals comfortable:
A super-flat sandal lends nothing to your arch, which is why a thick, molded sole is ideal for comfort. Invisible shoe grips can help reduce friction where the strap rubs your foot.
NaCare Strappy Shoe Grip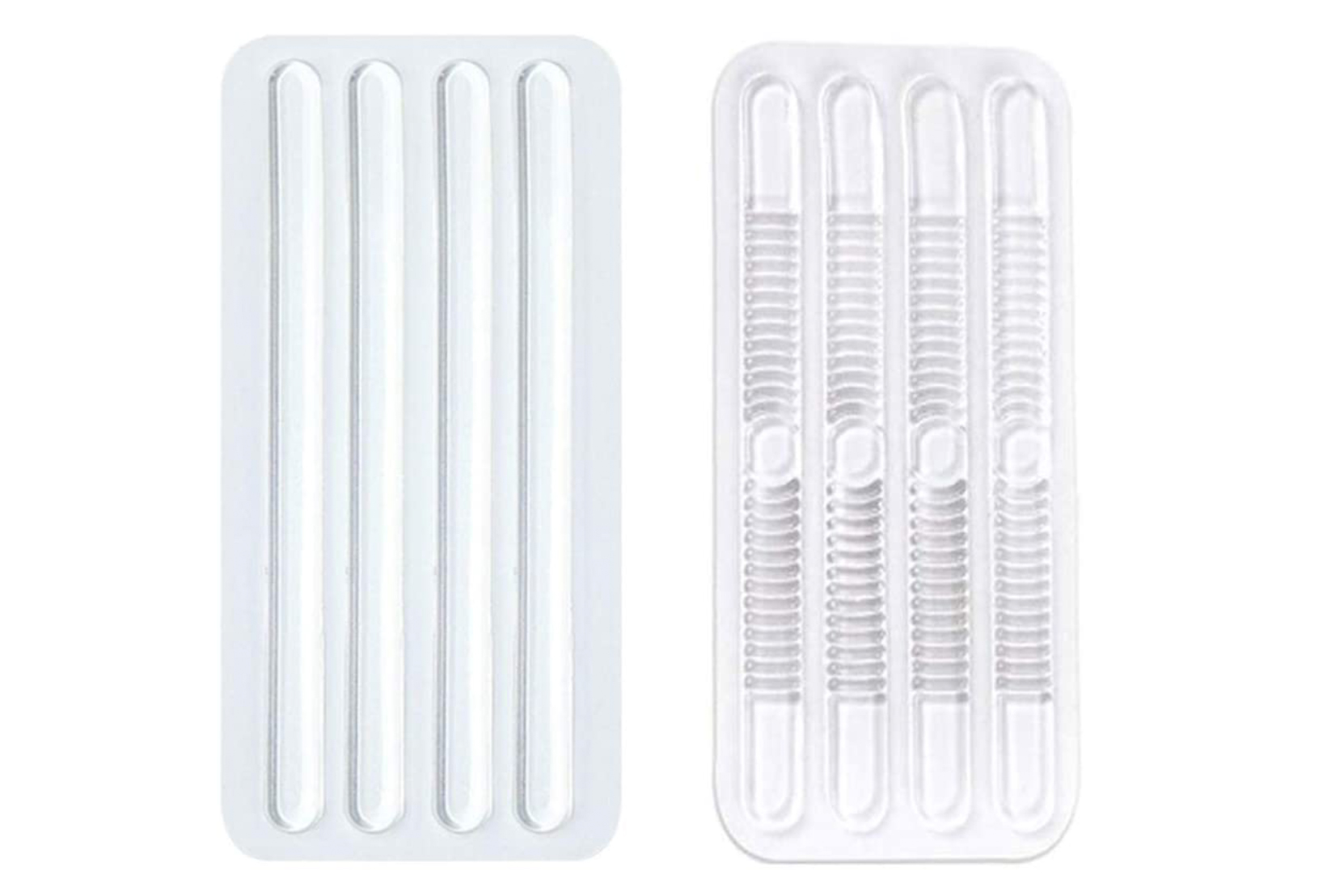 Shop it! $5.95, amazon.com
These adhesive strips go on the inside of the sandal to prevent uncomfortable friction between your shoe and skin. Simply stick them to the bottom of your straps and enjoy!
How to make boots comfortable:
As with other types of shoes, arch support matters with boots. However, unlike with other shoes, you have to consider ankle support and tightness around the calves. Use insoles if your boots don't have built-in arch support and look for zip-up and pull-on options that are made for wider calves if that's more comfortable for your body. Plus, since boots ride up your legs, invest in blister cushions to place on the backs of your heels to use when breaking in a new pair.
Band-Aid Hydro Seal Blister Cushions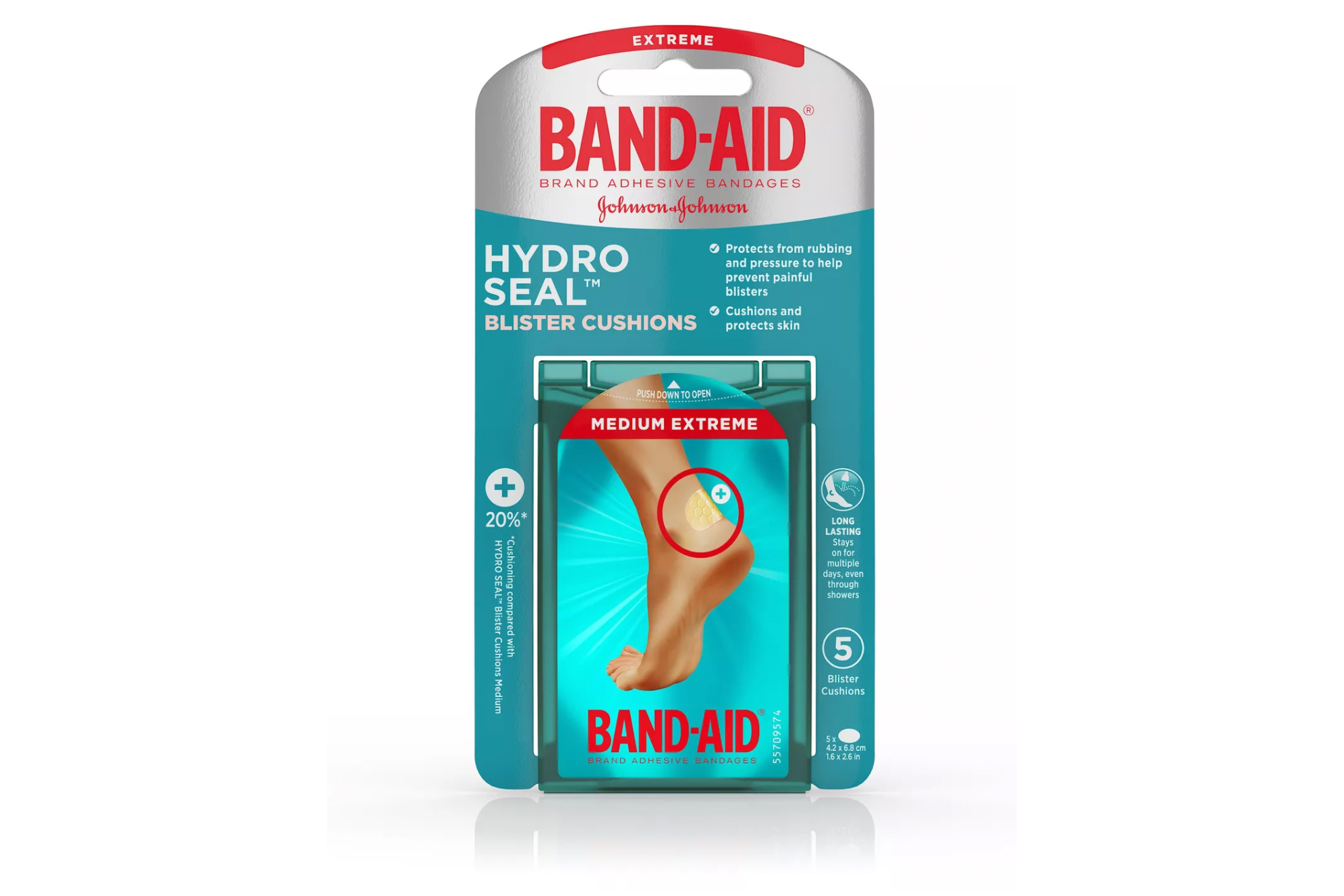 Shop it! $4.29, target.com
Use these adhesive cushions on the backs of your heels to prevent potential blisters and help treat existing ones.