How mindful design can make your space into a self-care haven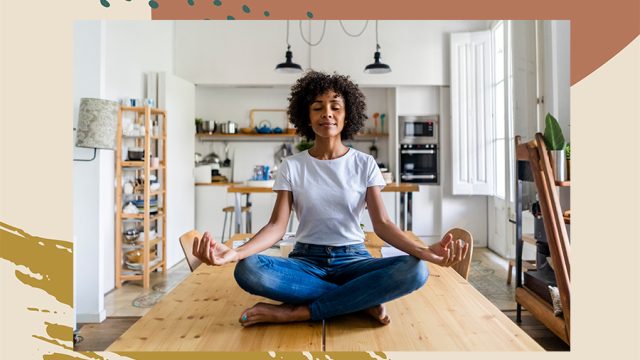 When it comes to self-care, your first thoughts might lean toward meditation and bubble baths, but we're here to let you in on a little secret: The way you decorate your home can make a big impact on your self-nurturing process. Think about it, book nooks offer a calm space to unwind with your favorite novel and pastel-painted bathrooms can offer an at-home getaway reminiscent of days spent at the beach. And when you tie scent into the mix—or base your entire design off the scents you gravitate more towards—the results are even better (read: more relaxing).
To help you (literally) breathe new life into your home, we chatted with Havenly senior designer, Robyn Pleggenkuhle, about how mindful design can make your space into a self-care haven. Ahead, you'll discover six ways to design your home based on your go-to scent with your mental health in mind.
If you gravitate towards energizing citrus scents…
Pleggenkuhle says to start by bringing the energy of citrus into your space by adding yellow and orange hues to your home via wall paint, artwork, and decor pieces. "Using accent pillows or throws in nubby textures reminiscent of an orange peel can stimulate your sense of touch, too," she explains. "[Style with] organic-feeling round and oval shapes artwork and find a chair or coffee table that can bring a sense of motion and movement, moving your eye around a space."
If you gravitate towards beachy scents…
Design your space with a coastal palette, including warm beige and ivory tones to bring to mind warm sand beneath your feet and blue-green tones of the ocean. From there, Pleggenkuhle suggests incorporating natural- and water-focused features like plants, fountains, aquariums, and sand art. Additionally, she says to leave a window and a door open to create a cross-breeze that's reminiscent of the coast inside your home. And, if you want to get technical, a sound machine that includes beach wave sounds can really make your space feel like a new beach destination.
If you gravitate towards soothing floral scents…
According to Pleggenkuhle, the scent of lavender has been scientifically proven to have a relaxing effect. "[Use] light purple-blue hues that resemble the lavender flower [for] your wall paint, bed linens, and decor pieces, like pillows and throws," she says, noting that delicate, dainty shapes and patterns, similar to the shape and size of lavender petals and leaves, can also add to the allure of the space. What's more, she recommends adding smooth and soft textures and real or faux lavender bunches to complete the soothing feel of your space.
Design Tip: If you're tired of candles and sprays, consider Glade Tranquil Lavender & Aloe PlugIns. They're formulated with notes of eucalyptus, lavender, and bergamot and are designed to help bring out the relaxing feeling of a soothing summer afternoon breeze. And, thanks to the adjustable top, you can select exactly how much fragrance you'd like dispersed into the air so that the scent never overwhelms you.
If you gravitate towards bright floral scents…
Focus on attraction: "Bright, fragrant scents in flowers attract pollinators like hummingbirds, bees, and butterflies," Pleggenkuhle says. "To bring this energetic feeling into your home, decorate with brighter floral tones like reds and pinks. Use miniature roses as houseplants, add graphic prints to your walls, and style with botanical-, floral- or energetic-feeling-abstract art prints or sculptures [around your house]."
If you gravitate towards clean cotton scents…
Pleggenkuhle says to opt for smooth, crisp, fresh-feeling textures and finishes in shades of white and ivory. "[Incorporating] cotton and linen bedding, pressed curtains, ivory candles, and a white sofa or chair [is a good way to start]," she says, noting that bright, white lighting, a nubby looped-pile rug that looks like a cotton ball, and clear or milk glass vases and tabletops will take the overall design style even further.
If you gravitate towards natural woodsy scents…
Start with warmer, earthy tones like amber, chocolate, and other brown hues, Pleggenkuhle suggests. From there, mix in lush, forest, and brighter moss greens; fern and pine tree artwork and prints; and grooved larger-scale textures like tree bark and pine cones. And, speaking of large scales, Pleggenkuhle recommends bigger, organic-feeling pieces of furniture that illustrate the strength and sturdiness of trees, hair-on-hide finishes, and faux antler motifs.