How to maintain and keep your bright hair color from fading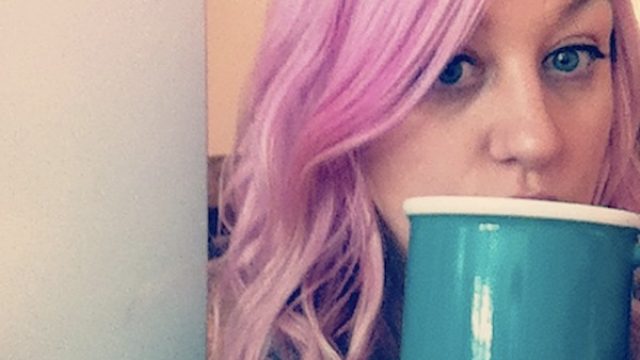 About three years ago, I decided I wanted to change my look. I got bored and wanted to try something new with my hair, which had always been my crutch. Even though I had been too afraid to experiment before, I promised myself I would do something I'd always wanted to try.
So, I decided to switch up my blonde locks for bright pink hair, and it was the best decision I could have made.
Why? It gave me that change that I was looking for, and I realized that I am just a happier person when I am team #pinkhair. But, with bright hair comes big responsibility, because the colors of the rainbow can only stay bright for so long.
If you're thinking of switching up your look and you want to jump on the bright hair color train, here are some tips to keep the color from fading while maintaining the health of your hair.
https://www.instagram.com/p/zppxwpLnnE
1. Start from the whitest hair possible.
If you want your hair to start off bright, you'll get better results if you start with lightened hair — but you have to be pretty cautious about this step.
Matrix celebrity stylist, George Papanikolas, who has worked with Jenna Dewan-Tatum and Ellie Goulding in the past, told HelloGiggles that you have to be careful when going lighter.
"Anytime you lighten hair you are causing some damage, he warns. "It really requires the care and professionalism of your colors to maintain the integrity of your hair.
Papanikolas says that you have to take your natural hair color into consideration too. "Going any more than seven shades from your natural hair color will definitely result in damage, that is why it's not recommended for very dark hair to go super light."
2. Choose a quality color product.
Not all hair coloring products are made the same, and the first application of color can determine how long the color stays. Find a color that says "permanent" or "semi-permanent" and leave on your hair as long as the directions say.
3. Become one with dry shampoo.
Every time you wash your dyed hair, you cause the color to wash out a little and look faded. If you want it to last longer, you should try to lay off daily cleansing. Instead, rely on dry shampoo to get you through the week.
https://www.instagram.com/p/BJ2VbZpg2V6
4. Go for the cold.
Heat is a big no-no for bright hair because it will fade it really quickly. If you want to help maintain the bold colors, you have to go easy on using your favorite heat styling tools, like hair dryers and flat irons. Try to opt for cold water showers, too (if you can handle it!).
5. Get used to touching up.
Even if you follow all the rules to a tee, your colorful hair will eventually fade. Maintenance is a big part of keeping your locks their brightest. One trick that works well is to add some of your hair color to your conditioner bottle and use it every time you wash your hair. This trick will help ensure you're replacing some of the color that's being washed away from the water and daily styling.
Bright hair will eventually fade so it's important to think about that when deciding on the color you choose.
Blue will fade to gray hues, purples will fade to silver and pinks will fade to peach — which are all gorgeous colors! Just remember, as long as you have the confidence to go with it, you can pull off any color. TRUST.