The Ultimate Guide to Looking Fresh and Glowy the Day After a Party
Dull and hungover is so overdone. You can look and feel great and totally rested by following these steps.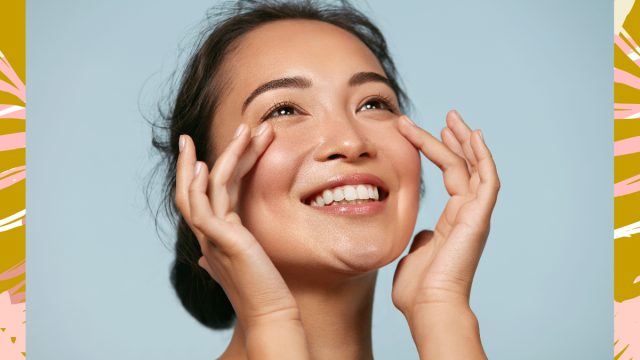 The product recommendations in this post are recommendations by the writer and/or expert(s) interviewed and do not contain affiliate links. Meaning: If you use these links to buy something, we will not earn a commission.
The holiday season is now in full swing, and while it's great to get your party on, what's not great is looking like you did the next day. Let's face it: late-night hours, party food, and cocktails are not ideal for glowing like J-Lo.  
We see celebrities on social media partying like rock stars and then looking all dewy-faced the next morning on prime-time TV (read: glaring bright lights that show everything in 4K). So, what's their secret? Well, most of them have strict skincare regimens along with an award-winning glam team… perks that most of us lack.
However, aside from sending someone to your house to prep you the day after your night-on-the town, there are some key things you can do to look fresh and glowy the day after a holiday party (or any party, for that matter). Here is your ultimate after-party guide to looking rested, dewy, and ready to go in the AM.
RELATED: 8 Best Beauty and Hair Products to Level Up Your Holiday Party Looks
Step 1: Do the Prep Work Before The Party Even Starts
Looking fresh and glowy at any time starts with feeding your skin from the inside out. This means eating a healthy and balanced diet well before your party starts. In fact, this should be a 24/7 staple, but pay special attention to the 24-48 hours before attending a party.
Amy Goodson, MS, RD, CSSD, LD, author of The Sports Nutrition Playbook, shared an example of a balanced diet with Eat This, Not That!: "Look for healthy or nutrient-rich foods like fruits, vegetables, whole grains (quinoa, oats, brown rice, etc.), lean proteins (lean beef, poultry, fish, eggs, soy protein, etc.), healthy fats (nuts, seeds, avocado, olives, fatty fish, etc.) and low-fat dairy foods (milk, cheese, and yogurt)."
 If you don't drink, you can omit these next steps; if you do, drink responsibly and carry on. Keep your cocktails top shelf and light! Light-colored drinks, such as white wine, vodka, and tequila, contain fewer congeners, according to How Stuff Works. Congeners are a bi-product of alcohol fermentation, and high amounts are linked to hangovers.  
For every drink, throw back some water. Drinking water helps prevent dehydration and headaches the next morning. It's very difficult to pull off a fresh and dewy morning-after look if you have a booming headache and are seriously parched.
Step 2: After the Party, Follow This Skincare Routine
You want to ensure proper skin hydration, so try a two-step gentle cleansing process by using cleansing oil first to remove makeup and dirt, followed by a cleansing cream, like Mad Hippie's Jelley Cleanser and Creme Cleanser.     
After this, you better moisturize. This would also be the perfect time to indulge in  GOĒ OIL by Jao (one of Drew Barrymore's favorites). It contains 28 flowers, fruit oils, and butters and can be used in place of your current moisturizer on your face, body, and hair.
Another option is to keep it simple and use a natural oil you currently have in your home. Natural oils like coconut, olive, avocado, or almond work wonders. If you choose this option, place your current moisturizer on top. 
Next, use a cool mist humidifier in your bedroom to help achieve dewy skin the next day. Celebrity esthetician Renée Rouleau shared this with Byrdie: "Whenever the air is dry and moisture is not present, the air draws moisture from wherever it can (through osmosis), and sometimes it will be from your skin. A humidifier helps counteract the drying air, so moisture is less likely to evaporate from your skin."
Finally, take a whole-food multivitamin and a separate B vitamin before bed because alcohol consumption can rob the body of vitamins and minerals. 
Step 3: Get Your Blood Flowing The Next Morning
Now, it's the morning after, and we want to wake up the skin and get the blood flowing. To achieve this, try doing the Uttanansana yoga pose (a standing forward bend). According to Style Craze, this asana helps increase blood circulation in the face, neck, and head. It also helps to relax the facial muscles and balance your hormones, promoting healthy and glowing skin.
Next, use a Vitamin C Serum to brighten your skin. We suggest the 10% Vitamin C Serum by Common Heir before using the K-beauty phenomenon The Age-R Glow Booster by Medicube.  This mild electric stimulation device quickly pushes your moisturizer into your skin to help achieve that K-Beauty glow. (It's pricey, but I think it's worth it!) Another option is to massage the skin with your moisturizer and the Lunaescent skincare tool. 
Step 4: Opt for Light, Natural Makeup
Your makeup should be light and glowing for the day. We don't want anything heavy, since the goal is to show the world a fresh and dewy look. Danessa Myricks Beauty, for example, is a brand loved by Britney Spears and Ciara as the trendsetter in achieving a naturally glowing, camera-ready face.
We asked Desire Dennis, The National Educator and Production Manager at Danessa Myricks Beauty for her top tips. "Start with the Yummy Skin Glow Serum for hydration, followed by our Yummy Skin Blurring Balm Powder. This is a one-and-done product that can be applied with your fingers."
"Next, take the translucent Dew Wet Balm, which will give you hydration and glow without adding sparkle or glitter. Put this all over the face, including the eyelids and lips. This is your all-over illumination, you can add additional color, but it's unnecessary."
Most of all, keep it real! We all want to party, have a good time, and wake up glowing like we slept 8 hours and did yoga. Follow our after-party guide, and we won't tell anyone you cheated.
Karim Orange, is a beauty, wellness and lifestyle writer, whose work has been featured inpublications such as Organic Spa Magazine, Huff Po, and World Bride just to name a few.
Read more