How to host an epic Thanksgiving day party that will go down as legendary
It may feel like summer just ended, but the holidays will come faster than you can say, "It's beginning to look a lot like Christmas." Sure, it still is a little early to start talking about December, but Thanksgiving is actually just around the corner considering its date this year, November 23rd, is nearly a month away.
One of the best fall holiday traditions is hosting your own Friendsgiving, which is exactly what it sounds like—a Thanksgiving dinner with your friends. It's the perfect alternative to spending the day stuffing your face with pumpkin pie so as to avoid political arguments with relatives, and this year, an alternative is exactly what everyone needs. Plus, it will make you feel like you're on an episode of Friends.
Here's what you'll need to throw your own awkward-free Thanksgiving day party:
1 Decorative gourds galore
Nothing says fall like decorative gourds. In fact, people have written entire satirical essays about just how perfectly seasonal the oddly-shaped fruit (yes, they're fruit) is. Set the tone of your Thanksgiving day party by decorating your place with autumnal accessories, like decorative gourds.
If you want to get really creative, try a DIY craft project like making glittery leaf garland to step it up a notch. The more festive, the more impressive.
2 Organize activities
If you're gathering a group of people who doesn't necessarily know each other that well, activities are the perfect way to set the tone. One fun idea from The Dating Divas: a "Turkey Bowling" game with butternut squash as your pins (turkey decorations optional) and pumpkins as your bowling balls. Of course, Cards Against Humanity always works too.
3 Make some fun cocktails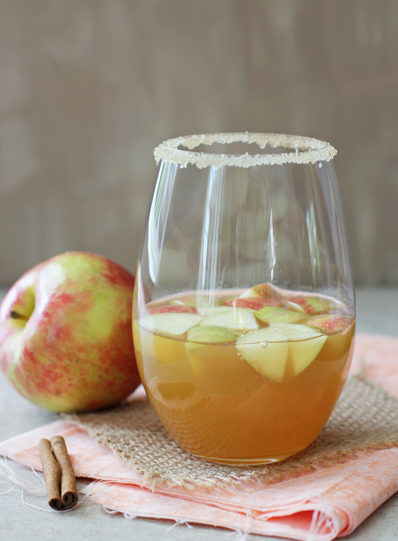 Making festive cocktails is one of the greatest parts of hosting a holiday party, for both the hosts and the guests. Try food blogger Cook Nourish Bliss's Honey Cinnamon Apple Cider Sangria, which uses white wine with honey, cinnamon, apples, and cider. If you serve a fall-themed recipe on Thanksgiving, your party is guaranteed to go down in history among your friends.
Alternatively, since Thanksgiving is basically the transitional holiday from fall to winter, it's highly appropriate to bring out the spiked egg nog as well.
4 Assign some of the cooking to your friends
We can't all be Martha Stewart, okay? There's no need to take on all of the cooking and decorating and planning just because you want to show your friends and close family just how together you have it all.
Make sure to assign people various dishes to prepare so when you all sit down to eat, you're not completely stressed out about how everything tastes and you can actually enjoy the meal.
5 Make everyone do the whole gratitude thing
The benefits of recognizing what you're grateful for are endless, and there's really no better time to tell the people that you're most grateful for how much you love them than on Thanksgiving day. It may be cheesy, and some people may want to say jokey things that they're thankful for, but it could also be one of the most meaningful and memorable moments of the night.
There are many things wrong with Thanksgiving and what it represents (revisionist history, hello), but sharing the day with people you love and allowing each other to feel loved and supported is a great way to spend the day, so you might as well.
6 Make a cozy puddle of cushions and blankets on which everyone can pass out
The post-Thanksgiving meal effect is both the best and the worst feeling, and if you set up a designated "pass out" area, you and everyone else at your party will thank you. Maybe set up a movie that you can all watch while recovering from the overdose of tryptophan.
 If you follow each of these steps, there's no way you won't have an amazing Thanksgiving party.