Here's how you can help victims of the Ariana Grande concert attack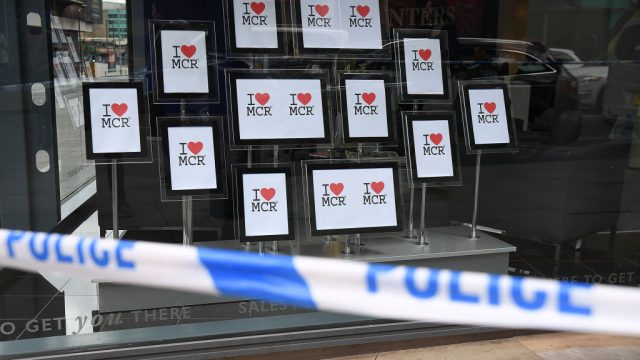 On Monday night, just as an Ariana Grande concert was ending in Manchester around 10:30 p.m., two bombs went off. Authorities have confirmed that there are 22 dead and over 60 injured, many of them children and their moms. It's always hard to wrap your head around tragedies like this, but there are some ways to help the victims of the Ariana Grande concert attack and make yourself feel useful.
Greater Manchester Police and U.K. authorities are investigating the bombing as terrorism, according to a statement they released on Twitter. They also believe that the bomber died in the blast and that they know they identity of the him. They've also arrested a 23-year old man who may have been connected to the explosions.
On Monday night, many concert goers were displaced after the blasts, since the arena is next to Victoria Railway, a major transit hub. All trains were cancelled and there were many kids without their parents. One woman, Paula Robinson, sent a message out on Facebook saying that she had over 50 kids without parents with her and was taking them to a Holiday Inn nearby. She even shared her phone number.
But there are other ways to help the victims of the Ariana Grande explosion.
You can share pictures of the missing.
There are still many parents and loved ones looking for their kids who were at the concert with groups of friends. The injured victims are reportedly being treated at a handful of area hospitals, so it's possible that they're still separated from people. You can help signal boost the calls for missing people and hopefully help reconnect them with their families.
Likewise, police in the area are asking concert goers or eye witnesses to submit their images of the the blast to help in the investigation.
Or give blood.
false
If you're in the Manchester area, you can donate blood to help the victims. Locals are recommending people use Norfolk House or Plymouth Grove Donation Center in the area, by walk-in or appointment.
And just spread the love.
https://twitter.com/udfredirect/status/866849021519966208
It seems like nothing, but let's be real — there's not a whole lot that can be done in the wake of tragedies like this one. But you can show support on social media, which helps people more than you might think. Also, engage in good behavior online. Don't jump to conclusions about the motives of the bombers or spread fake news regarding the investigation. Don't make jokes, don't complain about the fact that Ariana Grande cancelled the remainder of her tour because of the bombing (yes, there are people doing just that out there).
Hopefully in the coming days, people will be reunited with their friends and family members at the concert and police will be able to complete their investigation to give other victims some peace of mind.