Here's everything you need to know about the fires in Australia—and how you can help
The fires in Australia have burned across nearly 15 million acres of land, destroying around 2,000 homes, killing at least 25 people and around 500 million animals along the way. However, these numbers, as reported by USA Today, are just estimates. In reality, the tolls are assumed to be even higher, and on the rise.
As the modern way of news-spreading goes, viral photos have drawn widespread attention to the fires and some of those heart-wrenching numbers. It's important to note that some of these images have been identified as digitally altered or misleading, but the severity of the situation is very real. And with images of singed koalas without homes circulating on our feeds and imprinting in our minds, it's clear that the fires are an issue of not only land, but also life—issues that are inextricably linked.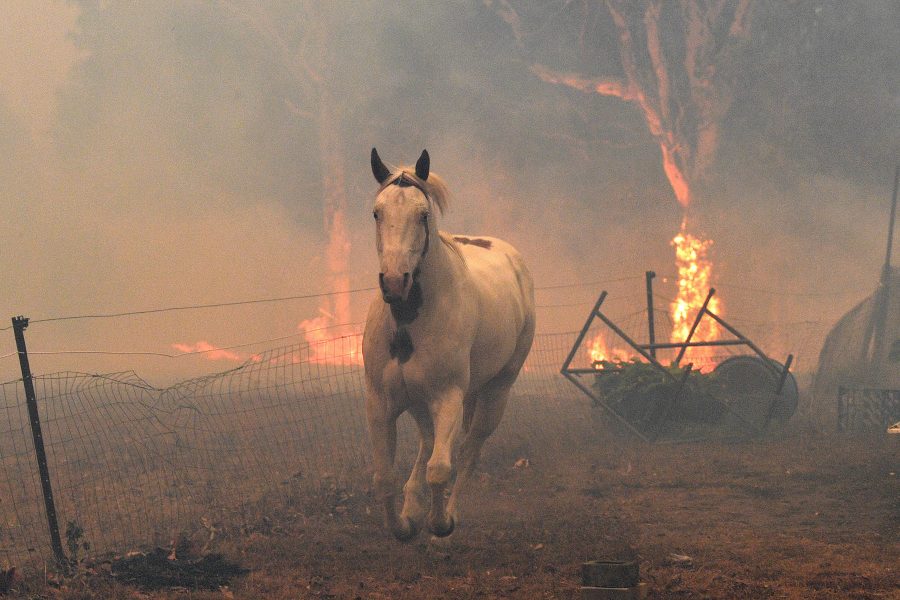 Australia is known for its unique and diverse wildlife, and animals like kangaroos and koalas have been some of the primary victims of the fires. It's estimated that a third of the koalas in the New South Wales region have been killed due to about a third of their habitat being destroyed.
Kingsley Dixon, an ecologist and botanist at Curtin University told The New York Times that the fires could cause some species to become nearly extinct or entirely extinct—even if they weren't previously threatened. Dixon referred to the disaster as "a biological Armageddon rarely seen."
Of course, this is only a brief summary of the devastating fallout from the fires—but how did we get here? Keep reading to learn more about why the Australia bushfires are happening and what you can do to help.
Why are the Australia bushfires happening?
Fires are nothing new in Australia. There's even a known season for when these fires occur (typically, December through March), but this year, the burning started much sooner and is hitting much harder. The bushfires started in September of 2019, which was the country's hottest and driest year on record. And with Australia experiencing some of the most extreme conditions in history (the ozone layer over Australia is thinned), the presence of climate change can't be ignored.
"Climate change is increasing bushfire risk in Australia by lengthening the fire season, decreasing precipitation and increasing temperature," says the Australian Bureau of Meteorology.
What's being done about the fires?
With climate change at the center of the conversation surrounding the fires in Australia, the response has not been strictly humanitarian or apolitical. The nation's government has been criticized for not taking the climate crisis seriously. Greg Mullins, the former commissioner for Fire and Rescue for the state of New South Wales explained to NPR that he feels the government is "doing very little to help the states fight these fires."
"Our emissions have been going up every year under this government, not down," Mullins told NPR. "And as fire chiefs, we've been watching the wildfire situation, our cyclones, our hurricanes, our storms, our floods get worse and worse as extreme weather just gets more and more extreme."
However, there are many people fighting the crisis both up close and from afar. Around 2,7000 firefighters are on the front line and more than 100 U.S. firefighters have been sent to offer assistance. Various organizations, activists, and celebrities are also using their platforms to bring awareness to the crisis and connect people with resources.
For instance, in an area that's safe from the fires but near enough to help, the late Steve Irwin's family have treated over 90,000 animals at their Wildlife Hospital. In a less hands-on approach, a sex worker raised $700,000 for Australia by selling her nudes online. And world leaders, such as French President Emmanuel Macron and U.K. Prime Minister Boris Johnson, have called Australian Prime Minister Scott Morrison to send their condolences.  
What can we do to help the victims and animals of the Australia Bushfires?
While any kind of support is helpful, the state's police and emergency services minister Lisa Neville was reported saying, "We do not need any more food, we do not need any more clothes. Give money… support the local businesses and the communities." But if you're looking to provide support in other ways, below is a list of places that can use your help.
Victims of Australia:
The Australian Red Cross: They're accepting donations to its Disaster Relief and Recovery Fund.
GIVIT: They're collecting donation items that's requested by people who are affected.
Fire Relief Fund for First Nations Communities: Musician, broadcaster, and community organizer Neil Morris set up this GoFundMe "with direct consultation with and upon the request of Fire affected First Nations Communities across Eastern parts of so called Australia  such as Gippsland and the South Coast of NSW."
However, if you want to directly help the firefighters, here are some resources to consider:
Animals of Australia: