How To Get Stains Out of White Jeans in 5 Simple Steps
Because honestly, they're inevitable.
White jeans might be a summer wardrobe staple, but that doesn't mean wearing them without getting them dirty is easy. Though we love these pants because they go with our favorite summer tops and sandals, they're a risky choice. We've all been there—one minute we're out enjoying ourselves, the next, we're spotting some mysterious stain on our pristine pair of new white jeans.
It is no small feat to keep pesky stains off these pants; some may even say it's nearly impossible. So when the inevitable wine stain, ink stain, grass stain, or who-knows-what stain crops up on the items that are a key part of our unofficial summer uniform, we need to know how to get them out—stat.
That's why we talked to experts to find out the easiest way to get stains out of white jeans. Keep these tips handy, and your favorite pair will stay bright, fresh, and ready to complete your next outfit.
1. Start treatment ASAP—carefully.
First things first: You'll want to spring into action and treat the stain as quickly as possible. The longer you wait, the less likely you'll be able to get it out. That being said, Gwen Whiting, co-founder of The Laundress, advises against being too hasty.
"If you get a stain while you're out and don't have a stain treatment on you, avoid the temptation of using paper napkins and club soda," she tells HelloGiggles. "It's better to wait and treat the stain at home where you can use the proper products and tools (like a clean washcloth) and have time to treat the affected area."
According to Whiting, a frantic attempts to clean can end up making more of a mess, leaving you with traces of paper lint on your jeans and an even larger stain. If you really need to, you can gently press a moist cloth against the stain to prevent it from spreading before you wash and treat it properly later.
2. Avoid using bleach.
It can be tempting to resort to bleach at the first sight of a stain, but Madewell's jean care blog reports that even chlorine-free or color-safe bleach will cause white denim to turn yellow over time. Lindsey Boyd, a co-founder of The Laundress, agrees. She advises specifically against using regular chlorine-bleach since it is harsh on fabric and can wear denim down over time. Instead, Boyd suggests trying a bleach alternative or something like OxyClean.
3. Treat the stain with a stain solution.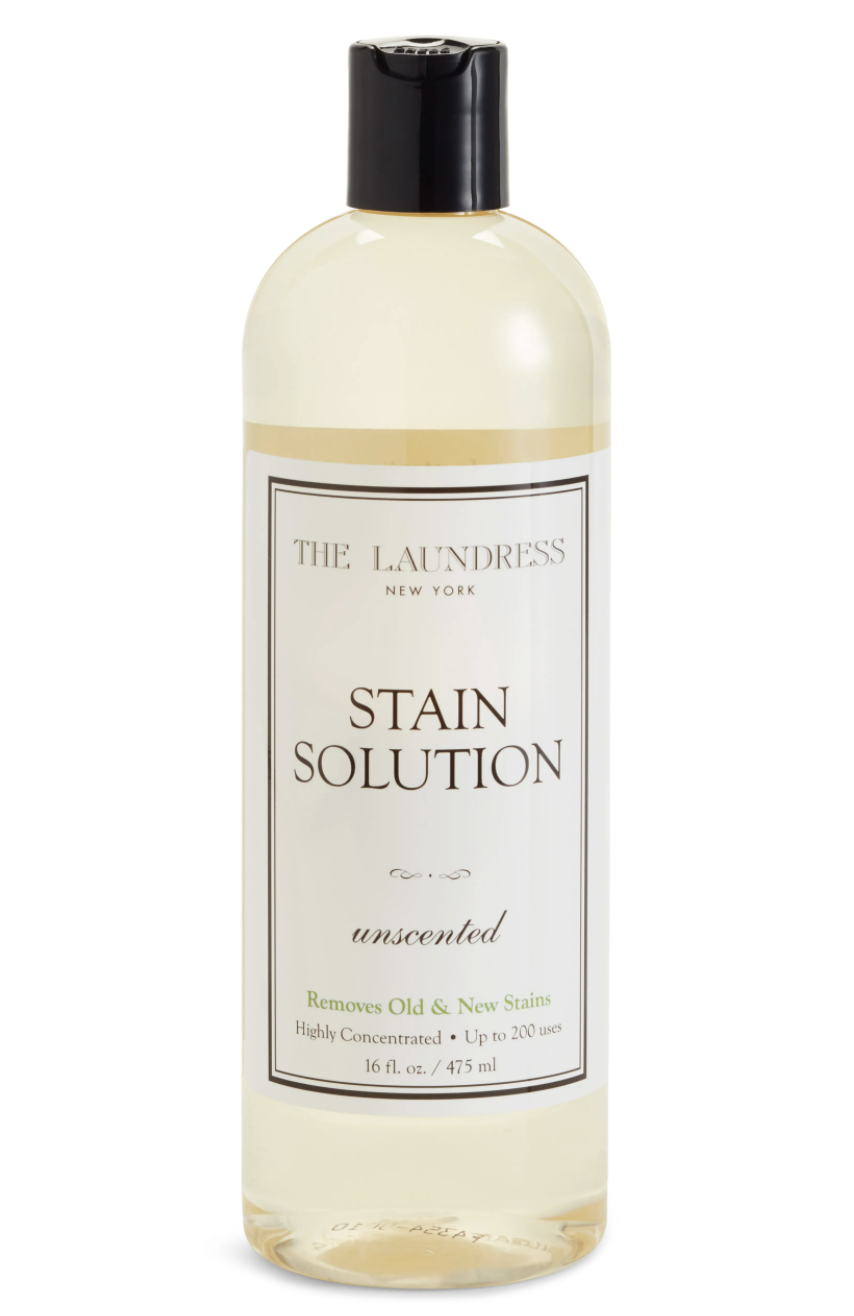 The Laundress Stain Solution
$$18
Shop it
Nordstrom
When it comes to treating the stain itself, you'll want to use some kind of stain solution that's formulated specifically to lift the gunk out of your jeans without harming or discoloring the fabric. Whiting loves The Laundress's powerful, unscented stain solution, though something like Shout will do, too. She advises using your finger or a brush to work the solution into the fabric, then soak it in warm water for up to 30 minutes before washing.
4. Use hot water.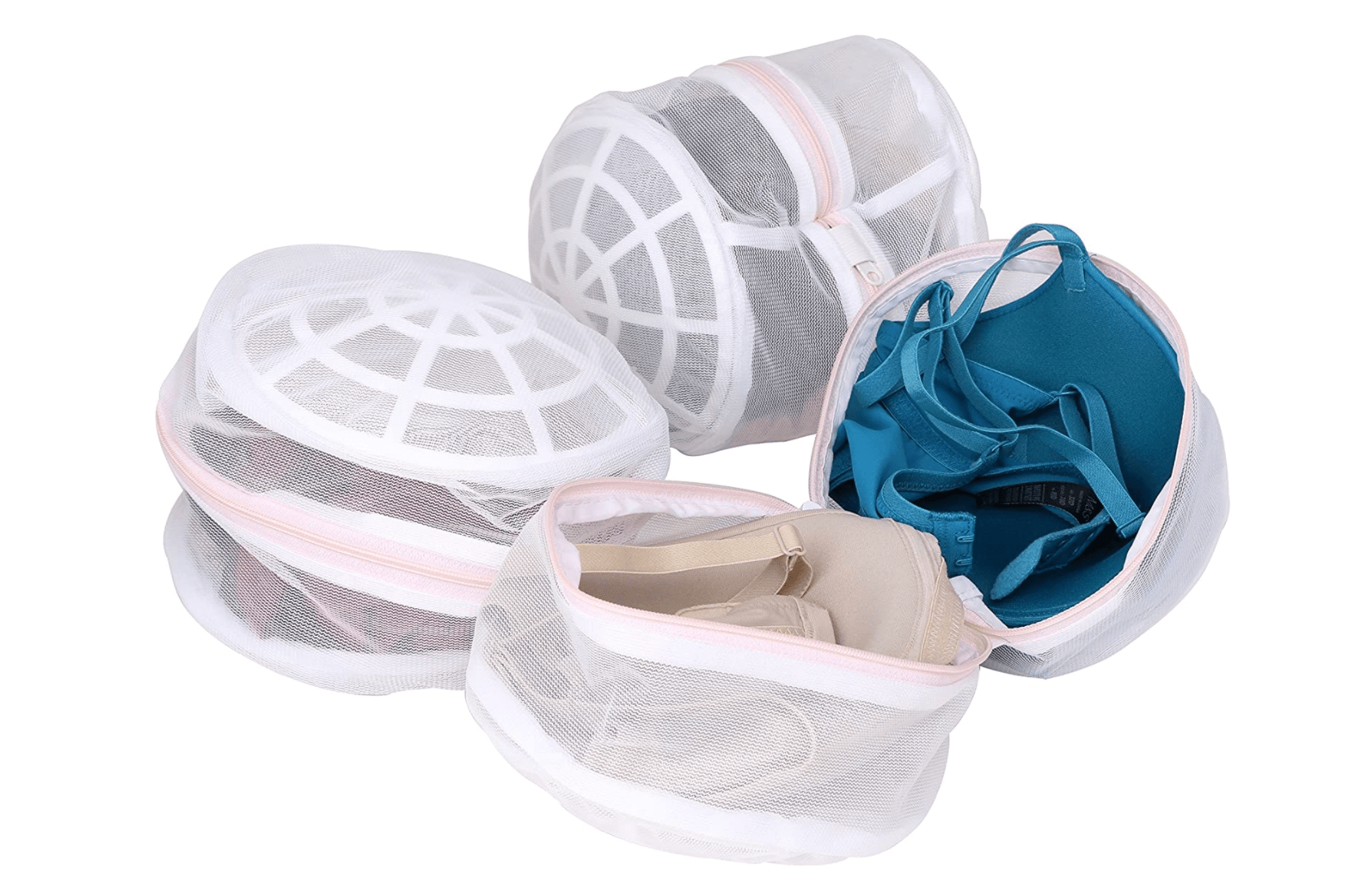 "Hot water is best for giving whites a thorough clean," says Boyd. So when it's time to throw your jeans into the wash, make sure you select the "hot" setting. This will do the best job of loosening the stain and brightening those whites.
Just make sure to turn the pants inside out when loading them into the machine, as this will prevent abrasion and protect hardware, according to Boyd. You can even take it a step further by placing the pants inside of a mesh bag to protect zippers, buttons, and any special detailing or embellishment while keeping their shape intact.
5. Line dry.
"Avoid the dryer if you can!" says Whiting. Instead, line dry your white denim to prevent fading, shrinking, and extra wear/tear.
If line drying is not an option for you, you could also hang or lay flat the pants to dry. Voila! Your white jeans will be as good as new.