Here's how to get Mario on Google Maps, because who doesn't want to play Mario Kart IRL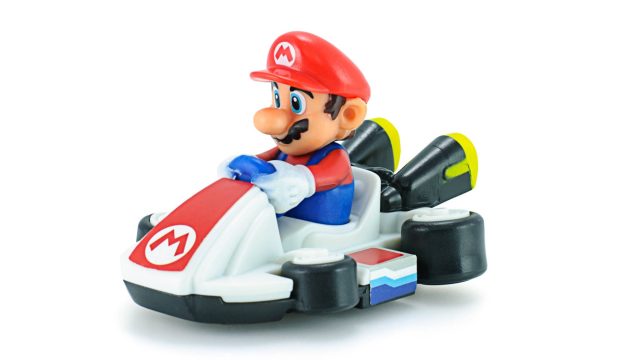 It's National Mario Day, and we seriously couldn't be happier. Obviously, National Mario Day happens every year on March 10th — aka MAR10, because someone out there is a genius — which means it's time to break out some video games. If you're looking for a way to celebrate but don't have a vintage Super Nintendo (or any gaming console) handy, we've got you covered. Google and Nintendo collaborated to celebrate this most auspicious holiday, and we're totally obsessed. So, here's how to get Mario on Google Maps and feel like you're playing Mario Kart IRL.
Here's what you need to do:
1Open Google Maps on your smartphone.
If you don't have Google Maps, head on over to Google Play or the App Store to download it. And if you've already got it, be sure to update it for this handy trick to work.
2Tap the yellow question mark in the bottom right-hand corner.
We're already having flashbacks to childhood. Next, follow the on-screen prompts to experience life behind the wheel as the famous fictional plumber.
3Sit back, relax, and let Mario guide the way.
"Once enabled, you'll see that the navigation arrow has morphed into — who else? — Mario," Google Maps UX Engineer Munish Dabas wrote in a blog post. "He'll be a constant companion wherever you're driving this week — to work, to school, or the spaghetti house. Just remember to practice safe driving on the road — we don't encourage throwing bananas or red shells at other drivers in real life!"
So, now that we know how to get Mario on Google Maps, we honestly feel like we're living our best life. Mario is the best travel buddy for our commutes (sorry, Siri), and we love this cute feature. Be sure to take advantage of it now, because Mario is only taking the reins of Google Maps until Friday, March 16th. If you miss out? Don't worry. This isn't the first time Google Maps did something like this, and (hopefully) it won't be the last.
In the meantime, you can snap a screenshot of your Mario-themed route and share it on social media with the hashtag #MarioMaps. Just, ya know, don't include any personal details like your home or work address. Enjoy!