6 ways to get involved in politics right now if you're mad as hell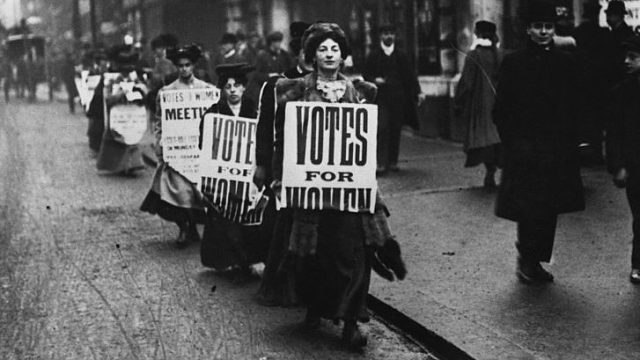 Many are saying that this midterm election—coming up on Tuesday, November 6th—will be the most important election of our lives. They may be right. Midterms are often considered to be a way for voters to show through their votes how they think things are going across the country, how they feel on a variety of issues. And right now? Things are not so great—which makes it the perfect time to get involved in politics.
As Republicans hold the majority in the House of Representatives and the Senate, and control the White House, many consider the nation to be imbalanced at present. "Flipping the House"—or voting in enough Democrats to hold the majority in the House—has been a focus for many organizations that believe Congress is not currently balanced enough to represent all of us. Some believe the GOP has done nothing to reign in Trump's policies and actions, and many activists think civil rights, women's rights, health care, environmental protections, and climate change action are in jeopardy if nothing changes.
That's why it is so important to vote and make your voice heard on November 6th. But you might be wondering, as many people are: What else can I do to get involved in politics? Well, here are six old-school things you can do, besides voting, to get active—and none of them involve social media.
1Phone banking
Phone banking means you sign up with a campaign office to help make calls to constituents. For instance, you might be interested in ensuring Ayanna Pressley gets elected in Massachusetts. In that case, you'd sign up with her campaign office and volunteer to phone bank, which entails making calls to potential voters and asking them over the phone if they'll commit to voting for the candidate. Phone banking is typically done in two-to-three hour time slots, with breaks available any time. It's a great way to meet like-minded people who also are willing to do the hard work to cold call others to get them out to vote.
2Canvassing
This is the face-to-face work of making political campaigns work. You can sign up with the campaign office of a candidate you support, and find out when they offer organized times for volunteers to knock on doors in assigned neighborhoods. You will knock on doors, and when the resident answers, you'll talk to the person about who they are voting for and ask for support for your candidate.
3Sending postcards
Some organizations offer the opportunity for you to write postcards to voters in swing districts, asking them to vote for a particular candidate. For instance, Sister District is one organization that invites volunteers to organize postcards drives.
4Hosting or supporting events
Some people have done simple neighborhood bake sales to raise money for a candidate of their choice, while others might throw larger, full-scale formal fundraisers that raise cash. Whether big or small, events that pull people together need organizers and support staff and are often looking for volunteers.
5Data and research for a campaign in a critical race
Some organizations have data and research teams that seek out volunteers who want to track races and gather other data that help campaigns become stronger. If you're number savvy, this would be the perfect job for you.
6Help others figure out their day-of voting plans and help people get to the polls
One simple way to get prepared for November is to make your day-of voting plan. When are you going to the polls—before or after work? How are you getting there? Figure all that stuff out now. If you're super ambitious and helpful, try to lend a hand—find someone who might need a ride or assistance getting to the polls, and help them get there. Also, remind all your family and friends to vote.
Many of these activities (phone banking, canvassing, event support) can be done through various candidates' offices that are often seeking out volunteers, but you can also get involved with organizations that support civic engagement.
Here are a few organizations that you may have heard of, but might not know what they do. Each of them has specific goals, with an eye toward changing the course of American politics:
Rock The Vote
Rock the Vote is a nonpartisan nonprofit dedicated to building the political power of young people. In 1990, music executives founded Rock the Vote in response to censorship of hip-hop artists. It's evolved into an organization with over 25 years of experience engaging youth to care about the ballot, voting rights, and participating in democracy. They are looking for volunteers to work on everything from policy research to phone banking.
Sister District
Founded by a small group of women, Sister District helps critical state races (across the nation) where Democratic control hangs in the balance. You will be connected with a local team, matched with a strategically important race (it could be anywhere in the country), and given specific actions to take to help win the race in that state.
Swing Left
Swing Left is an organization focused on winning U.S. House of Representatives seats in districts where the last election was won by a narrow margin. Overall, the idea is to ensure that more House seats go to Democrats. They are very focused on "stop[ping] Trump and the GOP agenda by working together NOW."
When We All Vote
Co-chaired by Michelle Obama, Lin-Manuel Miranda, Janelle Monáe, and others, this is a new national, nonpartisan, not-for-profit group that "brings together citizens, institutions, and organizations to spark a conversation about our rights and responsibilities in shaping our democracy. Namely, the responsibility of registering and voting." When We All Vote is looking for volunteers leading up to Election Day.
When November 6th rolls around, most importantly—get out there and vote. Maybe bring a friend or drive a relative to the polls, too. Before then, roll up your sleeves and help make democracy work.