How to file for unemployment benefits during coronavirus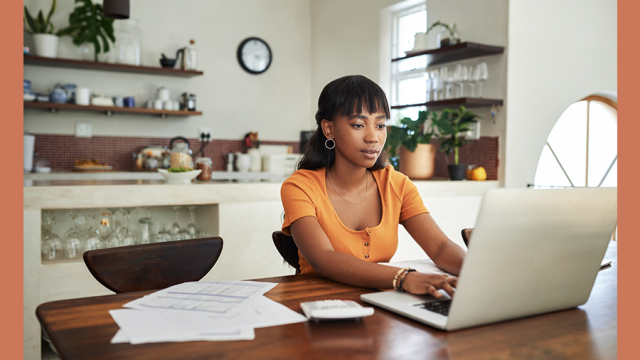 Unemployment numbers have absolutely skyrocketed in the last few weeks. So if you're one of the 3.28 million people who have filed for unemployment as of March 21st, and are looking for a way to get some temporary income in order to pay your bills, you're far from alone. As thousands of businesses across the country are forced to close their doors to help stop the spread of coronavirus (COVID-19), filing for unemployment benefits is one of the only ways people may be able to make ends meet.
If you're unfamiliar, unemployment insurance provides monetary compensation for a specific period of time or until a worker finds a new job. The federal government sets the guidelines for these programs, and eligibility and benefit amounts are determined state by state.
But where do you start?
Right now, if your employer has stopped your work operations due to coronavirus, if you're quarantined, or if you've had to stop work to care for a family member, the federal government has mandated that you are eligible to collect unemployment. So if you're staying home with no money coming in and you need to pay those bills, this might be the best option for you. Scroll down to find out how to file for unemployment and what kind of forms you'll need.
Where do I go to file for unemployment?
It's important to keep in mind that unemployment benefits—and how to file for them—differ from state to state. However, most states allow unemployed workers to apply online, over the phone, or through the mail. They also typically provide information for applicants in numerous languages, including Spanish, to make the process as accessible as possible.
Right now, because of the volume of applications and how rapidly the coronavirus pandemic has impacted people's lives, it may be easiest and quickest to file online. To begin, go to your state's website and search for "unemployment" to find the online application, then sign in with your state-issued ID or create a login to generate a new claim.
What forms do I need to file for unemployment?
To prepare to fill out the online unemployment application, you should typically have a few documents on hand. These include:
your Social Security number
proof of income (pay stubs)
your driver's license or state ID
company names and addresses of all employers you worked for in the last two years, including employers located in another state
your bank routing numbers for those states allowing (or requiring) direct deposit of your weekly unemployment benefits into your bank account.
Make sure these items are ready and available as soon as you start filling out the application in order to reduce the likelihood of encountering a claim delay because of an error.
NOTE: Due to increased traffic on these sites because of coronavirus, you may have to submit your claim a few times for it to go through. Once it does go through, you'll be notified that your submission is being processed.
How much can I get for unemployment pay?
Unemployment pay won't cover your full paycheck. It will only partially replace lost wages.
Typically, it will cover about 45 percent of an individual's income but, again, this varies greatly by state. The national average weekly benefit is between $300 to $400 each week.
"It depends very much on the person's level of earnings," Wayne Vroman, a labor economist at the Urban Institute, told Newsweek. "Your income over the past year is the basis of the size of the payment."
Essentially, your state's unemployment office calculates the payment based on your work history. They will assign a percentage of that income to be paid to you as unemployment insurance, as long as it's within the maximum benefit for your state. In most cases, the maximum is around $500 or $600 per week, according to Vroman. But in some states it can be much higher.
How long do I have to wait to receive unemployment pay?
The waiting period for unemployment benefits is entirely decided by your state. However, due to the coronavirus pandemic, New York State has waived the seven-day waiting period for unemployment benefits for people who are out of work. That means you can potentially receive payments sooner, as long as you are processed and approved.
Additionally, it is customary to have to log in and file on a weekly basis to prove that you are still unemployed and in need of payment. This involves accessing your account to review the status of your claim at the start of each week (for some states, this day is designated by the first letter of your last name), and checking on how much compensation is left in your account. Typically, you have to file for each week that you are eligible in order to receive payment, though this has the potential to change during coronavirus.
Coronavirus employment benefits:
An emergency relief bill called the Coronavirus Aid, Relief, and Economic Security (CARES) Act has been proposed by the government, which would include an expansion of unemployment insurance. As of March 25th, it had been voted on by the Senate but awaited approval from the House.
Julia Rosner, a senior staff attorney at Legal Services NYC, a provider of free civil legal services, issued a statement on the proposed federal stimulus package, saying, "The unprecedented expansion of unemployment insurance included in the federal government's proposed stimulus package will go a long way in helping desperate, unemployed workers meet their basic needs…The proposed federal package provides an extra $600 a week on top of the regular weekly unemployment benefit rate, which would provide stability to low-income workers who, for example, might only receive $250 a week in unemployment insurance, which is not enough to pay the rent, put food on the table, and pay bills. The package also provides an additional 20 weeks of unemployment insurance during this crisis."
In addition to the increased weekly benefit amount, the CARES Act would extend regular unemployment benefits for an additional 13 weeks. In most states right now, laid-off workers could get a maximum of 26 weeks of benefits.
If you're filing for unemployment right now, keep at it and good luck. We're all figuring this out together.
The information contained in this article is not legal advice and should be not be substituted as such. Federal and state laws change frequently and can differ greatly. What is reflected in this article may not reflect the most recent changes to the law or the provisions allocated in your state.
As information about the coronavirus pandemic rapidly changes, HelloGiggles is committed to providing accurate and helpful coverage to our readers. As such, some of the information in this story may have changed after publication. For the latest on COVID-19, we encourage you to use online resources from CDC, WHO, and local public health departments, and visit our coronavirus hub.