Thinking of eloping? Here are the biggest pros and cons from two couples who said "I do" in secret
Even before the coronavirus (COVID-19) pandemic wreaked havoc for wedding plans, elopements have steadily been on the rise, with more and more millennial couples opting to exchange vows in private ceremonies rather than splurging on lavish and pricey weddings. Need proof? Pinterest recently reported an uptick of 128 percent in searches for elopement photography ideas. When it comes to getting hitched, modern couples want it small and exclusive, whether that's to save money, to avoid complicated family dynamics, or because, due to COVID-19, eloping is the only option right now.
The good news is that there are more ways to elope than just saying "I do" at a Las Vegas drive-thru (even though there's nothing wrong with that). We talked to two readers about why they eloped, what they loved about it, and what they would change about their special day.
The couples
Adriana Dikih and her husband, both 32, met in Oregon and eloped back in January 2018 on a punting boat, floating down the river in Cambridge, U.K., by themselves.
Madison Falco and her husband met online in Toronto and eloped on New Year's Eve in 2018 at the restaurant where they went on their first official date. They were married in front of both of their parents. Falco's brother officiated. 
Why they did it
Madison Falco: "Neither my partner [nor] I were ones [who] liked weddings. We both had the same perspective and [had] never been one for weddings as they seem to [cost] a lot of money, be stressful, and not really be worth the work. Also, most weddings seemed very impersonal and done for other people instead of the couple. I think we both wanted something really meaningful, financially responsible, and that made [sense] for our situation. Elopements and intimate weddings seem to be the most real, raw way to show your love without all the bullshit attached."
Adriana Dikih: "We decided to elope for a variety of reasons. We were engaged and our families all knew that. We were partially overwhelmed by all the options available and the amount of work we would need to invest to find a location that met our wedding vision. We were also really invested in saving as much money as possible, as we just bought our first house—I even bought my wedding dress on Craigslist for $50! We knew we wanted a real honeymoon together, and cutting that out wasn't how we were going to save money. The cost of the big day itself really added up, so after joking about the idea for a few months, we finally said, 'Let's do this!'"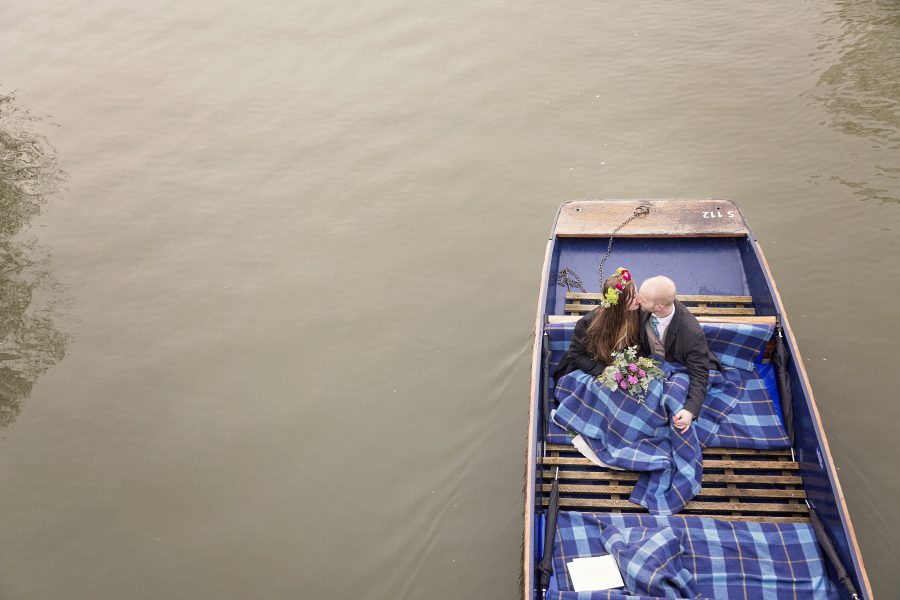 Their biggest challenges
MF: "Keeping the elopement a secret was very hard. We decided early on that we would only tell our parents and immediate family because we wanted them to be part of the day. We didn't want them to feel robbed of the experience and wanted their blessing and respect for our privacy. Logistically planning out this secret arrangement became hard because I couldn't lean on much support and help.
"Also, even though we kept it simple, I was surprised that there was still the same amount of stress and challenges: Finding a dress in time, arranging the after-party, trying to make sure that people would understand and be happy. I was also quite surprised and disappointed by the few friends who were upset with us for doing it this way. You would think that people would be selfless and supportive during times like this, but I had friends not even talk to me until I apologized, or [friends who] didn't even send a card or seem happy for me.
"That also brings me to another point: It's disappointing that just because you get married a different way, people think that it's not as important or [of] lesser value. Even family and friends seemed to be annoyed by little costs or inconveniences from the arrangement, despite the fact that a regular wedding would cost them way more and be more of an inconvenience. It was all very odd and telling of people's characters to see their reactions during the process. You really see who cares and loves you and are truly happy for you."
AD: "Finding flowers in a foreign city was challenging. The florist I had previously looked up online was closed the day we needed to buy flowers. We were lucky to stumble across a farmers' market and were able to snag some. I forgot to pack hairspray. We were staying off the beaten path and my husband would have had to drive two hours round-trip in the middle of the night to buy hairspray for me. I just had less than fabulous hair for photos. To prevent these things, I would have arrived somewhere and spent two days getting settled and prepping. We landed in the U.K. late one night, drove to our city two hours away, then got married the next morning at 9:30 a.m. We wanted to have our little 'ceremony' early in the trip so it would feel like a honeymoon—but that was actually really stressful."
The positives of eloping
MF: "We got to do everything we wanted to do in a way that we wanted it to be done. Everything was made and catered to us in a ceremony that felt true and real to our relationship. It didn't feel fake or forced—it was pure magic. Also, it saved us a lot of money, which was something we felt was important to us. Although we weren't fully supported by our friends, it didn't take away from how amazing the day was. We also wanted to put that money towards a down payment for buying our first condo instead, which is ultimately what we did."
AD: "Although there were mishaps and we were exhausted and jet-lagged, we enjoyed how it was super adventurous. We laughed so much over all the mishaps of no flowers and no hairspray, [and often said,] 'We're so tired,' 'We're so jetlagged,' 'We're lost,' 'We're only sleeping five hours tonight,' 'We're gonna look haggard in our photos,' etc. It was an odd but promising and entertaining way to say 'We're going to work through anything together, forever' at the start of our marriage."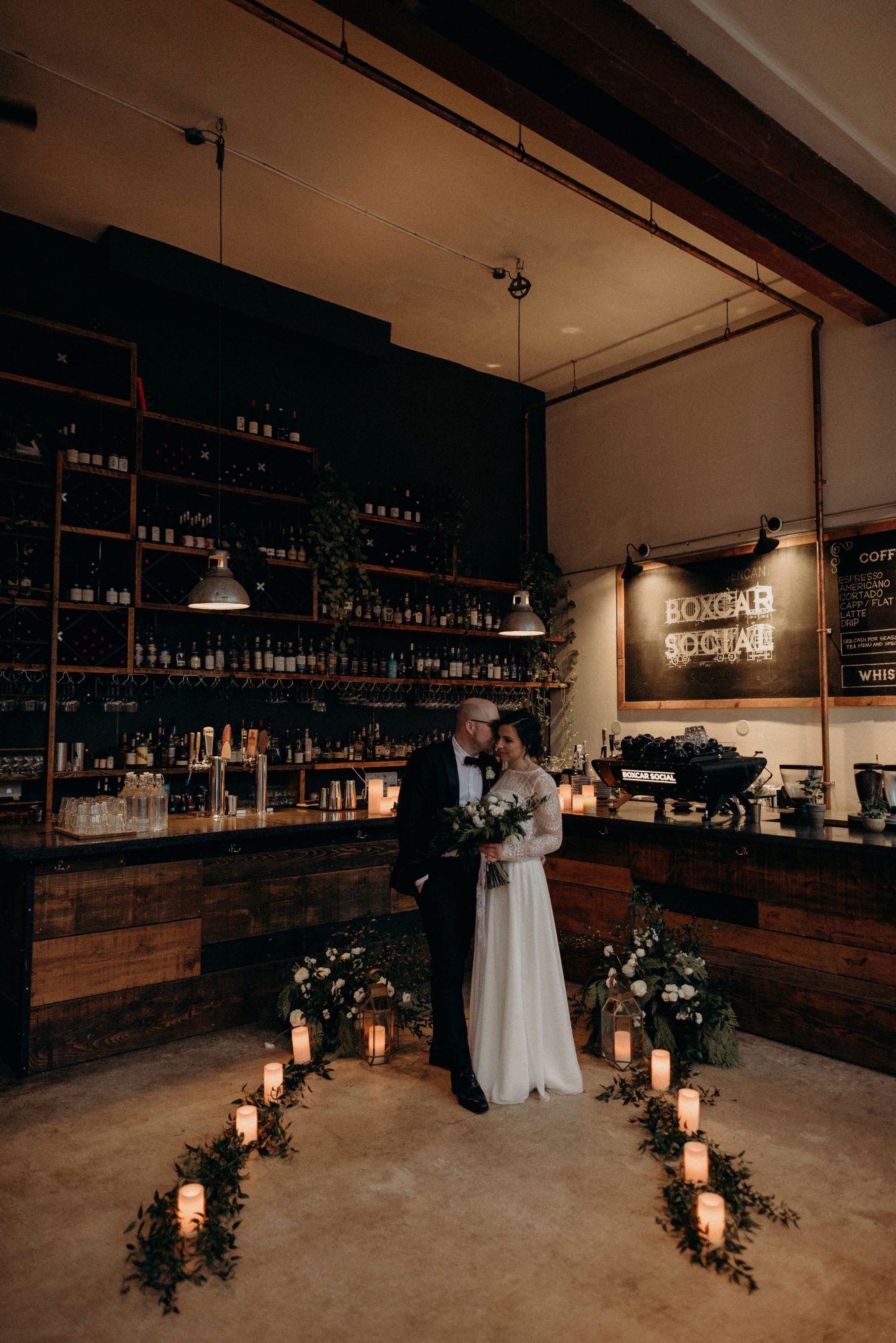 How they included their families and friends
MF: "Our family was apprehensive about the way in which we were deciding to do things in an untraditional way, but were very happy and supportive nonetheless. I think they enjoyed being part of the process [in] the months leading up [to our elopement] and seeing how it unfolded. They love us no matter what, and I think they just wanted us to be happy, no matter what.
"Our friends were surprised; some of them were extremely supportive and happy, and some of them not so much. Only our parents were invited to the ceremony and my brother officiated. We had invited my sisters, brothers-in-law, and close friends to join the after-party and take pictures. We then invited more friends to our place for a New Year's Eve party. Two months later, we had a very casual brunch reception for all the friends and family who couldn't be there to celebrate one more time. It was fun. I had extended family and people like my nana [who] I wanted to have part of that celebration. It was important to me to ensure that people we love and care about didn't feel left out."
AD: "We waited until we got home to tell our families. We felt totally fine until we got in the car to drive to his parents' house, then to mine. The nerves instantly hit us. Our families both had a flash of shock and didn't think it was real. I mean, they had heard us talk about wedding planning. There was a response of 'What! No you didn't!' Then we [proceeded] to hold up the rings and my mom said, 'Okay, wait, I need to sit on the couch. Are you serious? I'm not mad, I'm just…Are you serious?' Everyone was super surprised but very happy for us.
"We didn't want a photographer when we eloped, but we hired one just to help our families feel like they were 'in on our day.' So we got to share photos and tell the story and both our moms said, 'Awww, OMG, it's SO romantic!' Another thing that helped our families [understand] was that we let them know right away that we were open to having a small, casual summer BBQ reception for our people back home, which we did."
How they feel about eloping
MF: "I don't have any regrets and wouldn't do anything differently. I'm not mad or sad that not everyone could make it because it was a secret; no hard feelings there. I wish some people reacted differently and were more supportive of me instead of their own agenda, but such is life, and I will never hold that against them. Everything truly worked out better than I expected and I am grateful."
AD: "I was a bridesmaid at a wedding about a year after we eloped and went through the whole process with all the girls: shopping for the dress, planning and throwing a shower, getting our dresses, going on a bachelorette [trip], the whole nine yards. We definitely missed out on doing those things. I'm still really happy with how we did it, but you do miss out on a lot of events surrounding a wedding.
"I think getting ready the morning of was the hardest thing. In a typical situation, it's relaxing and you have everyone around you, helping you and hanging out all morning. When we eloped, I was tired and bleary-eyed getting ready alone, but then we had this ultra-romantic 'floating down a river on a tiny boat' ceremony. That's priceless! You just can't compare the two. Both [situations] are amazing; they are just infinitely different."
Their advice for those who are thinking of eloping
MF: "I'd say do whatever you feel is best for you in whatever form that looks like. Your wedding is about you and your partner and this special bond you are about to celebrate and agree to for the rest of your life. Be selfish and do what makes you happy, not anyone else. There is enough stress that comes with making the decision of marriage; you don't need to add [any] additional baggage!"
AD: "Don't elope right away when you get to your destination. Plan for a full day or two to adjust and mentally prepare. Getting a photographer really helped the family cope as they still got [to look at] wedding photos and could visualize the day. I think waiting to tell them in person was also super helpful versus over the phone. I almost wish we planned a gathering or something for our return so [that,] within a week or so, we would have already planned to host a small party to tell a lot of friends in person."