How To Contour Like A Pro, According to Your Face Shape
You don't need to be a Kardashian to use this face-chiseling makeup hack.
Contouring may have become popular thanks to A-listers like Kim Kardashian and her incredible glam team, but the makeup technique has been around for a long time. Contouring involves strategically using products like bronzer and highlighter to make the face appear more sculpted, effectively creating the illusion of a more defined and snatched face. If it sounds complicated, we promise, it's not.
But of course, there's a fine line between looking like a Kardashian and looking like a cake-y, muddled mess. The key is in the technique (hint hint: blending!) as well as finding a contouring method that works best for your specific face shape. That's why we asked two beauty pros to give us their top tips for contouring using makeup. Consider this contouring 101. 
What does contouring mean?
"Contouring is a makeup technique used to enhance your natural features," explains makeup artist and Youtuber Kat Sketch. "By applying a darker shade of makeup to the natural shadows of your face, you can give your face depth, dimension, and showcase other features."
According to our experts, your contour shade should be at least two shades darker than your natural skin tone, while your highlight shade should be at least two shades lighter. "Contour is meant to create a shadow, therefore making that part of the face recede," says celebrity makeup artist Lauren D'Amelio, "While highlighter creates brightness and draws more attention to that area." Together this technique can create the illusion of a different bone structure, along with adding symmetry, slimming, lifting, and sculpting the face.
What products do I need to contour?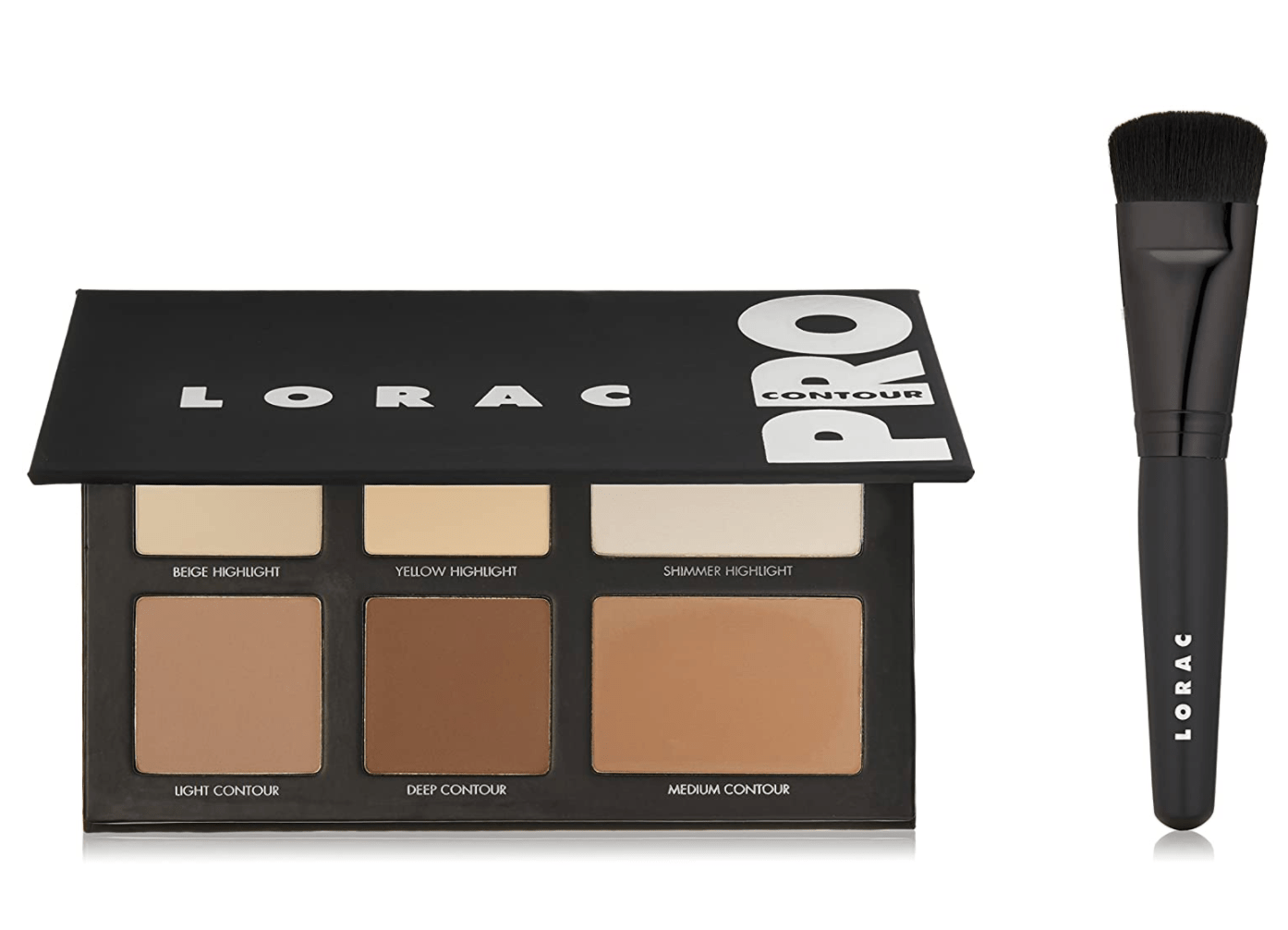 LORAC PRO Contour Palette and Contour Brush
Shop it
Amazon
"To start contouring, I would suggest a cream or powdered contour," says Sketch. Shop around for a decent contour palette that includes everything you need: cream contour, bronzer, and powder highlighter. According to Sketch, a cream contour product may be slightly easier to blend, so if you're a beginner, check out these options. You'll also want to grab a good set of brushes, including a fan brush, for both blending and application. 
How do I contour my face?
1. Find your face shape.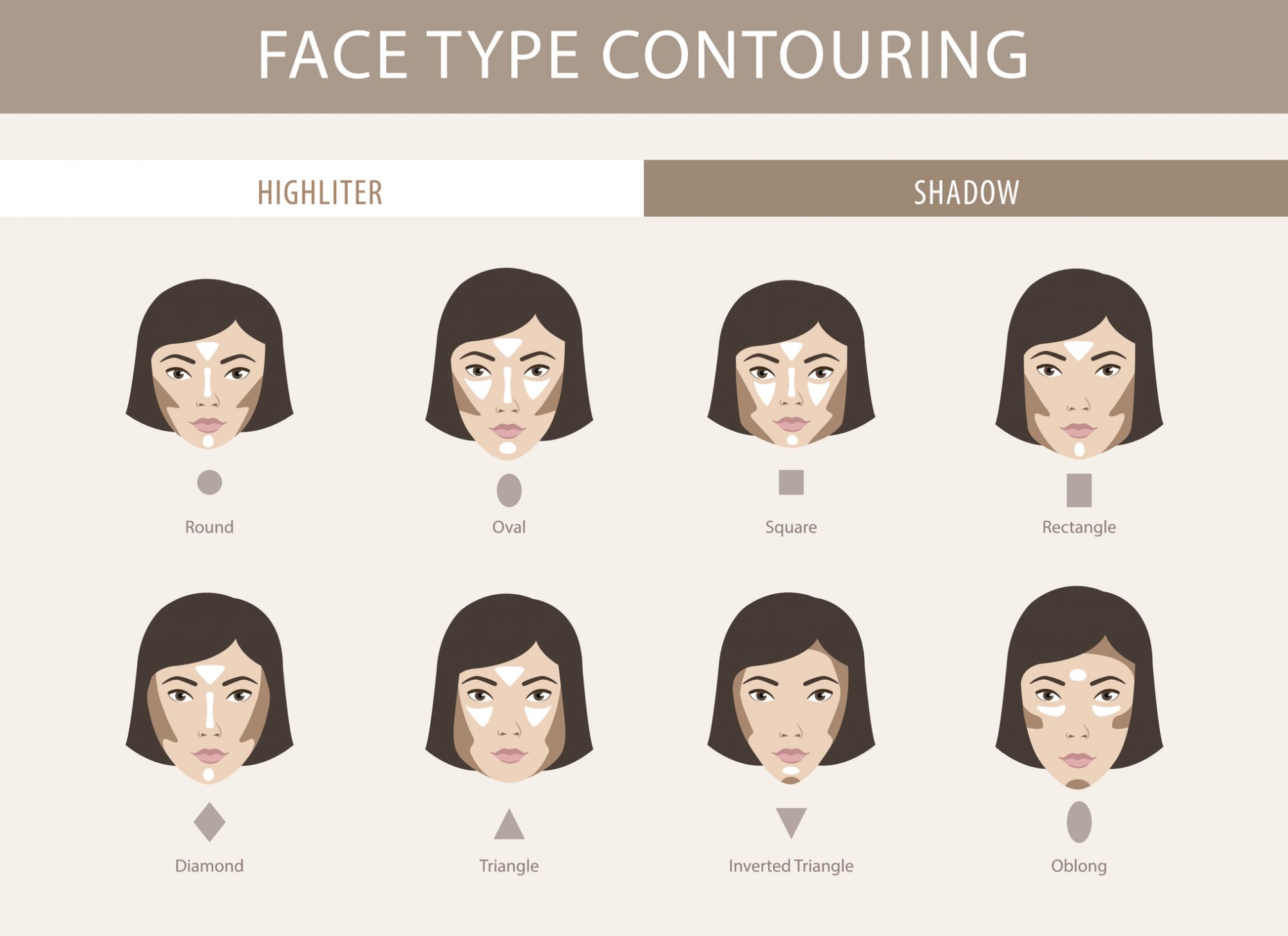 "The first step is to understand your face or the face you are working on," D'Amelio says. To find out what your face shape is, she recommends taking a photo of yourself with no makeup. Look at the length of your face, the width or your forehead, and the shape of your jaw to determine your face shape, as well as what areas you want to stand out and what areas you may want to hide. You can also hone in on what areas that may not be symmetrical, and address them with strategic contour placement.
Oval or oblong-shaped faces that want to create the illusion of a smaller forehead would contour along the hairline to make that area appear smaller. According to D'Amelio, "Highlight will only draw more attention to that area, so it's best to avoid highlight in that case."
Square-shaped faces that want to soften the more geometric angles of their face should apply the contour color to the outer edges of the jawline.
Round or circular-shaped faces may want to sculpt the jawline by bringing a  bit of the contour shade underneath each side of the jaw. Additionally, if you have a round face and would like to make it appear thinner, D'Amelio says it is best to concentrate your contour on the outer sides of the face. "A great trick for beginners is to create a "3" on each side of the face starting at the center of the forehead, bring it down towards your temples, along the bottom of your cheekbone, and then down around your jawline," she says. This technique works well on all face shapes.
2. Apply contour and highlight over your foundation
Applying foundation first will give you a clean, even canvas to work with. It will also make it easier to see the areas you'd like to highlight versus the ones you'd like to contour with a deeper shade. Depending on your desired result, you'll want to start by drawing the contour lines on your cheeks (in the hollow of your cheekbones), under your jawline, and lightly around your hairline. For beginners, Sketch recommends using a contour stick to make the process easier. Otherwise, simply dipping your brush into cream or powder contour will work well.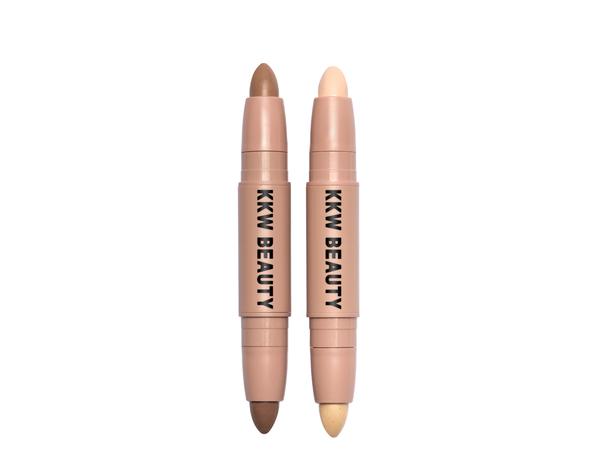 KKW Beauty Crème Contour and Highlight Set
$$32
Shop it
Ulta
Next, you'll apply cream or powder highlight on the high points of your face, based on your face shape. This usually includes the tops of your cheekbones, the bridge of your nose, and the middle of your forehead.
3. Blend!
"You don't want to see any lines of demarcation and the colors should gradually blend into each other," explains D'Amelio. To do this, use either a damp Beautyblender (if using a cream contour) or fluffy brush (if using a powder contour) and buff out the contour lines while blending the highlight color.
4. Top off with setting powder, bronzer and shimmer highlight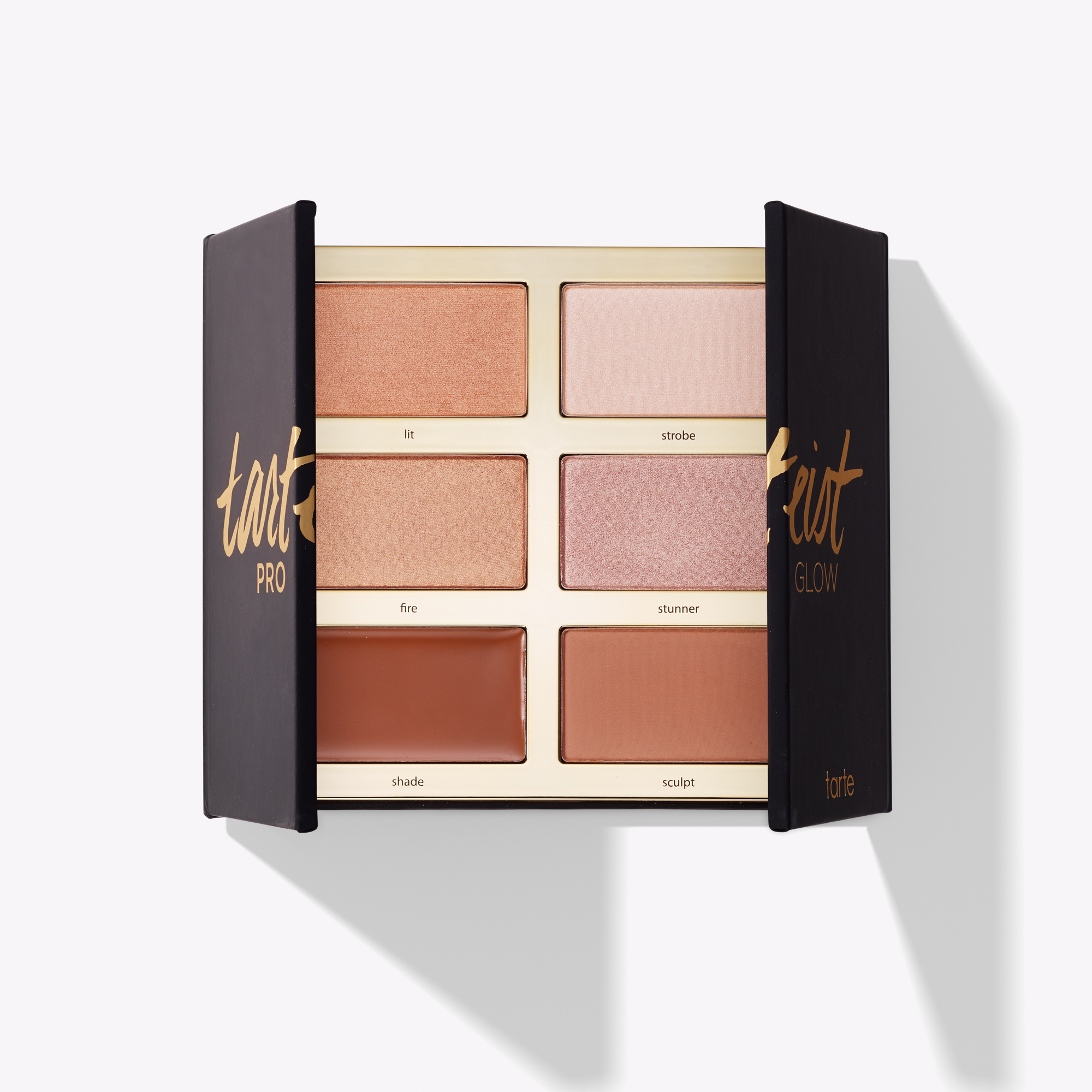 Tarteist PRO Glow Highlight and Contour Palette
$$45
Shop it
Tarte
To really make your contour pop, D'Amelio says you can sculpt the face even more by dusting a bit of cool-toned bronzer using a fan brush to the hollows of your cheeks, along with a shimmer highlight, which will catch the light and draw attention to the highest points of the face. Of course, finish all your hard work off with a good setting spray or powder. Voilà! You are now a contour queen.