How to Clean Your Sneakers So They Look Brand New Again
Keep your kicks in tip-top shape with these expert-recommended tricks.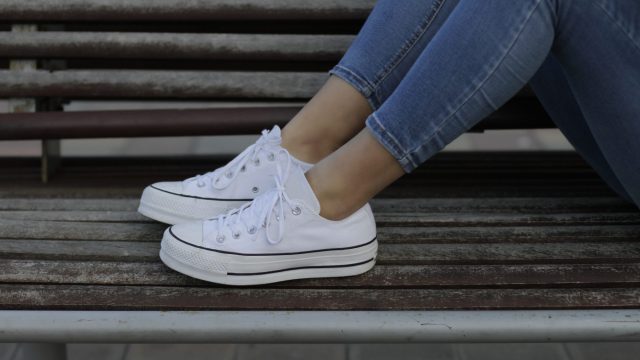 Sneakers are a staple, no matter the season. But with that wear-everywhere quality comes lots of wear and tear, naturally. To keep your favorite kicks in tip-top shape, HelloGiggles asked experts how to clean sneakers depending on the material—whether it's suede, leather, canvas, or mesh. Plus, these cleaning gurus break down how to clean sneakers' soles, insoles, and laces.
Below, read these experts' tips on how to clean your sneakers so you can look fresh with every step in your go-to shoes.
How to clean suede sneakers:
Suede is a tricky fabric to clean, as anyone who has worn suede booties to a grimy bar knows. But the material is also elevated and ideal for fall, so if you've dirtied them up during said bar situation, we've got you covered.
Gwen Whiting and Lindsey Boyd, cofounders of The Laundress, note that suede is not generally washable, although certain finishes will allow it to be safely washed if done correctly. If your suede sneakers are labeled "not washable" or "dry clean only," don't attempt washing them. However, if they're labeled as "washable," Whiting suggests using their Wash & Stain Bar under cool water. "Rub the bar into the stained areas and repeat until the stain has lifted. Then use a Lint-Free Cleaning Cloth to remove any excess soap."
The Laundress Wash & Stain Bar
$$6
Shop it
Amazon
Jennifer Ahoni, scientific communications manager at P&G, recommends using a gentle brush to clean away any scuffs or soils on suede sneakers.
How to clean leather sneakers:
Leather sneakers are possibly the most sophisticated pick of the bunch. Whether you're pairing them with jeans or a sundress, leather sneakers instantly elevate any outfit. But beware: Leather and faux leather are super-sensitive fabrics due to the many different finishes available.
"For leather or faux leather that's labeled 'washable,' begin by testing out a small area with water and look for discoloration, spots, or other changes once the area has dried," Boyd says. "If it passes the water test, then use our Wash & Stain Bar to spot-treat and remove stains. Run the bar under cool water and begin to spot-treat the leather. Then, remove any excess soap and residue with a Lint-Free Cleaning Cloth. Do not put them in the washer."
For tough stains on leather sneakers, Ahoni has a different recommendation: "Mix a solution of water and a small amount of Tide liquid detergent, wet a cloth with the solution, and gently wipe," she advises.
How to clean canvas sneakers: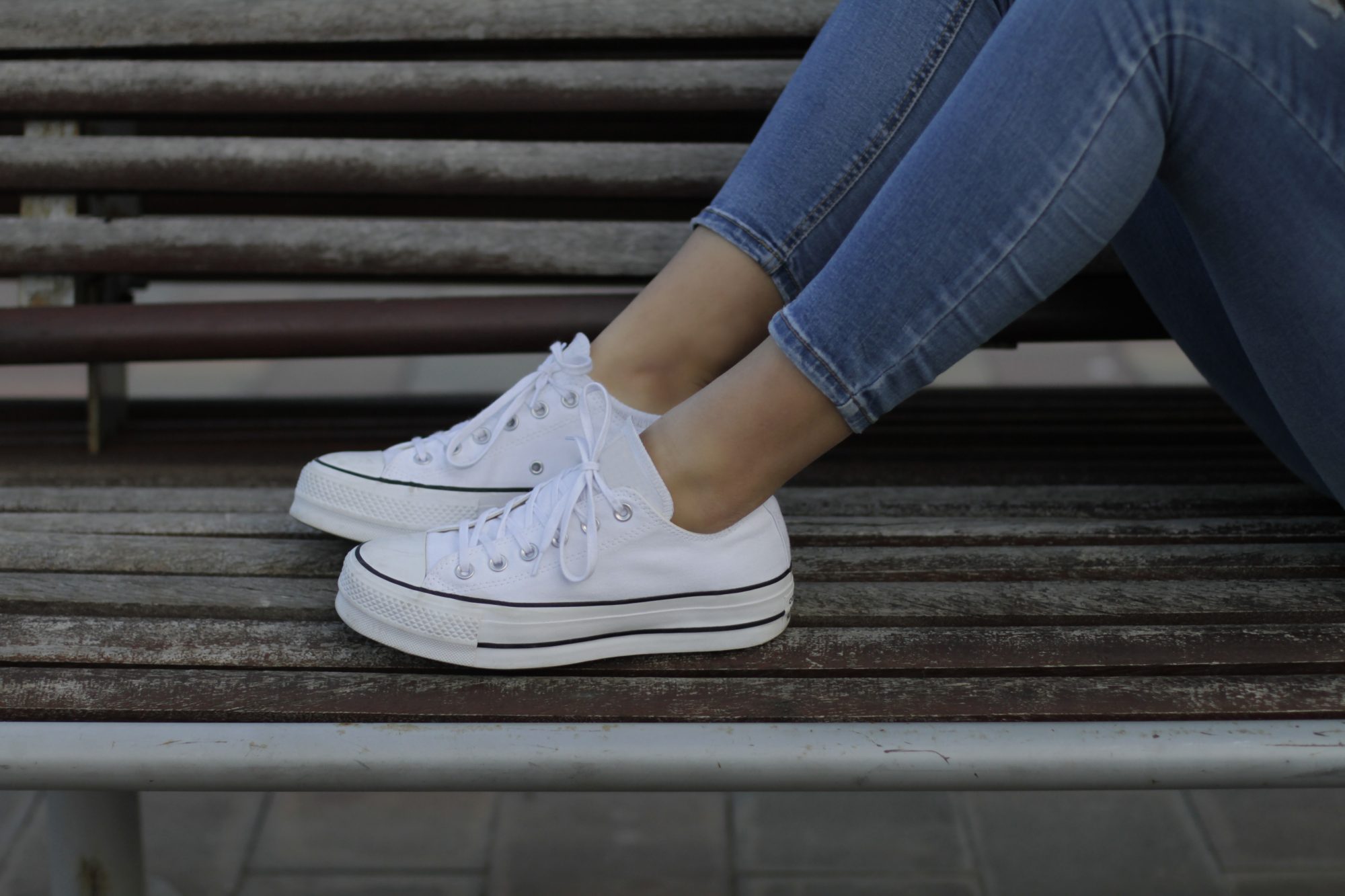 Hello, popular canvas sneakers! (Converse, anyone?) Most canvas sneakers are machine washable, but if you're nervous to throw your cherished kicks in the machine, hand-washing methods work just as well. Just know that it's more time-consuming.
Ahoni recommends this process for cleaning canvas sneakers:
First, use a dry, soft brush to remove any excess dirt and mud from the shoes.
Create a solution of Tide liquid detergent and warm water, and use a brush to scrub and clean away dirt from the soles of the shoes.
Remove the shoelaces and place the shoes in a mesh garment bag. 
Place shoelaces in a separate garment bag to keep them from getting tangled. For white shoelaces, use the warmest temperature as recommended by the care label with the Tide Brights + Whites Rescue booster, in addition to Tide detergent, to get them extra bright.
Remove insoles and wash them separately, or hand-wash them, depending on care label instructions.
Wash the shoes on a delicate/gentle cycle in cold water with a quality liquid detergent.
Air dry.
How to clean mesh sneakers:
Most typical exercise shoes are made of mesh fabric that can be difficult to wipe clean, and they're likely your most tired-looking sneakers since you're exercising outside in them. Mesh sneakers will stay dirty if you don't have the right tools to get the job done. "When cleaning traditional mesh sport shoes, we opt for the Wash & Stain Bar to treat hard-to-reach areas and tricky layered fabrics," Whiting says. Below, The Laundress cofounder details how to clean mesh sneakers.
How to clean sneakers part by part:
Soles
To tackle tough marks on the soles of sneakers when you can't fully wash them, Ahoni recommends using a Mr. Clean Magic Eraser. "Simply wet your Extra Durable Magic Eraser to activate the microscrubbers inside," Ahoni explains. "Then, squeeze out the extra water and get ready for a powerful cleaning experience. Use the Extra Durable Magic Eraser to tackle tough marks, stuck-on dirt, and scuffs."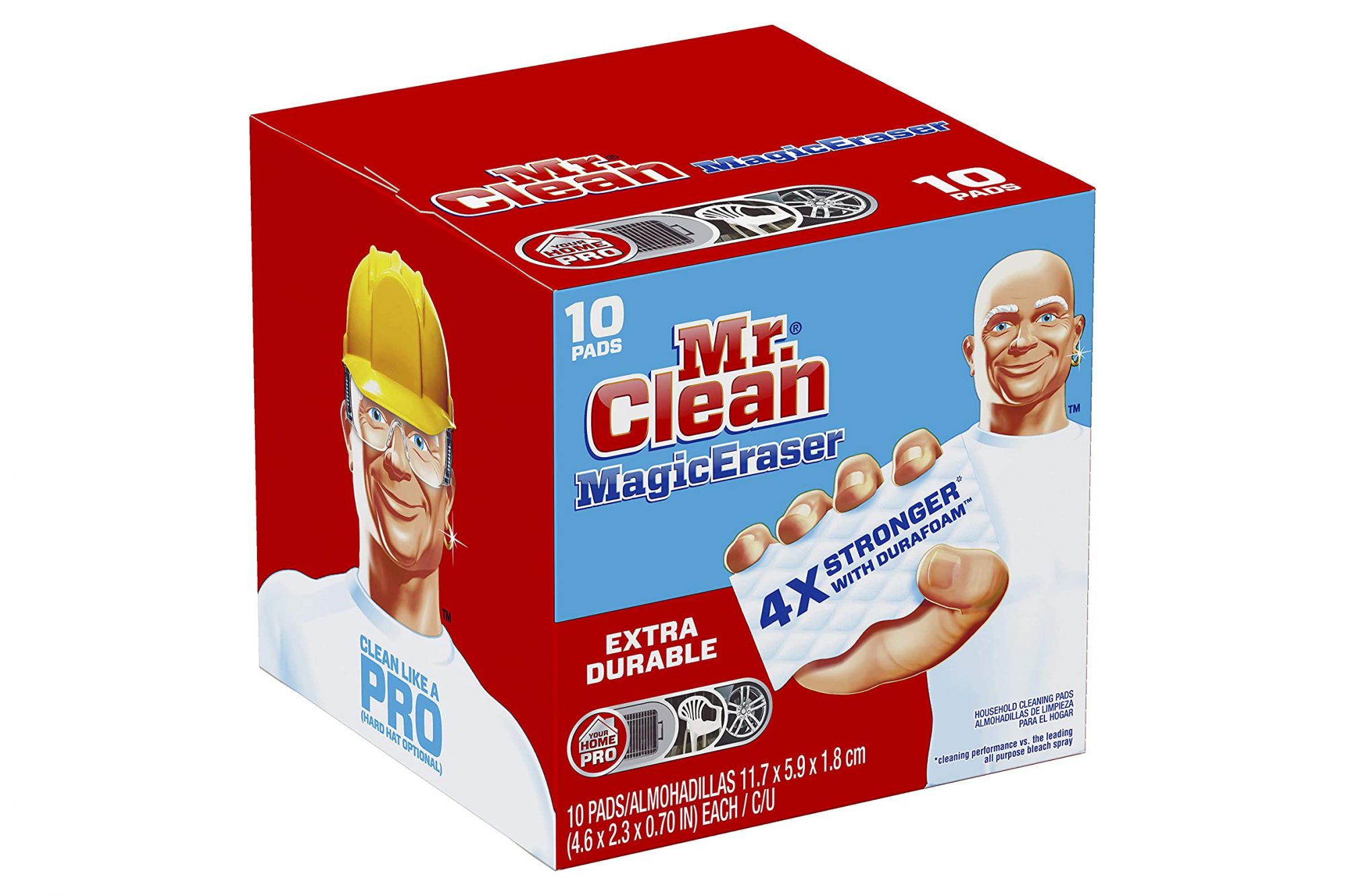 Mr. Clean Magic Eraser
$$12.48
Shop it
Amazon
Insoles
"Apply the Stain Solution and sprinkle All-Purpose Bleach Alternative to create a paste," Boyd advises. "Use a Stain Brush to work the paste into the insoles."
Laces
"Laces made of cotton can be cleaned by wetting a Wash & Stain Bar and working into the laces," Whiting says. "Then, soak them in a basin of hot water and All-Purpose Bleach Alternative and half a cap of Signature Detergent."
How to clean smelly sneakers:
Smelly sneakers are a real buzzkill, so we asked experts for their top tips for saying goodbye to stinky kicks, pronto.
"For rubber, mesh, and canvas sneakers, soak them in a basin with hot water and ¼ cup of Scented Vinegar for 30 minutes," Whiting advises. "If you're in a time crunch, use the Sport Spray to spray the inside and outside."
Ahoni, on the other hand, recommends spraying your shoes with Tide Antibacterial Fabric Spray to keep them fresh between wears. "It's designed to kill 99.9% of bacteria left behind on fabrics as well as fight germs on hard surfaces," she explains. However, if your shoes are machine washable, Ahoni recommends using Tide Pods Sport for everyday shoe odors or Tide One Wash Miracle for tough lingering odors in the washing machine.