10 Ways to Celebrate Your Original Wedding Date if You've Postponed
From sunrise breakfasts to living room dance parties, there's plenty to do when you can't say "I do."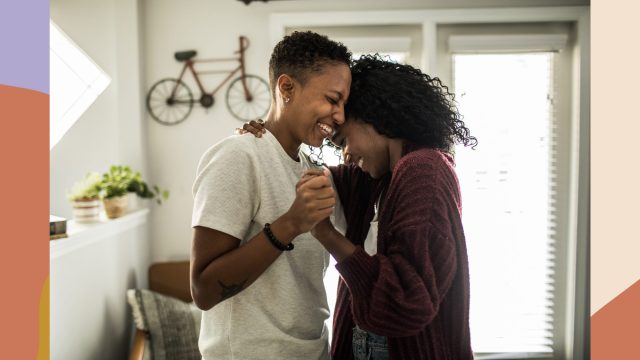 For thousands of brides to be, the start of 2020 marked a whirlwind time of poring over catering menus, trying on dresses, planning special touches and gifts for guests, and generally just getting excited about marrying their best friend. And then the coronavirus (COVID-19) pandemic struck, causing an estimated 652,000 weddings to be postponed in the U.S. between April and June alone, according to a study from London-based wedding planning app Bridebook. Now people are trying to figure out how to celebrate the original wedding date when plans have to be postponed.
But while you might be tempted to let your would-be wedding day pass by to avoid stirring up all the feels, this emotional investment is exactly the reason it should be recognized. "It's important that a couple who have had their wedding canceled or postponed due to these surreal circumstances still mark the occasion, because it matters to both as a major milestone," Sarah Louise Ryan, relationship expert and international matchmaker, tells HelloGiggles.
Furthermore, engaging in new adventures on the day will bring you and your S.O. closer together. "When we do activities with our partners, we are reminded of our similarities [and] of our separateness and differences, which sparks desire and emotional connection," Ryan explains. "By working through an activity, you are brought together as a team, and your bond is strengthened."
As you start the countdown clock once again, there are plenty of fun things you can do with your partner to celebrate your love. Here, we reveal 10 of our favorite ideas that will help make your original wedding date just as special. 
1. Go for a sunrise breakfast 
Crowds + romance = not the best pairing, so grab some quiet time together before the masses wake up.  
It doesn't get much more romantic than having breakfast on the beach or in a park and watching the sun rise as you snuggle beneath a blanket. Nobody likes cold pancakes, but there are plenty of treats you can make ahead of time to take with you: bircher muesli in chic glass jars, tasty muffins (because cake for breakfast is always a good idea), and stuffed croissants are all delicious options. Just don't forget the coffee! 
2. Enjoy a wedding meal picnic
Whatever delicacies you were planning on devouring for the wedding meal, let your imagination run wild and transform this meal into a simpler option that you can enjoy as part of a picnic. Instead of a fancy salmon dish, make smoked salmon and cream cheese sandwiches; that mustard chicken course can become marinated chicken skewers. You might even be able to still keep some dishes as planned: Melon wrapped in prosciutto is easy to prepare and pack up for eating in the great outdoors.  
3. Bake (and cut) a cake 
So you can't cut into your actual wedding cake, but you can make your own. Plus, without a roomful of guests clamoring for a slice, you'll get to eat even more.  
Baking and decorating a cake is a fun activity to do together, and you'll feel a real sense of achievement once it's completed. Fear not: We aren't suggesting you attempt to create a towering number with different layers—just a small one for you and your partner to share. This one-tier lemon and elderflower cake is bursting with light flavors and shouldn't result in too many leftovers; or, if that's still a bit daunting, these pretty cupcakes should do the trick.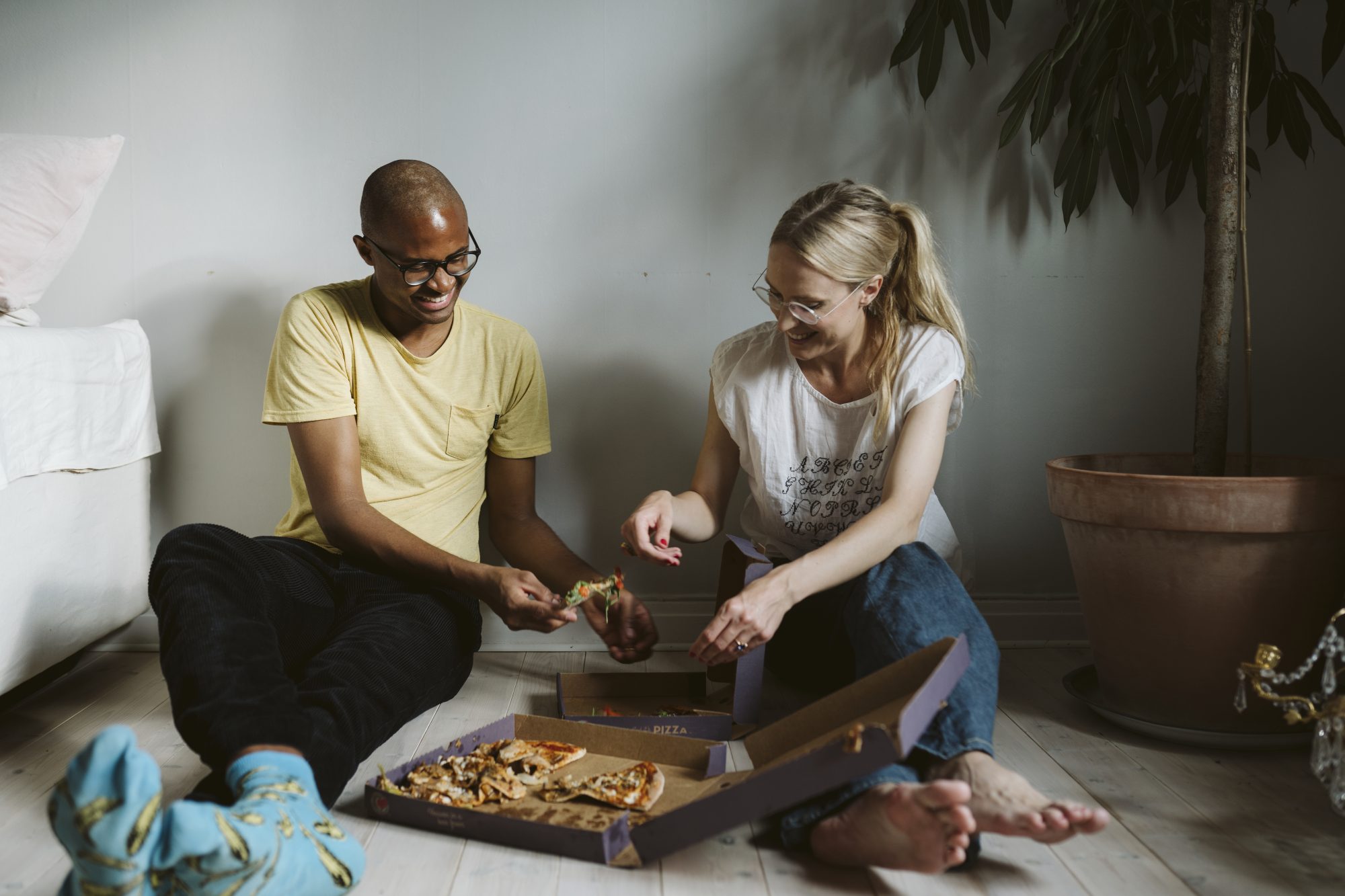 4. Throw a mini Zoom wedding reception 
Even if you're unable to celebrate in person with your bridesmaids and groomsmen, the wonders of technology mean you can still raise a toast and encourage plenty of fuzzy feelings between you and your loved ones. "[It] will be helpful for you to know you've still got that loving support system," shares Ryan. Plus, "when you plan a wedding…you have support and adoration from your nearest and dearest who can't wait to see you tie the knot. Chances are, if your wedding has been postponed, they will be feeling [the sadness] with you today, too." 
Ask everyone to wear their best attire, buy a bottle of Prosecco and some cake, then come together over Zoom or Skype to hold a mini reception. You could ask them for their most hilarious memories of you as a couple and get them to do speeches. After all, it's your day, and they're meant to be on hand to do as you ask!  
5. Dress up and have a photo shoot 
Celebs aren't immune to the pandemic, either—and Sarah Hyland and Wells Adams marked their shoulda-been August wedding day by staging an alternative ceremony photo shoot complete with white outfits, a veil, flower bouquets, and big smiles.  
If you don't want to spoil the surprise of your actual wedding dress, we get you. But you needn't resort to hanging a pillowcase off the back of your head. There are plenty of beautiful—and much cheaper—wedding dresses you can buy to mark the occasion.
6. Make an online photo book 
While you may not be able to make the new memories you'd hoped for right now, this day affords the perfect opportunity to look back over some of your favorite moments from past years together. "Creating a photo album of some incredible events, times, and memories together will provoke positive feelings and reinforce the sentiment of your would-be special day," Ryan says. Perhaps you'd forgotten about the funny sweaters you wore for your first holiday season as a couple or that trip to the zoo where you bonded over a mutual love of penguins.  
Take turns picking your highlights, then order the images by date to chart your relationship timeline. By using an online tool to compile them into a photo book (try Snapfish or Shutterfly), you can print off your album and look through it for years to come.  
7. Order your favorite takeout 
Many of us are still feeling a tad uneasy about eating out—and with mask-wearing, hand sanitizing, and social distancing, it's not quite the romantic experience it once was. By ordering takeout—whether it's pizza, tacos, or a three-course fine dining extravaganza—you get to enjoy your favorite dishes in the comfort of your own home, wearing whatever you want (hello, stretchy pants), and with the bonus of no washing up.  
8. Hold a living room dance party 
Even with no DJ to spin the tunes, you can create a playlist of songs that you were planning on dancing to during your wedding night. There's nobody around to judge your choices, so make them as cheesy or as outlandish as you like—and you can throw in some of your "couple songs" for a bit of added sentiment, too. 
9. Play trivia-like games 
How well does your other half really know you? A Q&A session is a fun way to encourage a dose of healthy competition and reaffirm your connection. "Being inquisitive and reminding each other of your differences and what attracted you together…will keep the flame of desire for each other burning brightly," says Ryan.
Have one person devise 10 personal questions and write down their answers. The questions are then read to their partner, who has to respond and see if their answer matches up. Switch over and repeat the process—and up the stakes by adding in a little prize for the winner. If you want to get philosophical, answer these 36 questions written by psychologist Arthur Aron that are designed to encourage closeness.
10. Take it to the bedroom 
You can't let the day pass without considering that all-important wedding night. Make it as romantic or chill as you want: slip on sexy lingerie, feed each other strawberries, and give massages—or, tuck up under the duvet in flannel PJs and watch a movie with a bowl of popcorn.  
Whatever fun activity you decide to do on your would-be wedding day, don't forget: The big occasion is only postponed—not canceled—and it's a day you can still look forward to. A roomful of guests or not, you've spent it with the person that means more to you than anyone—and no amount of floral arrangements or dancing can replace that.