What You Need to Know Before You Apply for Food Stamps
And how to know if your household is eligible.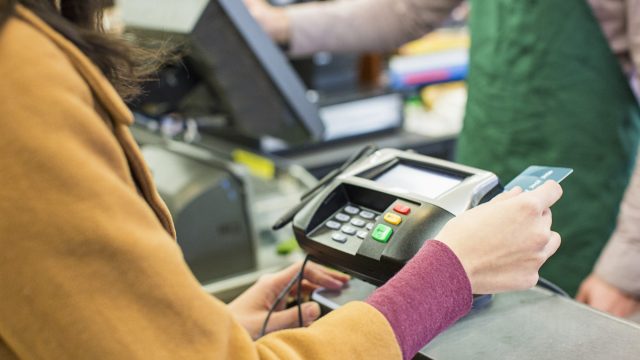 The coronavirus (COVID-19) pandemic has upturned a lot of things in our lives, including how we're able to afford and receive food. According to an analysis from The New York Times, more than six million Americans signed up to receive food stamps in the first three months of the COVID-19 outbreak. And that figure could rise even further due to the expiration of the Coronavirus Aid, Relief, and Economic Security (CARES) Act that occurred on July 31. As a result, many Americans have lost $600 a week in aid and have become eligible for food stamps.  
If you happen to be one of those Americans who have been affected by the loss of the extra employment benefits and want to know how to sign up for food stamps, we talked to a few experts to help you navigate.
What are food stamps? 
They actually aren't stamps anymore. The program is now electronic and called Supplemental Nutrition Assistance Program, or SNAP.  
"The Supplemental Nutrition Assistance Program (SNAP)—formerly known as food stamps—provides nutrition benefits to supplement the food budget of eligible low-income families so they can purchase the food at SNAP-authorized stores," Cherish Phillips, from the USDA's Food and Nutrition Service, tells HelloGiggles.  
According to its website, the program is administered by the USDA Food and Nutrition Service (FNS) through its nationwide network of FNS field offices. Local FNS field offices are responsible for the licensing and monitoring of retail food stores participating in SNAP. 
Why do we have food stamps? 
According to Peter Muennig, M.D., M.P.H., professor at Columbia University's Mailman School of Public Health, we have them for two reasons: "One is to address hunger (which academics call 'food insecurity'), and the other is to help American food producers by subsidizing their products," he tells HelloGiggles. "The latter reason is why it is operated by the Department of Agriculture. The idea is that the money would come from taxpayers and go to American farmers and food producers while also helping reduce hunger and poverty." 
How do you receive food stamps? 
To receive SNAP benefits, you must apply in the state in which you currently live, and you must meet certain requirements, including resource and income limits. Generally speaking, says Muennig, only low-income households and individuals are eligible. "The requirements change frequently. Generally, one has to have income that is below 130% of the federal poverty level," he says. He also notes that the current administration is "working to greatly curtail benefits," including implementing a work requirement where people have to work a minimum of 30 hours a week before they can receive food stamps. While states were allowed to waive these requirements, says Muennig, the Trump administration removed states' ability to do this in April of this year. "However, the law did not go into effect because of COVID-19," he says. Because things are constantly changing, it's always best to refer to SNAP's official website.  
However, if for some reason you might not have access to the internet, you can have another person act as an authorized representative to help you apply for SNAP benefits. They will just have to apply and interview on your behalf.
How do you use SNAP? 
If you are eligible to use SNAP, Phillips says you will receive SNAP benefits on an Electronic Benefit Transfer (EBT) card, which works like a debit card. "Benefits are automatically loaded into your account each month. You can use your EBT card to buy groceries at authorized food stores and retailers." 
In addition, says Phillips, more than 90 percent of SNAP households are currently able to use their SNAP benefits to purchase groceries online, which can make shopping easier and safer during the pandemic. 
How much can you receive in SNAP benefits?
According to the SNAP website, the total amount of benefits one household receives is called an allotment. The amount of allotment that is given is based on multiplying your household's net monthly income by 0.3 (which is the expected percentage of their own resources a household spends on food) and then subtracting the number from the maximum monthly allotment based on the household size.
How long are you able to receive food stamps? 
"It depends upon who you are," says Muennig. "Most people can receive them for three months over a three year period. But single moms, the elderly, and disabled people can receive them indefinitely."  
According to Phillips, SNAP benefits are only available to those who meet certain income and other eligibility standards. According to the SNAP website, if you're eligible, you'll receive a notice that tells you how long you'll be sent SNAP benefits, which is called your certification period. But before your certification period ends, you'll "receive another notice that says you must recertify to continue receiving benefits." And if you're able to recertify, your local SNAP office will provide you with information about how to do it.
What is the future of SNAP?
Muennig believes the program provides very little assistance but thinks it is critical to "keeping people healthy and fed." 
He would like to see the program expanded, "as it is inexpensive to administer. Now that it is electronic, there is more flexibility put in. For example, in theory, recipients could be offered discounts when they buy only healthy foods and penalized for buying unhealthy foods. Those kinds of restrictions make much more sense than putting work requirements on people, particularly when it is hard to find a job," he says. While there's no telling how SNAP benefits will continue or how they will be affected during COVID-19, it's imperative that this program stays intact for the Americans who need assistance. Being able to eat food shouldn't be a privilege; it's a right.