How old is Chloe Kim, and why is she already so much cooler than we'll ever be?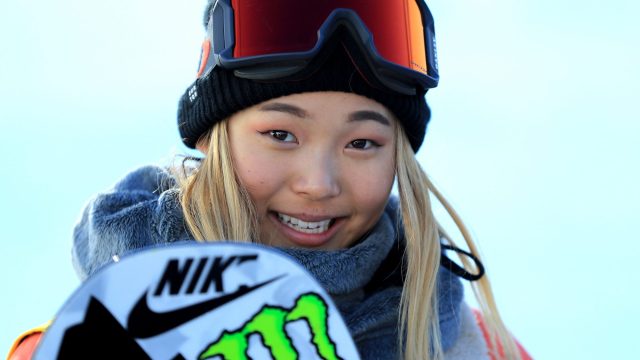 According to the U.S. Ski and Snowboard website, Chloe Kim has been called "The Future of Women's Snowboarding." But after watching her nail both Olympic Ladies' Halfpipe qualification runs today, February 12th, we think it's clear that the future of women's snowboarding is now. With all of this in mind, we're wondering: How old is Chloe Kim?
Kim has been snowboarding since the age of four. She's won two gold medals at the 2016 Youth Olympics in halfpipe and slopestyle, and has made history by racking up four gold X Games medals before the age of 18. Yeah, that's right — Kim is still just a kid at 17 years old.
And it looks like Kim will continue to take the snowboarding world by storm. She finished her Ladies' Halfpipe qualification runs in PyeongChang with the highest scores — 91.50 and 95.50 — thus landing her a firm spot in the final run. The first final takes place tonight at 8 p.m. EST.
Although she was more than prepared to take on the Sochi Winter Olympics in 2014, Kim didn't meet the age requirements and therefore could not compete. The La Palma, California, native joined the U.S. Snowboarding team in 2013 and has been prepping for PyeongChang for years.
When she's off the mountains, Kim attends Mammoth High School, and she's fluent in French, English, and Korean. She's basically a wonder-teen and could easily rule the world some day.
Kim is also a first-generation Korean American, and according to U.S. Ski and Snowboard site, Kim's South Korean family members have attended/will attend her events.
If Kim wins, she'll be the youngest American female snowboarder to take home a medal.
Chloe Kim is so much cooler than we will ever be! We're sending her all the good vibes we can muster for her final runs.