How the nor'easter will affect you based on where you live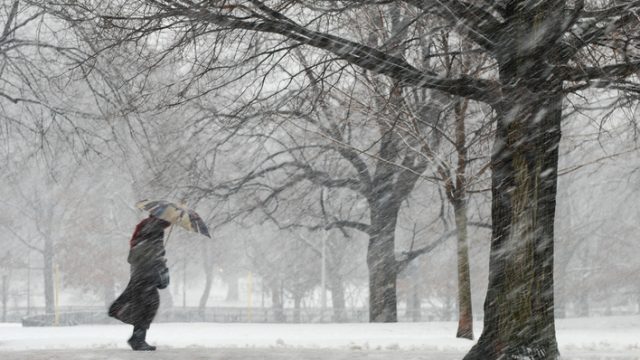 Every year when the calendar flips to March, we rejoice that winter is finally on the outs and spring is on its way. But then, despite our visions of spring break and spring flowers, we're hit with more winter weather. We shouldn't be surprised — after all, Punxsutawney Phil did see his shadow on Groundhog Day, predicting that we could expect six more weeks of winter. And right on cue, it looks like there's a nor'easter headed our way.
So far in 2018, we've already experienced our fair share of winter weather. January brought an epic bomb cyclone, a winter storm that covered the East Coast with snow. Soon after, there was Winter Storm Inga, which brought freezing rain, sleet, and snow to the southern states. Then, in February, Winter Storms Oliver and Noah brought the rain. Now, Winter Storm Riley is coming for the Northeast. And it looks to be one of the most intense storms of the year so far.
If you live on the East Coast, prepare for another nor'easter. Winter Storm Riley is expected to bring heavy rain, heavy snow, intense winds, and coastal flooding. According to the Weather Channel, it will likely develop during the evening on Thursday, March 1st, and continue through Saturday the 3rd.
So, how will the nor'easter affect you?
Let's talk about rain and snow. The rain is expected to begin on Thursday night in parts of lower Michigan, northern Indiana, northern Ohio, West Virginia, Pennsylvania, New York, and New England. It will likely turn into snow in Pennsylvania, New York, and possibly New England.
Parts of Pennsylvania and New York could accumulate 8 to 12 inches or more. Lower Michigan, including Detroit, could receive 6 inches. As for New England, it's still up in the air — but 6 inches is likely.
Beginning on Thursday night, high winds are expected to affect everyone from Maine on down to the Appalachian Mountains.
By Friday night, they could reach up to 60 and 70 mph in some areas — meaning power outages are likely. Additionally, the National Weather Service issued coastal flood watches from southern Maine down to North Carolina's Outer Banks, and parts of the Eastern Seaboard.
So, if the nor'easter is headed your way, don't forget to stock up on a few days' worth of food and water.
It's probably a good idea to stock up on other necessary supplies too, like flashlights, batteries, and candles, just in case the power goes out. Prepare to stay inside and wait it out. We see a serious Netflix marathon in your future.