8 Newlyweds on How They Plan to Celebrate the Holidays This Year
At HelloGiggles, we believe that celebrating can happen anytime, anywhere—even if that means switching out big parties for virtual hangouts, cocktail dresses for cozy sweats, or trips abroad for dinners at home. In At Home for the Holidays, we're showing you that just because this holiday season may look different than usual doesn't mean it can't be just as festive.
When the Centers for Disease Control and Prevention (CDC) recommended that indoor events not include more than 10 people back in May, couples across the country began to face the reality that their dream 2020 wedding might not come to fruition. But while some couples decided to postpone or cancel their big day until they could safely have a large wedding again, others tried to make the most out of the situation by still getting married in front of a smaller group of guests.
And now they're getting ready to celebrate the holidays with each other for the first time as newlyweds, even if things will look a bit different than expected. Because while we may still be in the middle of a pandemic, it's important to continue finding the silver linings in the little things, like building new holiday traditions and incorporating old ones.
We connected with eight newlyweds to see how they will be celebrating the holidays this year. From the meals they hope to eat to the kinds of traditions they plan to partake in, here's how these couples are navigating a very unusual holiday season together.
Ryan and Kat, Orem, Utah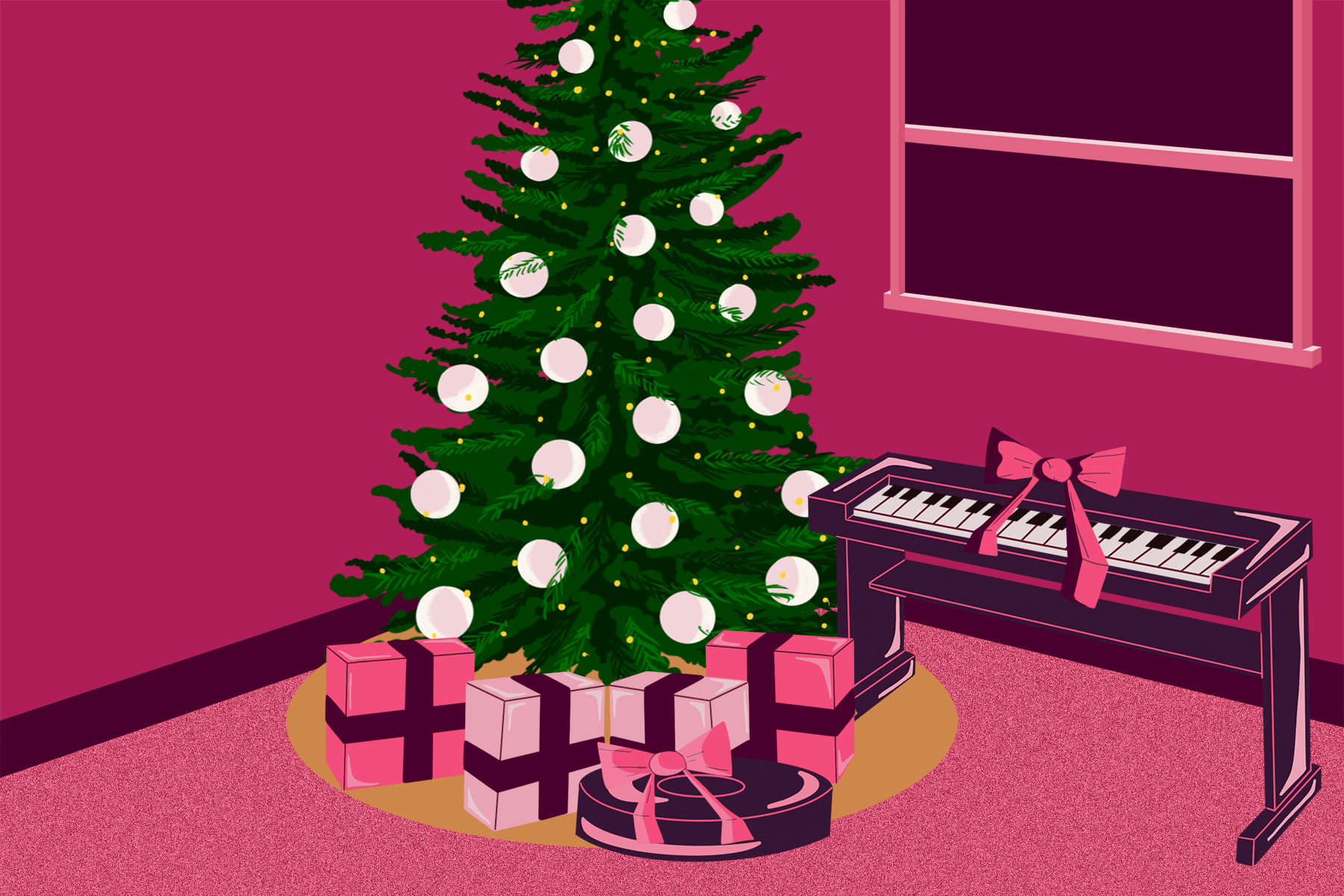 Together for a year and a half; married in March. They got to keep their original wedding plans by having their ceremony at their temple right before they started canceling weddings and events due to COVID.
HG: Now that you're married, is there one thing you can't wait to do during the holiday season?
Ryan: I'm really excited to do Christmas together! We were engaged last Christmas, and both of our families were having a hard time with the thought of not being complete on Christmas morning, so we decided to part ways and spend it with our own families for one last time. I'm really excited to wake up with her this Christmas and spend the whole day together! Also, now that we're married I feel like we're going to have a lot more gifts and presents to give to each other, and that will be fun. With our new apartment and so many life changes, we need tons of stuff for Christmas, so it'll be fun to give her all the random things that we really need but don't have (e.g. a vacuum, shelves, electric piano, etc.). Kat is really musical, and I would love to give her a piano. 
Kat: I love the holiday season! This is our first year married, so this is the beginning of establishing what is important to us as a family, what traditions matter, and what can be set aside. We are big adventurers, so I'm excited to go places (safely, of course), see the lights, bundle up. Everything I do with Ryan is magical, and that—on top of the magic of the frosty holidays—is just everything I could want. I'm excited to be with our families, but I also look forward to the times that we spend with just the two of us. It's so special to begin creating traditions and discussing what we want our lives to look like.
HG: Even with the pandemic going on, what activities are you still hoping to do during the holidays?
Ryan: Hopefully we can do almost all the same activities, just socially distanced. I feel like fall is so romantic with all the sweaters and leaves and hikes, and I'm really looking forward to spending more time with her enjoying that. Plus, in nature you can forget about the pandemic. Same with playing in the snow and sledding. 
Kat: Well, the first year of marriage is special no matter what you do. Now that we live together, everything is united. Every evening is a date, a little moment of honeymoon. I am constantly overwhelmed by how happy Ryan makes me. He makes every moment special. Sharing this special season only heightens that. 
HG: That's so sweet! Is there anything you're worried about for the holidays now that you're married and things might be different due to COVID?
Ryan: I'm a little worried about Thanksgiving. A lot of my family members have already caught and recovered from COVID, but my grandparents have not, and they're all very fragile with their health. I don't know how we'll be able to get together with them and risk giving them the virus, and I also don't know how we can all do Thanksgiving without them there. That would be so tragic! I imagine Thanksgiving this year will be with nuclear families instead of extended, so that will be different. I'm a little sad to think about the canceled Christmas parties, too, but I think we're still going to do small gatherings with close family and still have a great time. 
Kat: Before we were married, it was difficult to decide whose family to be with on various holidays, so for many of them we split to be with our respective families. This year, we are our own family, and so, of course, we will celebrate it all together. That does pose the difficult question of who gets what holiday. Both of our families are so wonderful and understanding, and I'm sure we can create a scenario that keeps everyone happy, but it is a new element to think about.
Gabrielle and Charley, Los Angeles, California
Together for three and a half years; married for six months. They had to put their 75-person destination wedding on hold and instead had a backyard wedding with seven people in sunny L.A.
HG: It's been a crazy year. What do you imagine you and your partner will be doing for the holidays?
Gabrielle: Honestly, our holiday celebrations are still up in the air. And if 2020 has taught us anything, it's that even the most thought-out plans can change. We will probably be spending the holidays with family in southern California, but we are not sure who we will be with. Either way, we will have each other for the holidays, and I'm grateful for that! 
Charley: Well, we have each other, and that is the most important thing. It is exciting to have these moments together as a married couple. We'll be able to keep the photos for years to come and look back on them fondly. 
HG: What are some activities you definitely want to do together, no matter what?
Gabrielle: We're looking forward to celebrating our first holidays as a married couple! We always look forward to decorating together and watching our favorite (well, mainly my favorite) holiday movies, like Home Alone, The Holiday, and Die Hard—so that won't change.
Charley: Oh, the holidays are always special, and the food and decorations just put me in a great mood. It will be a series of firsts. First Thanksgiving. First Christmas. First decorating of the tree. The first opening of presents. My birthday is on the 29th, and so that will be my first birthday as a married person. Almost anything with a 2020 date on it has a special meaning for us, even through a pandemic. 
In an interesting way, even though the pandemic continues to ravage the planet, and our wedding was not what we wanted or planned, we get to think of 2020 as a happy moment, a slight antidote for us. 
HG: When it comes to creating happy moments, how do you think this holiday year will be special, especially as a now-married couple? Will there be any new traditions set in place?
Gabrielle: I think it will feel special as it's our first holidays together married—we only get this feeling once. It will definitely feel different. Since we met, we have spent Thanksgiving with Charley's extended family, and it doesn't look like everyone will be there this year. 
I'm from New Zealand, and Christmas crackers are a local tradition (in many commonwealth countries) that I love. They're a festive decoration that is a fun game. You play with someone else at the dinner table, and inside [the cracker] there's a toy, a bad joke, and a hat. 
Charley: I am not sure if there are new traditions we have, but I am excited for them. Bring them on! 
Natalia and George, Washington, D.C.
Together for 11 years; married on March 27th. They originally planned to get married in Greece this summer, but instead had their wedding day right before the courts closed due to COVID.
HG: Now that you're married, is there anything you're looking forward to doing during the holidays?
Natalia: We are looking forward to spending our first Thanksgiving together as a married couple. It's our favorite holiday, and we are so excited to be with our loved ones after so much time apart. We are also planning an intimate wedding ceremony the Sunday after Thanksgiving at a beautiful estate in our hometown of Miami, Florida. 
I think the holidays will be special and different for everyone this year. As a married couple, we are looking forward to a moment of pause and reflection on the intense year that has passed, appreciation for the memories we created in our own little bubble, [and] finally getting to say "I do" and celebrate with our family the immense love we felt for each other for the last 11 years.
HG: That sounds beautiful! Aside from reflecting, are there any other traditions you are thinking of doing for the first time this year?
Natalia: This holiday season, we are excited to create new traditions around the beautiful seasons while still holding on to the traditions of our childhood. George and I grew up in Florida where the holidays consisted mostly of palm trees and humidity. Moving to D.C. together has given us all these new opportunities to create traditions that we never got to experience when we were kids. Things like apple picking, corn mazes, and Christmas tree farms were just things we saw in the movies. Now, we get to experience all that and more as Mr. and Mrs. Goranitis! The best gift of all. 
Ruby and Tushar, Pune, Maharashtra
Together for five years; married on June 30th. While they originally wanted to get married in May, they ended up having the event in a small "Aryasamaj" temple in India the following month.
HG: While your original wedding celebrations didn't go exactly as planned, what are you looking forward to celebrating during the holidays?
Ruby: First and foremost, we both would celebrate the fact that our marriage ceremony went through without any hiccups and all our family members are safe and sound. This would be the first time we both would be traveling as a couple, so we are looking forward to celebrating our togetherness. 
HG: That's amazing to hear! How exactly are you planning to do that?
Ruby: Holidays are surely going to be different this season. As a couple, we thought we would be spending the holidays with both sets of families, but that might or might not work out because of this pandemic. We both are not very good at grand gestures, so if we get to head out, we may opt for a wellness retreat and indulge in all kinds of massages—a much-needed staycation with just the two of us. 
For the longest time, we both lived alone. By virtue of our work, we never stayed even in the same city, so to be together and spend the holiday season together is a huge deal for both of us. Just the plain and simple joy of having someone in your life with whom you can share the holiday moments makes it way different than all of our previous celebrations. 
HG: Because you will get to spend time together this holiday season, are there certain traditions you're looking forward to doing together?
Ruby: Not really a tradition per se, but I am very fond of recording moments and sealing memories. I love to take a lot of photographs and video so that later I can look back and reminisce over the good times that we have spent together. That is one thing that is always going to [be] a part of our holiday celebration.
One new thing that we both are trying and are looking forward to incorporating into our holidays is the restricted use of gadgets. I know I just mentioned my obsession with photos and videos, but this is more around addiction with the phone. The idea is to try and be present in the moment rather than looking deep down into the phone screens. One of the biggest things that this pandemic has taught us is to never take "normal" for granted.
Tucker and Taylor, Glendora, California
Together for two and a half years; married on August 2nd in a small, intimate wedding.
HG: Congrats on your nuptials! As a newly married couple, what are you excited for this holiday season?
Tucker: I haven't really thought about it with COVID! We still have each other, but it's up in the air. I really don't know. We kind of thought about Thanksgiving… 
Taylor: We spent holidays together in the past, but this time we don't have to go to our respective homes at the end of the night.
HG: Because this is the first time you won't have to go back to your individual homes, do you have plans on how to make this holiday season special?
Tucker: Honestly, babe, I really haven't thought about that.
Taylor: Tuck is a teacher, and I am pretty crafty. We're probably going to focus on making crafty gifts this year that take quality time.
HG: How else do you envision this holiday season being different now that you're married? Do you have any new traditions you want to start together?
Tucker: Well, obviously, COVID! But I'm excited to start new traditions together, like hanging up stockings and baking cookies. Decorating our Christmas tree, decorating our house, whatever we come up with. This is our first place together.
Taylor: Well, we have our own place now and a dog. So probably actually getting to take a family photo and going to the snow would be fun and new. I didn't grow up with traditions, so I am looking forward to starting new ones! I really appreciate accidental traditions, like having noodles for Christmas Eve or always wearing matching pajamas on Christmas morning.
Georgette and Matt, Atlanta, Georgia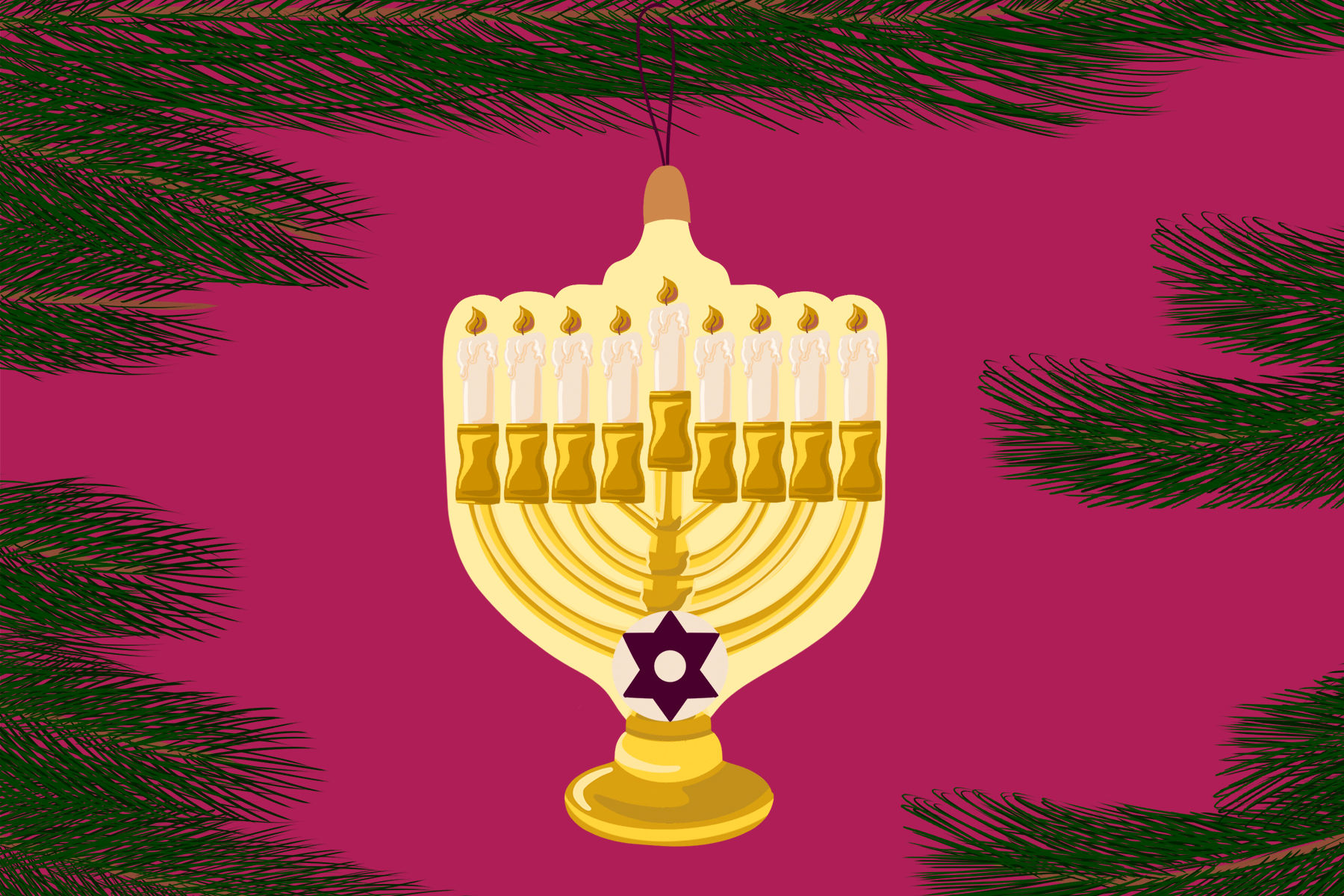 Together for five years; married in May 2020. Their wedding included their immediate families in Georgette's sister's backyard.
HG: As newlyweds, what do you believe makes this holiday season special for the both of you?
Georgette: We've already been dividing our time with each of our families for major holidays. We lived in New York for a while, so we make sure to visit Maryland and Georgia to see one another's family and spend time together. This year is special, though, because of being officially part of each other's families and with just really cherishing time together because of lockdown.
Matt: I get an ornament on her family's tree this year. That's exciting.
HG: How do you think spending time with each other's families will be different this year?
Matt: We've been together for a while, so we've spent the holidays with each other's families. My family usually has immediate cousins and aunts and uncles together for Thanksgiving. We usually spend Christmas with her family and try to do Hanukkah with mine.
I think the biggest difference would be that we're married, really, and just with the COVID restrictions that kept us all apart.
HG: That makes sense. Will you be bringing traditions from your childhood to try this year for the first time?
Georgette: Both of us have our own traditions we're bringing, but it'll be nice to bring those together. There are weird ones, like I have to watch Arthur's Perfect Christmas and find lebkuchen cookies to eat. But we also started making a point to watch all of The Office Christmas episodes. It'll be nice making new ones for our family as we go.
Dee and Jake, Chicago, Illinois
Together for over seven years; married on September 6th. They had no idea they were going to get married in the middle of a pandemic when they got in engaged in October 2019, but due to family health issues and financial concerns over postponing, they decided to have a 30-person celebration in Wisconsin.
HG: Looking ahead to the holidays, what are you two going to do to celebrate?
Dee: It's been a YEAR, so I am excited to celebrate the highs, reflect on the lows, and look forward to all of the good things coming in 2021. The pandemic in general has really allowed us to focus on spending time with family and close friends. The holidays this year will be a good opportunity to spend quality time with the ones we love and soak in the holiday season at home. 
Jake: Naturally, we're looking forward to more quality time with family and overeating. I feel that holidays are always a great chance to celebrate, reflect, and lean into traditions that might nurture some level of "normalcy" during these nutty times.  
Family and tradition are paramount for both Dee and me. While masks, copious amounts of hand sanitizer, and cautious hugs are the new normal, we're excited to celebrate with our loved ones and lean into the traditions which we've been raised with while also creating some of our own. Admittedly, food is a major way in which we all show love, so you better believe we'll eat and drink ourselves silly while reminiscing and celebrating with our loved ones. 
HG: What else do you think will be different during the holidays now that you're married?
Dee: We are often traveling all over in order to try to celebrate the holidays with both of our families. Jake comes from a large family, and I am an only child, so this year my parents are coming to us so that we can all be together and focus on that quality time instead of splitting our time between both families.
Jake: Not too much is changing right away, but as our immediate families grow, we anticipate we will start to take over more hosting responsibilities, and our traditions will evolve. 
HG: Hosting can be fun! What kind of traditions do you think you'll do as hosts or in general?
Dee: Jake and I come from different faith backgrounds, so I am looking forward to combining our traditions to make them our own and set the groundwork for how we will raise our family in the future. I am very methodical when it comes to my favorite holiday traditions—drinking eggnog and listening to certain music while we decorate the tree, for example—so those types of traditions will be very important to me.
Jake: Focusing more than ever on quality time by cooking, drinking, and coming together with as many family members as possible. A tradition I love about both of our families is the hosting of friends who might not have family to celebrate with or anywhere to go. In that case, they become an honorary member of our clan and better show up with an appetite. 
Carolyn and Jason, New York, New York
Together for three years; married on June 4th. While Carolyn and Jason originally planned to get married at the Wythe Hotel in Williamsburg, New York, they decided to postpone the reception to 2021 and keep their original date for a small, private ceremony in the backyard of the house they're currently renovating in Long Island.
HG: Congrats on getting married this summer! With the holidays coming up, how are the two of you trying to make this season special? 
Carolyn: The holidays are always special. We'll look forward to spending more time together and try to appreciate that. For all the bad that happened this year, some good things also happened. I don't think this year will be much different from previous years, other than that we'll have less freedom to travel. So we're hoping New York City still has its usual holiday spirit!
HG: Speaking of the holiday spirit, are there certain traditions you are looking forward to doing together as newlyweds?
Carolyn: When we move into our house (hopefully by next fall), we hope to start some of our own family traditions—and hopefully with an additional family member!
These interviews have been edited for length and clarity.
Featured photo by Jenna Brillhart